WAXAHACHIE, TX —  Do you remember playing cops and robbers as a child? If so, you will also recall that the good guys were always chasing the bad guys. Tyler Bonner, now 17 and a senior at Waxahachie High School, no longer has to wonder about his childhood game. Thanks to the Explorer programs offered locally, his childhood game has come to life. "I saw the City Explorers at a National Night Out event," Tyler remembered. "I thought they looked cool, so I started asking some questions."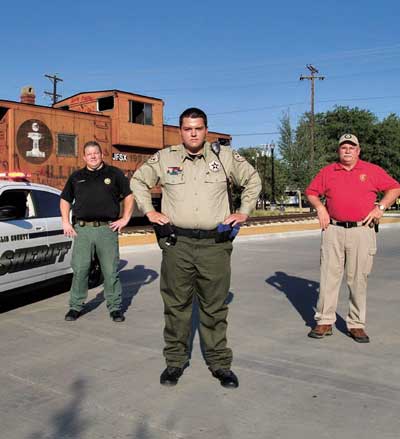 Tyler became a law enforcement explorer with the local police department in August of 2008 at the age of 14. "I didn't have a clue what law enforcement was," he admitted. "The only thing I knew about police work was that a police officer carries a gun and drives a fast car with lights on it." After 12 months with the police department, Tyler decided to apply for the Sheriff's Explorer Program soon after Sheriff Johnny Brown brought it back as an option for young adults. Tyler has been flourishing ever since under Sheriff Brown, who leads by example, as well as the close guidance of Lt. Matt Murrey, who also happens to oversee and manage the Sheriff's program.
During his second year, Tyler went from team member to team leader. As explorer captain for Post No. 106, Tyler leads 15 to 20 explorers at any given time. He is following close in the footsteps of Sherriff Brown and Lt. Murrey, as he too leads by example. Just this past summer, Tyler got one step closer to his goal of becoming a full-time law enforcement officer.
When word came that Tyler had the opportunity to attend the National Law Enforcement Exploring Leadership Academy in Washington, D.C., he didn't waste any time completing the application process. The process was lengthy, but Tyler feels it was worth it. "I had to complete an application," he said, "and I also had to submit a statement on 'What Law Enforcement Exploring Has Meant To Me.'" The National Law Enforcement Exploring committee selected 30 explorers for each individual academy offered, which included the Drug Enforcement Administration, the Federal Bureau of Investigation (FBI), the U.S. Marshals Service, the U.S. Army Military Police and the U.S. Secret Service. Three thousand applicants vied for a spot at the FBI academy. "I got three choices, and the FBI Academy was my first," Tyler said "Yes, the FBI Academy is the most sought after one of them all," Lt. Murrey explained. "Tyler was one of only 30 chosen, and one of only two from Texas."
Tyler kept a daily journal while he was at the FBI Academy. The journal entries began on Saturday, July 2, and continued through Saturday, July 9, when Tyler boarded a plane for home. He shared so many things about the academy. He spent his first evening touring Washington, D.C. One memory that brings a smile to everyone's face happened on his second day. "We went shopping at the Pentagon City Mall," Tyler explained. "I found a store that sold police patches from all around the country. I would have bought some, but I guess the lady selling them thought they were made from diamond thread or something. An NYPD patch was $13."
Tyler's group had another rude awakening toward the end of the second day. They thought since the first day and a half was relaxed, the academy would be also. "Boy, were we wrong," Tyler admitted. "We took too long forming a line, so we had a little reminder that Janet Ambrisco, our squad leader advisor, does not like waiting. The FBI Academy wasn't boot camp, but we had strict rules we had to follow."
The busiest day for Tyler, based on the words in his journal, was Wednesday, July 6. They traveled to Maryland to the Secret Service training facility. Tyler got to experience a rare moment that few Explorers see while at the academy involving two black SUVs, a black helicopter and several men in suits. "I didn't think anything of it," Tyler stated, "that was until the SUVs surrounded the helicopter. The men in suits with guns hopped out and escorted someone from the helicopter into one of their cars and drove off very fast." Only after all this excitement was the group cleared to enter the air unit area and complete the tour.
Lt. Murrey has been able to share Tyler's journal with Sheriff Brown, as well as others who play an integral role in the success of the Sheriff's Explorer Program. Chaplain Bruce Stayments was once a chief of police in New York and also a death scene investigator. Sgt. Donnie Reeves has a 40-year career in law enforcement. Dr. David Gardner is a Reserve Deputy. Lt. Murrey has a lengthy career in traffic, narcotics and investigation. Between just these four, there is well over 100 years of combined law enforcement experience. Tyler took full advantage of all they had to teach him, making him a prime candidate for the FBI Academy.
Effort will most always lead to success. The effort the 25 young adults in the Sheriff's Explorer Program exude is a fine example of the results that come with dedication, commitment and hard work. "I treat them like they are junior officers," Lt. Murrey shared. "I give them as much responsibility as I think they can handle. The older ones get to train and become the intermediaries. There's class time, hands-on scenarios and competitions with other Explorer groups."
Sheriff Brown and Lt. Murrey are so proud of the man Tyler has become. "I wanted to work with kids, show them a different way," Sheriff Brown said, referring to his desire to bring the Explorer Program back not long after he took office. "Tyler was our first Explorer. He's the whole package — plus!"
In the beginning, Tyler was in a group of five. Now that the program has hit its stride in the past two years, Tyler is one of a group which averages 25 members. Tyler is thankful for the examples in leadership he's found within the Sheriff's Explorer Program. "I've learned so much about law enforcement since becoming an Explorer," Tyler confessed. "But, I've also learned so much about core values."
"It's those core values," Sheriff Brown added, "that will help Tyler be successful as an adult, no matter what branch of law enforcement he chooses to pursue."
Tyler will always remember his week at the FBI Academy, which gave him the headstart he needed to continue his journey in law enforcement after high school with confidence, education and insight. He only wishes it could have lasted another week.
For more information on the Sheriff's Explorer Program, visit www.elliscountysheriff.com.
Written by Sandra Strong.