DUNCANVILLE, TX —  In 1975, at age 49, the late-blooming creative soul finally put her talents to good use, first as an artist specializing in portraits of clowns, and then as an entertainer herself, appearing across North Texas as "Honey the Clown." Eventually proclaimed Duncanville's Town Clown, Lou enjoyed a long run as the city's favorite performer. She turned up with her crazy wig and big red nose at civic events to make kids smile and cheer. "It was exciting to represent the city in a fun way like that," she said. "I was also the official Easter Bunny for two years, which was another great opportunity to be incognito and put on an act for the kids."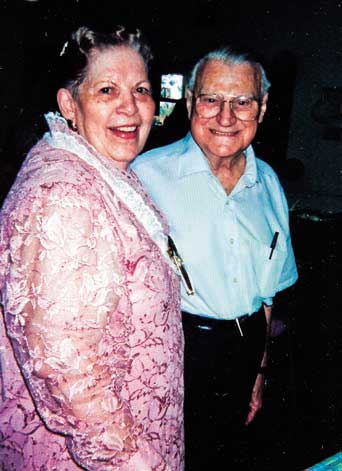 Lou was first drawn to painting clowns because of their bright costumes. "They were just so vibrant," she recalled. "That must be what interested me
at first." Lou admitted to having an interest in art when she was younger, but she never thought she had an aptitude for it.
Joined by her husband in her avocation (Robert preferred painting Indians), Lou traveled to circuses and fairs to capture performing clowns with her Instamatic camera, images that she then transferred to canvas. Husband and wife worked well as a team in their newfound craft. "We loved painting together," she recalled. "Robert was better at sketching subjects, so he would usually draw them for me. I would then come in and paint them." For her part, Lou helped Robert mix his colors. The couple regularly attended Metroplex clown shows, and at a stand-up act put on by a popular clown called "JoJo Jingles," they met the star backstage where he consented to be painted by Lou. During the session, JoJo suggested the pair join Clowns of America. They did, and the decision opened up a whole new world for the Duncanville artists.
From painting clown faces, Lou graduated to applying her own by greasepaint, blossoming forth as "Honey the Clown." In quick succession, adoring Robert transformed himself into zany "Boppo the Clown," and the flamboyantly outfitted, balloon- dispensing couple was soon in demand, headlining seasonal events at the State Fair of Texas, Traders Village and Six Flags Over Texas. One of Lou's first regular gigs was replacing JoJo Jingles in his traveling show. After that she and Robert joined other area clowns in forming a volunteer activities program called Clown Alley, the first Texas branch of Clowns of America, which presented free entertainment for charitable organizations, hospitals and orphanages. Chartered in 1978 as Texas Mid-Cities Clown Alley 85, the group networked with the Dr Pepper Circus and partnered with famous clown, Emmett Kelly Jr., with whom Lou and Robert became close friends. Lou served in an advisory capacity with the new group, while Robert took on public relations. Meanwhile, the Stoddards and their troupe performed all over North Texas, celebrating National Clown Week (August 1-7) at Lee Park in Dallas or at major shopping centers like Red Bird (now Southwest Center) and Valley View malls. In addition, Lou still enjoyed acclaim as an artist and was asked to showcase her paintings at the Women's Building (now known as Grand Place) at Fair Park. "It was a great honor being invited to display there," Lou remembered. She was in her element according to her niece, Jeanette Sanders, who followed Lou's example by becoming a professional clown. In an article she wrote about Lou, Jeanette described the occasion as a high point in her aunt's career, saying, "The public strolled by, stopping to admire her brush stroke technique."
But it was Lou's performance art as Honey and the camaraderie she shared with other Clown Alley members that brought her the greatest satisfaction. "The time I spent with my clown friends will always be a bright spot in my life," she said. "I'm proud of the hard work, energy and heart Alley members contributed over the years." Lou was also devoted to the Texas Clown Association, which she cofounded in 1982, serving variously as director, treasurer and editor of the group's membership journal. Robert also came into his own during this time as a journalist, writing and editing for a series of magazines, from Circus Report and Carnival News to The Calliope.
For all her dedication to the business of clowning, Lou never lost her love for live entertainment, especially the intimate connection she forged with youngsters who attended her shows. The mother as well as artiste in Lou was always present in her Honey impersonations on stage, and she also exhibited her understanding of children during photo ops at other public events, never allowing a pushy parent to foist a screaming child off on her. "I would hand them right back, and say, 'Maybe next year; they're not ready for me yet.'" Her rapport with kids was something special. "I used to squat down near the child and hold my finger out and wiggle it," Lou explained. "If the child took hold of my finger, we were friends."
Lou got a chance to share her passion for clowning in a big way in 1990 when the Universal Pictures comedy, Problem Child, starring John Ritter and produced by Ron Howard, cast her and a number of other Clown Alley staples in a scene filmed at the State Fair. Lou found the eight days she spent filming both exhausting and exhilarating. "We all had fun in spite of the long hours,"
she admitted.
Appearing in a Hollywood movie was certainly a treat, Lou granted, but she insisted she's more proud of the local tributes she has received, such as the 1991 plaque the mayor of Duncanville presented her for her years of community service and the memorial tablet that honors her at the Duncanville Public Library for the eight years she sat on the facility's board of directors. "But the greatest reward," Lou said, "was seeing the smiles of all the little children over the years. That's what kept me going."
Written by Randy Bigham.