ENNIS, TX — Life for Norman and Sandra Williams is anything but dull. If they aren't busying themselves doing something for others, they don't feel as if they are really living. While some individuals are adopting children in need or opening their homes to foster children, Norman and Sandra are offering a "forever home" for stray animals in need. "Living out here on Highway 34 makes it real easy to adopt all the strays that come along," Sandra said, as Norman just smiled in agreement. "I remember one time when someone left a baby kitten in a cup in our mailbox."
"The strays just seem to gravitate to our home," Norman added.
Norman and Sandra were destined to be "modern day Drs. Dolittle" they've become since moving to Ennis on July 4, 2004. Their love for animals was strong long before they ever met and married. Norman grew up in Italy, Texas, while Sandra's early years were spent in West Texas. "Some people are born animal lovers," Norman stated, "while others learn from seeing. I learned from my dad."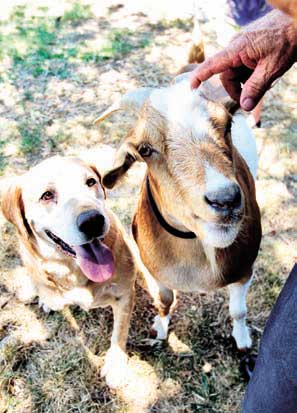 Sandra was reared in the city, so there were never any animals in the house. First grade was a year she still vividly recalls. "I got my first dog that year," she confessed. "He was a Shepherd named Rex. I've
had so many more since then. I really do believe I was destined to be an animal caretaker and caregiver. They do require so much work, but it's good work."
Norman is a bailiff in Dallas County, while Sandra works in the office of the Attorney General. They meet lots of people in their lines of work, and they hear so many stories, too. Norman was intrigued with one story in particular about a trio they now call the three amigos. The heartwarming tale began outside a wedding chapel in Garland. A Great Dane named Judy and a goat named Minnelli were spotted wandering around, obviously lost. Come to find out, Judy had escaped from her owners, and Minnelli just followed along. A call was made to Eastlake Animal Hospital in North Dallas. They quickly came and rescued the lost pair.
Somehow Dallas County officials found out about the goat, and that's when everyone concerned realized that Judy and Minnelli were "joined at the hip" so to speak. "A goat is considered livestock, so she had to be quarantined at a different location, far away from Judy," Sandra explained. "When they were  separated, the dog barked and the goat bleated."
Minnelli was finally reunited with Judy at Eastlake after 10 long days. During this 10-day separation period, it seemed as if everyone was looking for the animals' owners. They were having no luck at
all. After several media outlets carried the story, Norman felt the need to do something more than just talk about the pair. "The first thing I did was make a phone call to Sandra," Norman said.
In July of 2010, almost immediately following her answer in the affirmative, the couple began what they thought would be a fairly easy adoption process. "Boy, were we mistaken," Sandra said.
Since the story had been publicized on a national level, Eastlake had to make sure the duo would go to the best home. Scads of paperwork was filled out and retuned in July, and Norman and Sandra began the waiting game. As they followed the ongoing story on the Internet, they learned about Lucky, the three-legged Labrador Retriever. "When the owners saw the other two animals on television," Norman stated, "they decided to drop Lucky off at Eastlake, too."
"What started as two," Sandra said, "quickly became three."
Finally in November after waiting what seemed like forever, staff from Eastlake called the couple and made plans for a home visit. "They had gone through hundreds of applications from people who wanted to adopt these guys," Sandra explained. "We were one of the top five being considered."
Once Eastlake staffers completed their visit, they told Norman and Sandra they would get back to them at a later date, because they still had several other homes to visit before making their final decision. "They left here at 3:00 p.m.," Norman said, "and called back that same day around 6:00 p.m."
The following Sunday, Eastlake held an adoption fair, where Norman, Sandra, Judy, Minnelli and Lucky finally met in person. National Geographic magazine had been following the story from
the very beginning, so it made perfect sense to have them present during this first meeting. In fact, the magazine interviewed Norman and Sandra at this same time.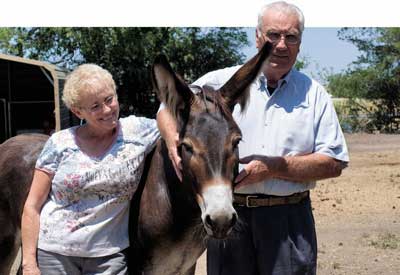 Thanksgiving was only two short weeks away, so Norman and Sandra didn't pick up their three new family members until the day following the holiday. "We waited to pick them up," Sandra confessed, "because we didn't want them to be all alone while we were with family in Amarillo."
Needless to say, the "going away party" at Eastlake was second to none. The trailer the couple used to load Minnelli was aptly named the Mayflower, after a horse they used to have. The two dogs were loaded in the back seat of the pickup truck. "We still refer to the trip as the maiden voyage of the Mayflower," Sandra said, with great emotion.
The three amigos came home to a small house of their very own, equipped with heat and air conditioning. Norman and Sandra gave the trio the forever home they deserved — a place where they could heal and be together for the rest of their days. As Judy recuperated from her heart worm treatments, Minnelli regained weight, and Lucky's coat grew back thick and blonde. "Their journey was complete. They had come home," Sandra said, "and they knew it."
"Animals have distinct personalities, traits, wants and needs," Norman explained when asked why they do what they do. "They are very much like children that never really grow up."
"They needed someone to love and care for them in a really bad way," Sandra added. "We're kind of like Noah's Ark out here. We're just waiting on the flood."
Adopting and giving stray animals a home is just what Norman and Sandra do. This is evident with the other dogs, cats, ducks and chickens that call their modest abode on Highway 34 home. While it is rewarding and heartwarming, it can also be bittersweet and heartbreaking at the same time. The Williams know just how heartbreaking any loss can be. They experienced it firsthand when Judy passed in July from the residual effects of her battle with heartworms. "The animals are the story," Sandra said with a tearful voice. "We're merely the guardians. It's just who we are."
Written by Sandra Strong.