MANSFIELD, TX —  Two days before the Miss Mansfield pageant, Jacque Hughes, Mallory McCarter's boss at the hair salon where she is a stylist, asked her to step in when someone dropped out of the competition. Her employers were one of the sponsors of the first-ever event. "I had never done a pageant in my life," said the 22-year-old, tall, slender blonde. Out of gratitude to her bosses, who are "the best in the world," Mallory reluctantly agreed. "The second she asked, I was on top of it."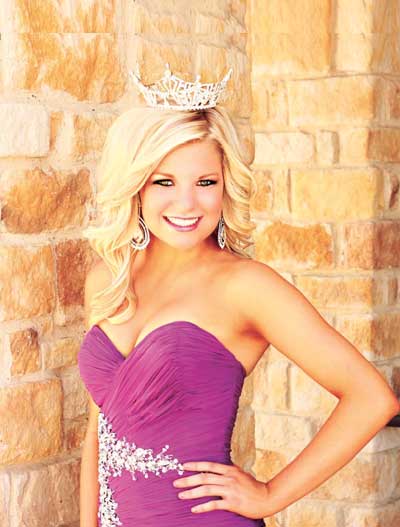 The door flew open and the whirl of pageantry preparations blew Mallory into a fun, but frantic flurry. "I wore my sister's prom dress and borrowed a friend's bathing suit. I'm a vocalist, so
I sang the country song, 'The House That Built Me,' by Miranda Lambert." That night, it did go all right. This self- proclaimed dark horse, last minute entry was awarded the title of the "first"
Miss Mansfield.
"Mansfield was the only city of its size
in Texas that had never had an entry in the Miss Texas Pageant, until this year. It was a really big deal," she stated. The city- chosen queens compete in the Miss Texas pageant in June of each year. The winner then goes on to represent the state in the renowned Miss America Pageant. "The Miss America Pageant is not just a beauty contest. It's a scholarship program.
Most people don't realize that," Mallory pointed out. "Each contestant has to raise a certain amount of money for the Children's Miracle Network in order to qualify. That means just as much as talent, answers or looks. I'm very proud I got to be a small part of all that."
What was the key to her winning? Mallory grinned and gazed upward. "I know I had outside help." She admitted she felt strange among the other talented and beautiful young women who had been in the pageant circuit for so much of their lives. But, as she looks back on her life experiences in Ovilla, Texas, where she was reared, it all blended at the right moment into the winning formula.
Her mother had always been supportive of her and encouraged her to be her own person. Ballet taught her balance and poise, and interscholastic sports helped form a competitive team spirit along with the desire to stay fit and trim. Her choir singing developed her into a vocalist worthy of competing, and her love for fixing hair taught her how to emphasize the best about people's looks. "I've always
loved helping people look and feel their best on the inside and outside. Even in school everyone would want me to do their hair and nails. I love to make people smile and feel good about themselves."
This astute young woman realized she had won the citywide contest for a purpose. She now had a message to give other young women and girls in the community. "When I went before the judges I decided to be genuine, to be myself and do my personal best," she admitted. "Whatever the outcome,
I'd be satisfied if I did that. That's what I want others to know. Seventy-five percent of young people, especially girls, feel inadequate. They turn to negative activities to cope with their low self- esteem. I want to tell them to forget the people who make fun of them. They'll never see them again for the rest of their lives after school. They really aren't that important. Just be yourself and do your best."
Mallory has developed a platform
entitled "The Skin I'm In," based on building self-esteem and finding the potential inside. "I'm not the prettiest girl ever. But now I have the opportunity to reach out and make others the prettiest they can be. It has always been my
passion to make people pretty on the outside. That's why I feel so blessed my parents let me pursue my dream of being a stylist."
Now through wearing the Miss Mansfield crown, she has the opportunity to speak to schools and organizations in order to help others find their inner beauty as well. "I want them to know it's our flaws that make us beautifully unique, and to be themselves. Accepting that will give them confidence."
She admits it was a huge group effort to lead her through the Miss Texas Pageant preparation process. She had only two months to get up to speed. Most of the other contestants had been preparing since last November. Her vocal coach, Sarah Conley, expanded her range and taught her so much in such a very short time. She could feel the prayers of everyone who loved her.
"The pageant was held this year at The University of Texas at Arlington. That was wonderful because it was so close by. It was a fun, but grueling week. We were up at 7:00 a.m., practicing for five hours, then eating lunch and back to practicing. Often we were up until 2:00 a.m., then back up the next morning. I lived on total adrenaline. I really respect the other girls who have been doing this for so long."
Her mother and boss were with her every step of the way. "I was going through personal challenges of my own when Jacque approached me. I was feeling pretty low. Now, through this experience, I have never been happier or felt better about being me."
Mallory didn't place in the finals for Miss Texas. "It's OK, really. I learned so very much and was so honored to represent my city. This is still such a privilege. I know these school kids will look up to me when I walk in with my crown on to speak with them. I want to be a good influence in their lives. I want to tell them if I can do it, they can achieve their dreams, too. I'm excited about the opportunities I will have this year."
Realizing she has her whole life ahead of her, Mallory feels positive about her future. "I love what I do and wake up every morning excited to go to work." Mallory plans to continue speaking with kids and adults for years to come about how to find their unique beauty. "This title has given me the opportunity to begin this dream. I'll be forever grateful to Mansfield and will represent this city to the best of my ability. I don't know what will happen next year, but I plan to be right there styling hair and helping to make each contestant the prettiest they can be, inside and out."
Written bu Julie B. Cosgrove.