WEATHERFORD, TX — On most days at Greenwood Farms near Weatherford, you can spot a lady riding a thoroughbred with a black Labrador retriever at their heels. Mary Hirsch is an event rider — a sport that became an Olympic competition in 1912. However, up until 1954, women were banned from Olympic equestrian eventing because officials believed it to be too rough and dangerous for the "fairer sex." The sport became more popular among female riders during the 1980s. Today, about 85 percent of the eventing competitors are women.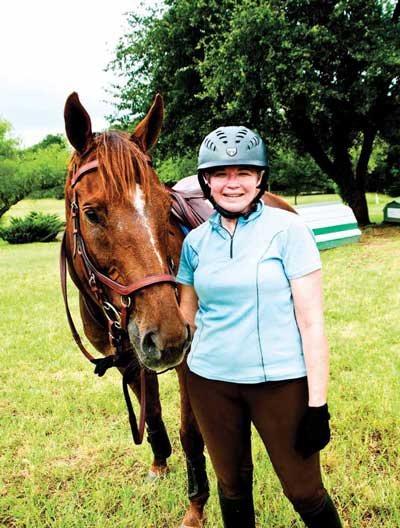 Eventing spurred from the English cavalry drills when excellent horsemanship was necessary in battle. A horse would "event" to prove its skillfulness. The sport resembles the English fox hunts, where horse and rider follow the hounds as they chase foxes over hill and dale, valley and stream, jumping paddocks and fences.
In modern competition, eventing is a triathlon comprised of two in-ring trials, called dressage, which consist of compulsory maneuvers and show jumping. The third part of the competition involves racing cross-country. Each horse and rider must make their way through fields and woods, clearing natural and man-made jumps at full gallop. If the events are held over one or two days, it is called a horse trial.
"The cross-country is the most dangerous," Mary explained, "because horses are born to gallop. They are suddenly no longer in the confines of the ring. They become completely different animals. The horse becomes excited and invigorated, and doesn't want to slow down or stop." She went on to say, "The horses don't know the jumps are coming up. The riders do because they have walked the course. It's up to the rider to not get nervous and to steer the horse to do what it naturally wants to do. If you miss, at that speed, you're toast."
Horses must not veer away from a jump. If they do, or just stop dead in their tracks, that is called refusing the jump. "You are only allowed so many refusals, and they count against you," she explained. "It's a timed event, although you rarely see more than one horse and rider at a time on the same jump section. We're spaced out two minutes apart. It's like golf. The lowest score wins. A perfect score in the jumping segment is zero."
Mary owns a thoroughbred horse officially named Golden Sun, but who has always gone by the name of Phil. The now 13-year old Phil and middle- aged Mary have been eventing together since the fall of 2006. "I bought Phil in Colorado, where I lived at the time."
When asked how she became interested in equestrian sports, Mary explained she grew up near College Station, Texas. She fell in love with horses and riding. "Back then, most parents put up with their little girl going through the 'I want a horse' phase by going to a barn and signing them up for riding lessons for a year to get it out of their system. That's what mine did." However, this was not just a preteen phase for Mary.
She always felt more athletic than girly. "Where I went to school, there were no sports for girls. The school council actually said it wouldn't fly, because girls don't like to mess up their hair or get sweaty, and because they were not as strong as boys." Horse riding filled the sporty desire inside Mary to excel, push herself to new limits and compete. She took to the English saddle-riding style and jumping in a closed ring. Thus, inring competition became a huge part of her life through high school and even through her college years, as she studied for an undergraduate degree at Texas A&M University. "After that," Mary shrugged, "I couldn't afford a horse."
Mary was embedded in the financial corporate world when the desire to participate in equestrian events resurfaced. Up until then, Mary had not realized she was working in the area of Colorado that was "into eventing." She took that as a definite sign. "I called this lady named Kate Christensen who trained at an eventing barn. I explained I hadn't ridden in years and asked if she had a spot for someone who wanted to just try it out for size again, say once a week or so." To her surprise, Kate answered in the affirmative.
"I'd never ridden cross-country. Where I grew up near the Brazos River, there were too many armadillo holes," Mary laughed. "I remember the first time I went to cross-country jump. I asked myself, What are you doing? This type of jumping takes a whole new set of skills I didn't have yet."
However, it didn't take long for her to get hooked on this new style of competition. "I fully intended to have both eventing and my career as parts of my life. So, I bought Phil and boarded him at Kate's farm."
Part of mastering cross-country eventing is the horse and rider becoming one. "When you compete in eventing, or any other equestrian sport, you are dealing with two athletes — the horse
and the rider," Mary elaborated. "Both have good days and bad days. Both have personalities. Both learn each other's mental signals."
Mary moved to Weatherford in
2009 after learning through the equestrian grapevine that Christie Tull at Greenwood Farms not only had event acreage, but a small house for rent. "That's something that only happens once in a lifetime." So, Mary packed up Phil and moved back to Texas to live
in more seasonable weather, as well as being closer to family. "You have to keep training the horse, no matter the weather. Like any athlete, horses must keep in shape. Phil loves this warmer weather. It means we don't have to train indoors for months on end."
Today, the pair has become a trio. An abandoned black Lab strolled up to the farm one afternoon. "The hands fed him for three days. Then they told us, 'One of you needs to adopt him.'" Only half- grown, Ranger was rambunctious. He also didn't want to be left alone again. When Mary and Phil took off cross-country, he followed them. Now Ranger is one of the official greeters, wagging his tail and checking out the riders and horses. Mary recently trained with Irish Olympic coach Mary D'Arcy O'Connell and assists in the horse trials at Greenwood Farm. "I love my life now. I'm self-employed and doing what I love," she smiled. "I have two wonderful companions to share it all with me. What more could you ask for in life?" From the contentment on Mary's face, it seems the answer is — not much else.
Written By Julie B. Cosgrove.