WAXAHACHIE, TX — Marilyn Simmons has always loved gardening. She grew up watching her grandmother. But her gardening gloves were put aside when she and Donnie, her husband of 38 years, left the farm in Gary, Oklahoma. "I started gardening at a young age, that's true, and I did work alongside the best gardener I know," Marilyn said, referring to her grandmother. "Once my daughters, Deva and Donelle, were born, they became my priority." She didn't start gardening again until the age of 40.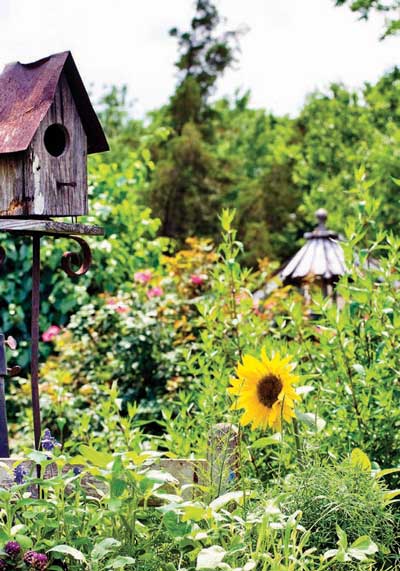 It's a good thing that Marilyn got back into gardening when she did. It gave her plenty of time to prepare for Deva's high school graduation in 2001. "Deva wanted an outside party. I had planted the Mexican buckeye from seed a few years earlier," she said, pointing to what is now a very large tree beyond the patio.
That once small garden has been transformed into a backyard oasis that offers peace and tranquility to visitors of the human kind and a colorful, all-natural haven for birds, bees and butterflies. It's a natural habitat far removed from the concrete jungles of the 21st century. "Everywhere you look, there's glorious color," Marilyn stated. "My goal was to create a place where people could come and be inspired. I want my gardens to be a blessing to others."
On a bad day, working in the dirt has always encouraged Marilyn. Getting her hands dirty and watching something she's planted flourish makes even the worst of days so much better. "Working in the soil is medicine for my soul," she admitted. "Flowers are beauty for the soul."
Marilyn has her hands in lots of pots. Not only does she work tirelessly in her gardens nurturing all types of flowers from roses and verbena to acanthus and lantana, she also serves as a garden consultant and designs landscapes. Most importantly, she finds a great deal of satisfaction teaching others the art of gardening, for pleasure, as well as purpose. Currently, Marilyn is closely involved with Community Supported Agriculture (CSA), a program that educates others on how to plant it, grow it and pick it. "We have over 15 families participating in the program," Marilyn explained. "We plant the gardens for the families. We grow it and pick it. The families receive the bounty." Her goal is to teach the families how to successfully garden themselves. "They [the families] have the opportunity to come out anytime and work in the vegetable garden," Marilyn added. "The main goal with CSA is to teach families to do it all themselves. I want them to learn where our veggies are grown. How much food could they grow if they needed to grow their own food? I'm teaching people to be self-sufficient."
And she's doing it the only way she knows how — the all-natural way with no chemicals. She collects rain water. She makes and uses "compost tea," while also maintaining her own compost pile. "I also plant plants that thrive well in Texas," she stated. "If plants thrive well in their surroundings, you don't need chemicals to help them grow and survive. Gardens are a lot like people," Marilyn added. "As they grow and mature, they come into their own."
Marilyn takes great care when making her planting selections. Specific plants are added to the garden to entice birds, bees and butterflies. The Carolina buckthorn, possum haw holly and rough leaf dogwood are just a few trees that produce berries. "The birds love the berries," Marilyn said. "This past year was the year for cardinals. There must have been 15 of them in the Mexican buckeye after the snow. It was definitely a site to behold." Other birds that find nourishment in the gardens include chickadees, thrushes, wrens, red belly woodpeckers, hummingbirds, cedar wax wings, house finches and several species of buntings.
"The lake attracts all kinds of water fowl year-round," Marilyn said, referring to the twin lakes that are found back behind the gardens.
There is a science to planting if you want your garden to also be filled with butterflies. If you just want to attract butterflies, then plant only "nectar" plants, those flowers and plants that
offer the sweet nectar the butterflies like to eat, such as lantana, butterfly bush and Gregg's blue mist. "But, if you want more butterflies that are larger, then it's a necessity to plant host plants such as the passion vine and bronze fennel, as well as nectar plants," Marilyn said. "Butterflies lay their eggs on the host plants. The eggs feed on the host plant and then they hatch. More food means larger butterflies."
When touring the gardens, it's important to know why certain plants are planted in certain spots. Take for instance the sunflowers in the vegetable garden. "They provide beauty," Marilyn said, "but more importantly as a 'trap' plant, they keep the bad bugs away." Another plant that serves as a bug barrier is lamb's ear. "The thrips bug keeps roses from blooming, but the bug would rather be on the lamb's ear," Marilyn explained. "That's why it's planted close to the roses."
Marilyn and Donelle, who now lives in Dallas but comes home almost  daily to help with the business, Garden Inspirations, just smile when they overhear people saying they don't have room for a garden. They've learned over the years that most anything can be transformed into the perfect vessel for a garden. Unique displays within Marilyn's gardens are a testament to her beliefs.
A Radio Flyer wagon is home to an assortment of flowers and trailing potato vines and an herb garden is flourishing in a nonfunctioning barbecue grill.
When thinking of a garden, it's best to think outside the box. A new gardening craze that Marilyn and Donelle debuted at the downtown Farmers Market this year was "truck farm" gardening. "It started with one man in Brooklyn, New York," Donelle explained, "It has exploded to include 25 farms throughout the United States." Truck farm gardening is an educational program that teaches individuals how to garden from the bed of a pickup truck. "Everyone can learn how to garden successfully," Donelle added.
Donnie has been the one to mow and edge around the gardens, but just recently he added another duty to his list. "He started taking photographs of the flowers, the birds and the butterflies," Marilyn said, pride for her husband apparent in each word. They never knew how many colors could be found on a bird until he began using a telescopic lens. Donnie's photographs tell the story better than Marilyn ever could. Marilyn is surely providing just the right natural environment where inner peace and tranquility can be found. Yes, her gardens are quite inspirational.
Written by Sandra Strong.