RED OAK, TX —  It began in a garage. More hobby than career goal, this inventive mind spent countless hours working, tinkering and creating. After many trials and many errors, he has learned the secret to making beautiful works of art from the refuse others have left behind. Four decades later, the hobby that most guys wish they had has turned into a chance for him to be in the national spotlight. Say hello to Carl Meredith, the star of a new TV series, Reality Rides.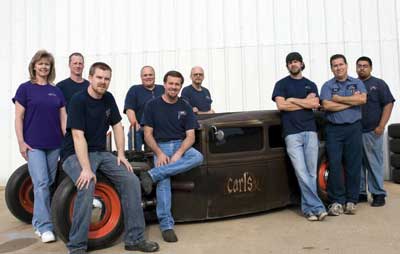 Carl started working on cars, unprofessionally, as an 8-year-old child in his uncle's hot rod shop. Ten years later, while working for a Chevrolet dealership, Carl would work on his friends' cars on the weekends to support his drag racing hobby. All that experience parlayed into the custom car industry. Since 1993, Carl and his crews have built and restored hot rods of all makes, models and vintages. With a series that takes the viewer through the process of restoring a classic car, Carl is in the center of a show coming to a TV near you soon.
Living and working in the same small town for two decades has helped Carl become the man that he is. "I've seen  Red Oak grow up, and I've grown up with it," Carl explained. Having this connection with the town means that Carl's name is known in the local hot rod scene. Reality Rides was not his creation, but it's his name recognition that landed Carl a starring role in the new show.
One evening, while enjoying a car exhibition at an Arlington-area Albertson's, Brian Greene got an idea for a new TV show. Fortunately, Brian is CEO and one of the lead producers for Greene HD, a production company that has specialized in reality-based TV series. Brian started looking for a local car restoration and hot rod building shop, and was quickly introduced to Carl.
Almost immediately, the two started collaborating for Reality Rides.
TV shows that are labeled "reality" these days are rarely that. Those that are not clearly scripted are often at least influenced by the producers. The producers for Reality Rides have made sure not to fall into the cliché traps of similar programs. Carl and his crew "focus on the car itself," while filming each episode. The show is unscripted, and there is no choreographed drama. Though problems come up in the building process, Reality Rides refrains from including personal spectacle and does not follow Carl or his crew around to display their personal lives. The show focuses on the step-by-step process needed to rebuild a classic from scratch and even includes some how-to segments. "Anyone can do some of these things themselves," Carl explained, "so there's an instructional element to the show."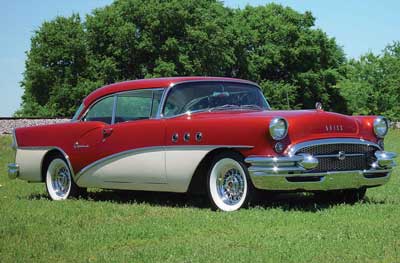 Before building and filming, Carl's shop had to be turned into a production set. It was fitted with spotlights, while windows were blacked out to prevent unwanted exterior brightness. The big lights and big cameras were easy to perform around, "but there were some smaller specialty cameras that we had to be careful working around." Though Carl and his restoration crew spent countless hours on the show, Carl had to retain
normalcy for the shop. He has always divided his crews between restore and repair work, so the challenge was not splitting time.
The show did create some new issues though, such as working in a very deliberate manner to keep background shots consistent. "Actually, some guys would bring their car in just to be in the background of the show," Carl said.
Getting the stage set was only part of the lead-up to actual production. All of Carl's crew had to be ready for substantial camera time, including Carl himself. Though he looks very comfortable
on the show, Carl admitted, "It was a little scary the first time, and I still get nervous each time." Most of the footage is during the actual restoring, but there are some interviews with the crew and the car owners as well. Carl also does voice-overs, where he watches previously filmed material and essentially narrates the action as it happens. Though the cameras do not delve into Carl's personal life, Reality Rides includes plenty of off-site footage. For the first season, the producers saw fit to include trips to upholsterers, air conditioning experts, plating specialists and other consultants for the job.
Carl, unfortunately, has not had much input into what car the crew would restore, though his dream would be a '55 Chevy. For the inaugural episodes, the producers made a list of criteria that excluded muscle cars — Fords and Chevys — as being too common. They knew they wanted something from the mid-1950s, and they settled on a 1955
Buick. The uniqueness of the car equaled extra challenge for Carl and his crew, as parts for a less common car were difficult to find. Carl also had to work around
the challenge of re-filming, which meant doing the actual work over again.
Each 30-minute episode, which is actually just over 20 minutes to allow for future inclusion of commercials, took several days to film. One scene required the crew to "move slowly but never stop," while a stop-motion camera filmed all day to capture what would be a one- minute introduction for the series.
The second season, parts of which just became available on the Greene HD Web site, takes on an even bigger challenge in its project. Carl flew to Denver, Colorado, with the production team to close negotiations on restoring a 1942 Dodge Command Car from World War II. Carl and his crew rebuilt this rare model for the owner of a California winery, so Carl flew to Healdsburg at the end of the project. That has been one of his favorite things about the whole experience. "I've gotten a chance to fly and drive around the country with all of this," he said.
Reality Rides has been a highly regarded Internet series. "A lot of people have told me it's better than what they see on TV right now," Carl said. His producers with Greene HD, who kept stressing
the old adage, "It's not if; it's when," have recently sold the show for airing on TV beginning January 2012 on the new Discovery HD Channel, Velocity. Season three will commence filming soon, but Carl has longer term goals for the show. He would love to be filming season eight, nine or more in the future. Maybe then he will get to restore that dream car — the '55 Chevy.
Written by Zachary R.  Urquhart.