CEDAR HILL, TX — Dogwood Canyon Audubon Center at Cedar Hill is pretty excited to be opening its 205-acre facility next month, and no one is more excited than center director, Dr. Patty McGill. "We now have the facilities to connect children and families with nature, providing an opportunity to appreciate animals and plants within their habitats. This area is unique for several reasons: Because of the pristine, intact ecosystem already in place, we won't need to control many exotic plants. Really, this region is like no other in the United States," Patty remarked. "Plant species from the North, South, East and West are mingled together here, attracting birds and animals to cohabit as they do nowhere else."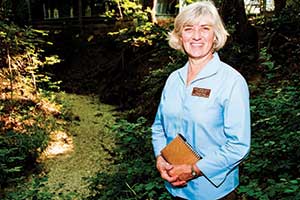 Patty grew up in the Arlington Heights area of Chicago. Her father was a doctor, and Patty wanted to be a doctor also. A love for nature and the outdoors was instilled during her childhood, which was filled with camping and lots of physical activities. She received early acceptance to Newcomb College in Tulane, Louisiana, to study pre-medicine, but she had also applied elsewhere. When she was accepted at Colorado College in Colorado Springs, she decided to go there so she could experience four seasons, a decision that changed the course of her career. "I met so many field biologists and was exposed to a variety of ecological and outdoor sciences that changed my interests. We had one three- and-a-half-week block class at a time, with lots of outdoor study. I majored in biology and completed grad school at Cornell University, with a master's degree in wildlife sciemce," Patty explained. "I was looking for a project and ended up on an island marine biology station jointly owned by Cornell and the University of New Hampshire.
"Originally planning to study the muskrat population, I actually studied the competition between two species of gulls: great black-backed gulls and herring gulls. I did my thesis field work, taught lectures and worked in the kitchen," Patty said. She then began doing biological surveys with Fish and Wildlife Ecological Services in Southeast Alaska, including a study of molybdenum mining — a mineral used in steel production. This, in turn, involved a short stint in Colorado and New Mexico for further mining education. Patty finished her Ph.D. at Cornell, which included more gull field study, with a slight diversion into hairy-nosed wombats. She spent summers in Maine and September to January in Tasmania, Australia, for three years.
"Although I enjoy teaching, I didn't want to pursue traditional academia, so I leapt at the opportunity to be the curator for birds at the Chicago Zoological Society (Brookfield Zoo) once I finished my doctorate. I worked with the zoo for 22 years, participating in disease studies and learning of birds' ability to see the ultraviolet spectrum humans cannot," Patty related. Because of her work with seabirds, she was also asked to manage the program for Humboldt penguins in the Americas, focusing on Chile and Peru. She still coordinates the census for Humboldt penguins every January.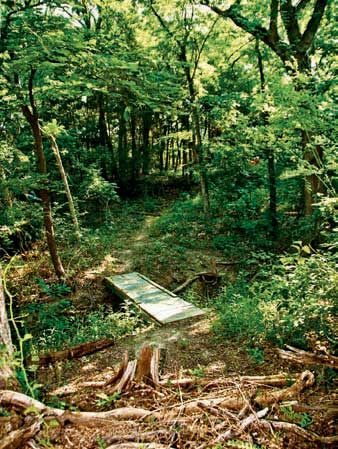 Actually, Patty's work with the zoo indirectly led to her arrival in the Dallas area. "Zoo people meet other zoo people — which is how I met my husband, Lynn Kramer. Lynn was overseeing animal management at the Denver Zoo when we met. One of us needed to move, so I quit my job with Brookfield Zoo. Then we found out the Dallas Zoo was looking at privatization, and Lynn took a job with them as deputy director of animal conservation and science. So we were looking at a move," Patty stated. Lynn's job with the Dallas Zoo started in October 2009.
Finding the opening with the Audubon Society at Dogwood Canyon was perfect — not only because of the Dallas area location, but because it allowed Patty to combine all of her experience with what she loves most but had never been able to combine before: conservation administration, project coordination and education and birds. "This is the perfect opportunity for me to use my own personal passion to serve the community and the center, while promoting the Audubon philosophy," Patty admitted. She began working at the center in March 2010.
"I came in on the ground floor, so to speak. The land, purchased 10-12 years ago by David and Kim Hurt, was originally intended for a personal home site, but as David explored the canyon and discovered the mix of bird and plant species, he wanted to see it conserved," Patty said. The Dallas chapter of the Audubon Society was able to secure options on some of the land, which opened the door for the National Audubon Society to purchase additional land and manage the center. Of the 300-acre canyon, some eighty or so acres are still privately owned. Another great partner has been the city of Cedar Hill.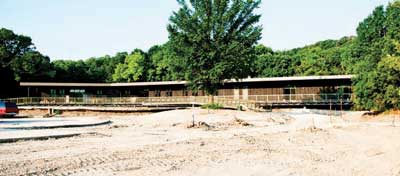 With no access roads into the property, the site for the center was up for debate. Creating this site, off FM 1382, seemed the most practical because the land had already been scarred by a satellite dish setup (no longer technically current) from the '70s or '80s. The cement depression, where the dish once was, is becoming a deck-lined area with various native trees, flowers and grasses where bird- watching will be taught. Behind it is the 6,000-square-foot center set on piers, so water can flow under it. The building was designed around a huge red oak, and the backside is mostly windows with views right up the canyon and overlooking a prime trout lily bed.
"I had no idea when I came on board I would be learning contracting and building specs and wearing a hard hat," Patty grinned, eager to show off the center, and even during construction, the are was abundant with bird calls.
The center features two classrooms: the Cedar Elm Room and the Red Oak Room; a reception area; offices; a retail/ nature store and information area;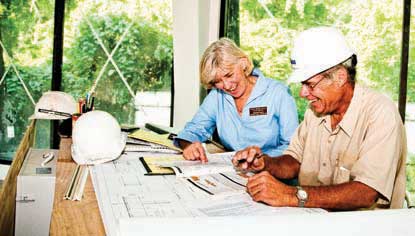 and an upstairs observation/canyon viewing room with slanted, floor-to- ceiling windows overlooking the creek. "Birdfeeders outside the window will bring the canyon almost right inside for those who are not able to hike it," Patty remarked. A large reception/gathering room, the Trout Lily room, can be rented for corporate retreats, showers or any number of public events. Seating for 70-75 at tables or 100 in chairs affords a clear view of many fine Texas plants and trees, judiciously managed, as well as the rare mix of the canyon's unique ecosystem.
"We will provide trails of various hiking levels and lengths, including a partial, handicap-accessible trail and children's areas," Patty said. "The front of the center will be restored to Blackland Prairie. Bird watchers and bird listeners (blind birders, who find bird species by ear) will all be delighted with the natural authenticity of the environment."
Written by Beverly Shay.