MIDLOTHIAN, TX — Spinning and twirling in flowing colors of pink and baby blues, the little girl could practically see the imaginary twinkling of fairy dust as it fell softly and gently around her. When she puts on her tutu and begins to dance, the magic begins. She becomes a princess — one who is loved and adored. While she is in her tutu, she is in control of her own life, and that feels good! This little girl could be anyone, but Crystal Harris wants to put more little girls who have been abused into tutus and let them experience their own fairy tale.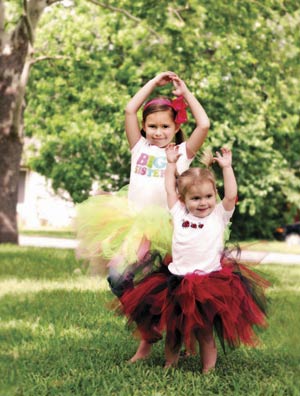 New to tutu making, Crystal started in October 2010. "I was making tutus for my two little girls for Halloween," she explained. "While making them I was thinking and praying and just felt the Lord was telling me to do it as a ministry and business. I thought I could make one for a little girl who has been abused, for every tutu I sell."
Reaching out to abused children is not a topic Crystal just picked out of the blue. "I grew up in a bad situation," she shared. "I was a victim of abuse from a very young age, so that has always been a big part of who I am and where my heart is." In college, her misery continued with the bad choices she was making personally.
One very wonderful choice came in the form of her husband, Bobby, whom she met in college. Bobby is an ordained pastor. Crystal now feels very blessed to have a husband who is loving and caring and three beautiful children. She counts it as a miracle that she has a ministry like this. "My heart is so ministry oriented, with both of us being youth pastors, and our home is their home," she said. Crystal is still in counseling for what she has been through in her life, but has strong faith. "I went through everything I did for a reason, and I know God has a divine purpose for me," she shared.
Crystal remembers the night she made the decision to start making tutus. "I was thinking, I don't want to do this as a business, but I have to have some sort of funding to bless these girls. I talked to my counselors about it and my friends who are counselors. They thought that would be amazing. They see victims of abuse daily, and this would give the little girls a small bit of hope or freedom for just a little bit. I feel very strongly about it. I feel like a little kid at Christmas every time someone orders one because, yay! I have another order, and I can make one to give away.
For me it is not about the business but about the blessing behind each one I can give away."
Crystal knows how the young girls she is trying to help feel. "You feel as if everything has been stripped away, like you're not a whole person," she stated. "With the tutus, it's something very simple — some strips of tulle [a type of fabric with very fine netting] and an elastic band. But, my vision for the little girls is that they can put this on for a few minutes and feel like a little princess, like they are not in a bad situation or haunted by memories of horrible things. They can feel normal and run around like a little princess or butterfly or whatever for a moment of time when they're not constantly surrounded by the negative things that have happened to them."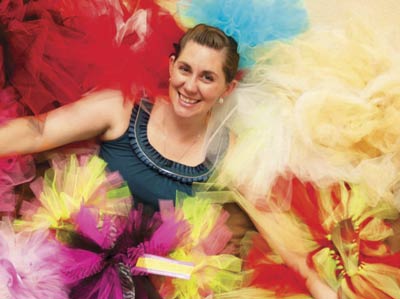 Eventually, Crystal would like to do a little super hero cape with goggles for boys. The premise would be the same — to make one and give one. "I want little boys to be empowered, as well." Although Crystal enjoyed doing crafts, making tutus was something she had not attempted before but felt as if it was something she could do. "I started researching online, put a few things together, testing things out and figuring out what I liked the best. I taught myself how to do it. It was a fun and definitely learning process." So far, Crystal has been able to donate 15 tutus since December. She has not met any of the young girls who received the tutus and prefers to keep it that way for a while. "I would like to eventually have a few of my teenage youth girls be 'tutus angels.' I would like to have them pass out the tutus [and] interact with the little girls so they can see good role models."
Since Crystal does not know the little girls receiving the tutus, she works with a couple of local counselors in the area and is in contact with the Dallas Advocacy Center. The center works to help abused children and provides leadership on child abuse issues. Crystal stated, "They are very interested in getting tutus to pass out."
Everyone knows that simply putting on a cute outfit will not erase the sins of others or the sorrow of an individual. However, in life, even one filled with grief, there can be moments of pure joy. If a tutu coupled with imagination can bring a touch of innocence to an abused little girl — that is a wonderful thing. Crystal remarked, "For every one that I make, I pray over it that this little girl will have a different life, and it [the tutu] can bring her a little piece of hope."
Written by Betty Tryon.