WAXAHACHIE, TX — While many in Ellis County are interested in the rich history of the place they call home, few are knowledgeable about the area before there were cities, farms –– or people. But one local man has made the prehistory of North Texas a pastime that has brought him fulfillment, as well as recognition. Ellis County is a hotbed for paleontological study, David Harper maintains, and rarely does he leave it to score fine specimens for his increasingly impressive collection of remnants of this region's Jurassic past. "Ellis County is absolutely astounding for the diversity of surface geology to be found here," David said. "In the far west corner of the county, people have found wooly mammoths, some 15,000 years old. And on the east side there are sea-life fossils dating back 100 million years."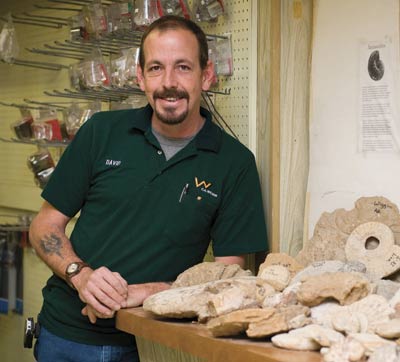 Others may cherish memorabilia from the golden age of the railroad or cotton fields, but David treasures his ancient shark teeth, coral, oysters, clams and petrified wood, nearly all of which have been plucked from local sources. Whether exploring along Highway 287, Interstate 35 or in ditches or ponds around Waxahachie and Ennis, David savors the thrill of locating the well-preserved examples of prehistoric ammonites, sea urchins and snails that tell North Texas' own story of the dinosaur age. Born in Abilene, David currently lives in Alma and for 11 years has worked for Waxahachie's C.A. Wilson Company, where clients of the firm are greeted by a counter full of his favorite fossils. "Customers constantly ask about the collection," David said. "They think it's pretty fascinating." Some have contributed to it — one donation being a 100-million-year-old ammonite pulled from the Sulfur River. Among eye-catching specimens displayed are a fern frond embedded in rock and a small striped stone that looks like a French pastry. "I can't resist a beautiful rock," David explained. Again, most of the fossils on view were collected locally, from roadside ditches to the property of nearby Central Presbyterian Church.
Although David gave a well-received presentation for a recent Master Naturalists conference in Waxahachie, the lanky young collector with a radio announcer's voice insists he is an amateur and enjoys the freedom of what he calls "smash and grab paleontology." It's an avocation he has enjoyed since childhood. "As a kid it was pretty much all things science," he said. "I was an avid reader and went through a lot of dinosaur books. I also read the Audubon series and spent time drawing cross sections of volcanoes and such."
David has made road trips to other states on fossil hunts, notably Nebraska, but he relishes time spent afield in Ellis County, which is part of the vast paleontological division known as Eagle Ford. So named over 100 years ago by geologist, R. T. Hill, Eagle Ford was the subject of major U.S. Geological Surveys in 1901 and 1918. As early as 1927 the Journal of Paleontology singled out Ellis County as an area of high-potential for researchers: "Fossils are abundant. Fish remains, such as teeth, vertebrae and scales, may be found at almost any level. The teeth vary in size from large shark teeth to those of microscopic size." The same article reported that "many specimens have been collected about three miles northwest of Midlothian in a small creek near the Houston and Texas Central Railroad."
David can vouch for that. He reports shark teeth can be found everywhere in Ellis County. On a recent excursion with a friend who was looking for Indian artifacts, they hit the jackpot. "Well sort of," he clarified. "We didn't find any arrowheads, but we found all kinds of fossils!"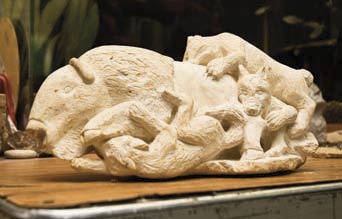 The greatest cache of shark teeth he has discovered was right here in Waxahachie. "On Great House Road, a pond being dug out, and after it rained, the pond was littered with sharks' teeth," David recalled. He noted there were other petrified forms of undersea plant life and fish bones to be found there, all indigenous to shallow salt water, indicating the location had been a lagoon about 90 million years ago. Little digging was needed to find the specimens. The same holds true on his regular hunts: "I mostly find them on the surface." Another nearby location, which yielded plentiful shark teeth at one time, was Lake View Camp. "It's on FM66," he said. "There's a water park there now, but before they built that you could go in and around the hill there, and it was full of shark teeth, fish backbone, everything."
Self-taught in his scope of interest, David has learned as much from PBS television documentaries as he has from books. He also credits modern Hollywood with authentic representations of prehistoric life, both aquatic and terrestrial. "In the old days, when they would show The Attack of the 50 Foot Iguana, the stuff was pretty goofy," he admitted. "Of course, when you're a little kid, it's great. But the Jurassic Park movies are dead on. They really did their research." Before his countywide searches David likes to wait for a "good heavy rain," adding that "there are certain locales where the rains wash stuff out. So it's a good time to go check." Work and other commitments prevent extended journeys for the time being, and David contents himself with jaunts that allow him "to be back in an hour." He said his hobby is gratifying, and even if others don't share his passion, he finds they are still interested. Many express their surprise that millions of years ago Ellis County and most of North Texas were undersea. David explained that a sure giveaway of the depth of water the territory was in is the prevalence of white rock limestone or calcium carbonate. "That's precipitated out of deep sea water," he said, "so wherever you find it, you know there once were thousands of feet of water there."
David looks forward to continuing his local runs for shells, shark teeth and other examples of this area's ancient underwater heritage, but confesses he is keeping an eye out for a bigger prize. "I would really like to find something of the dinosaur ilk that's readily identifiable," he said. "I have a short piece of prehistoric jawbone, but I'm not sure to which animal it belongs."
Ellis County's own prehistory historian is modest about the attention he has received, but is glad that others are appreciating paleontology. Through books, TV shows and movies, David believes the once museum-confined subject is becoming more popular, and hopes workday enthusiasts will be inspired to take to the field as he has done, collecting a little treasure of life on Mother Earth when the old gal was young.
Written by Randy Bigham.