MANSFIELD, TX — Today, men like Eddie South are the face of our country. Seven grandchildren and 41 years after returning from Vietnam and starting a whole new life as a Tarrant County law enforcement officer, Eddie has retired to the countryside near Mansfield and has time for a little introspection. He realizes the war never was about him. "War is about who you're taking care of," Eddie said, thinking of the present-day warriors in Iraq and Afghanistan. "They're doing it for everybody's family. They are the best of us who are over there doing that."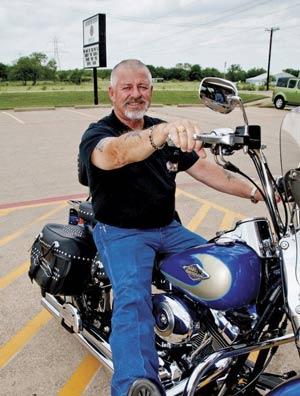 After serving his country, Eddie understands the Fourth of July and the American flag to represent a lifestyle of sacrifice. "We're the only country in the world that opened our arms to the huddled masses, the only country where you're free to celebrate the resurrection of Christ and offer up the soldier who's willing to die for the freedom to do that. The flag symbolizes everything this country stands for," he said. Staff Sergeant Jeremy Smith, a member of Mansfield's American Legion Post 624, recently came home under a flag. Eddie, a self-confessed fixture at the same post, rode in the Patriot Guard for Jeremy. With motorcycles 12-deep, they escorted his body to Dallas-Fort Worth National Cemetery and stood ready to be a barricade between his family and any protestor.
Eddie remembers what it was like to be a dutiful citizen and then to return to United States soil alive, at the age of 19. "We were happy to make it through the next day," Eddie said, "knowing that there was a day out there when we'd get on the freedom bird for the world. 'Cause where we were was not even of this world."
Coming home was nearly as scary for Eddie as fighting in Vietnam. "When I got off the airplane, I couldn't remember what anyone looked like. I went over there at 185 pounds and came back at 145. I did not have anything that fit," he said. "I came back at end of June, and Fourth of July was frightening to me, for a while, fireworks in the distance. When your life is in danger consistently for a long period of time, you forget a lot of that civilian stuff you grew up with." This year for Fourth of July, Eddie and his wife, Yvonne, will stay at their house out in the country, relaxing with family, remembering those who sacrificed for freedom and giving thanks for their own.
Much of his free time, Eddie dedicates to helping the veterans who are members of his post. "A lot of these fellows don't have any family, and if it wasn't for this post, they'd have nowhere to go at holidays," said Eddie, who sometimes acts as chaplain at American Legion Post 624. "After our Easter egg hunt for the kiddos on Saturday, I did the sunrise service this year — my favorite kind: short, sweet and to the point, but heartfelt."
Eddie's tattoos attest to his focus on four things: love, peace, joy and faith. He is also a faithful supporter of the four pillars of the American Legion. Since its creation in 1919, the American Legion has focused on fostering a strong national security, taking care of veterans, mentoring the youth of our nation and promoting patriotism and honor. Under the leadership of Eddie and former commanders Al Robart and Ron Bowman, the American Legion Post 624 on the southwest side of Mansfield diligently serves the local community. They give presentations for military excellence and scholastic achievement to the Junior ROTC programs at Legacy and Mansfield High Schools. They host Flag Day to honor veterans. They lobby, as necessary, on behalf of veterans' families. "Our preamble begins 'For God and country,' and we have to put our money where our mouth is," Eddie said. "A lot of that stuff in Scripture about the Great Commission and going out and feeding the country and healing the sick and clothing the naked — that's what we do. We do it for veterans, widows and orphans, and we do it in the community.
"We are not perfect and don't declare [ourselves] to be, but we've been consistent. The economy has been terrible, but we have been consistent about giving," Eddie said. "It's really stunning what needs are out here within a five-mile radius. We took Christmas to a family nearby where the dad had lost his job and the wife had heart surgery. It wasn't because they weren't doing what they were supposed to do; it was the curveball they got thrown." When Post 624 showed up with toys for their children, folks in the neighborhood came out in the street to applaud the help this family was given.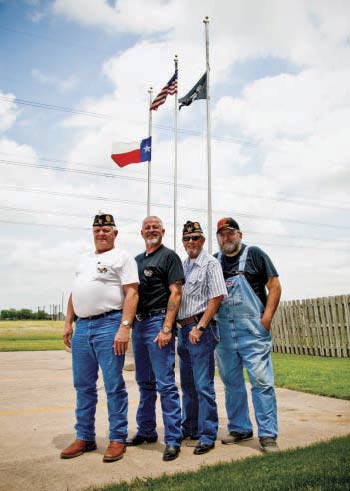 Belonging to and participating in events that are bigger than any one person requires teamwork. While Eddie acts as finance officer for Post 624, he needs the help of Yvonne to keep up with record-keeping, Web site development and even the final report on one of the most visible activities at the post — the American Legion Military Appreciation Celebration (ALMAC). To honor veterans who have served and are in the hospital, remember veterans who are serving currently and celebrate those who have died, Eddie and the folks at Post 624 organized the first ALMAC six years ago as a barbecue for veterans from the VA hospital in Dallas. People at the post volunteered live music, meat and items for an auction. When all was said and done, proceeds totaled $3,200, and the money was spent on care packages for soldiers in Iraq and Afghanistan.
Every year since, the donated funds have doubled. "We raise the money for the kids, because they're the ones who will come back and try to fit in to society," Eddie said. Last year, American Legion Post 624 sent 9,878 pounds of a variety of items for 2,000 troops. Every one gets a brand new, clean pair of white socks, beef jerky, eye drops from Alcon and Ramen Noodles. The post receives letters and cards thanking them as much for the gifts as for the moral support. "When their morale is down, it's not the beef jerky or fruit. It's [the fact that] people made homemade products, with cards from kiddos in the school district, total strangers who are demonstrating by their actions their support for them."
Eddie was elected Post Commander this summer, and he and his pals at Post 624 are working hard to throw a party local veterans will enjoy. Their preparations will involve barbecuing 350 pounds of brisket for the October 1, 2011, ALMAC. "When I am asking myself why we are doing this and
how it happened and who it is all for, I remember," Eddie said. "It's for a gazillion giggling babies from coast to coast. That's who will be the face of our country 20 years from now."
Written by Melissa Rawlins.
For more information about the American Legion Military Appreciation Celebration, visit www.alpost624.org.