ENNIS, TX — Henry Odlozil has always loved airplanes. Born and reared in Ennis, he remembers spending lots of his spare time building model airplanes and dreaming of the day when he would be the pilot of his own aircraft. In a young man's mind it may have seemed like forever, when in reality it was only a few short years before Henry began to actually start living his dream. "It was 1947, and I wasn't even out of high school yet," Henry said. "My dad had to sign papers so I could get my pilot'slicense." He signed the necessary papers to allow Henry's dream to take flight, but Henry's father never got close to the planes or the airport.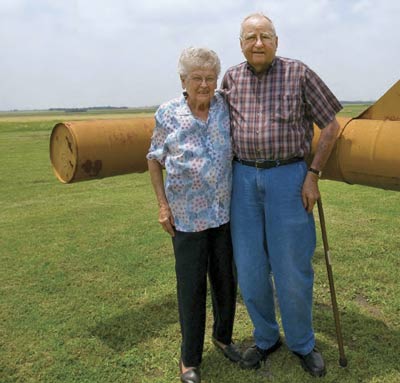 Thirty hours and one year later, Henry took his first solo flight, and what a flight it was. Henry learned to fly in a Piper J-3 Cub, a plane where the pilot takes the backseat and flies the plane using a "stick," while the passenger, or instructor in this case, rode in the front seat. "We were flying, making touch and goes," Henry said, explaining that touch and goes are when the plane lightly touches the ground and then quickly lifts to go back up again. After a few of these, the instructor got out and walked back to the hangar, allowing Henry to take to the skies of Ellis County by himself. "I said my prayers and went," he smiled. "I had to make three takeoffs and three landings while the instructor watched and graded me."
As the teenager grew into adulthood, he met and married Mary Jane Slovak, his wife of 62 years, who was also reared nearby in the still-rural community of Bardwell. The two married on a Tuesday in February 1949, just a couple months following Henry's proposal on Christmas Eve 1948. "It was very much a surprise," Mary Jane added about the Christmas proposal. And luckily for Henry, Mary Jane wasn't scared of flying, or Henry's other hobby — riding Harley-Davidson motorcycles. They were living and working in Dallas as a young married couple, building their family to include five children — Catherine Hefner, Henry Odlozil Jr., Janice Kirk, Cynthia Odlozil and Mary Minter, now grown with families of their own. Mary smiles as she recalls a story that never gets old in the retelling. "It was the early 1950s," Mary said. "Dad would pick Mom up from work on his Harley. She would be in a dress or a skirt, but she'd hop on the back and ride. The family stills laughs about this story all the time."
During this time of early marriage, Henry continued to fly. He flew planes belonging to others for enjoyment, while still dreaming of the day when he would have the title to a plane of his own. In 1964, the couple made plans to come back home, buying a 40-acre farm in Bardwell, still referred to today as the Flying O Farm. They spent their first night in the home as a family a year later, once the updates and remodeling had been completed.
Before long, Henry had another thought that would lead him one step closer to realizing his dream. Even though most of the acreage was planted in cotton and home for cattle, Henry decided a landing strip would be a good idea. "I remember the 'strip party' we had," Mary stated. "We sodded 3,400 feet of Bermuda to build the landing strip that put the farm on the map." To this day, the Flying O Farm is still listed as an airstrip on sectional and aviation maps. Soon after the strip was complete and a hangar was constructed, Henry was able to buy the plane of his dreams, a 1956 Champion 7EC. "This was a two-seater," Henry reminisced. "It flew with a stick, and I owned it outright." Henry also partnered with three other men on the purchase of a second plane that held four passengers. This second plane was used mostly for business, while the Champion provided many hours of family fun.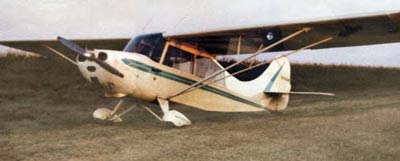 Airplane memories include 14 consecutive years of Flying O Farm fly-ins. As members of the Experimental Aircraft Association, Chapter 168, no fewer than 32 planes would land in Bardwell on any given year. Once everyone was on the ground, the stories of the year gone by would begin. Even after Henry's health prompted him to give up flying his plane, the fly-ins continued until September 1999.
The Odlozil children and grandchildren didn't realize what a unique childhood they had until they became adults and had children of their own. "As a kid I thought we were abused," Mary said, laughing now at how absurd that sounds. "We would leave for Mass at St. John's Catholic Church by 6:00 a.m., just so we could hurry home to fly 20 minutes to Red Bird Airport to
have a burger for lunch and then fly 20 minutes back home. Now I know how unique my childhood really was."
Dianna Glenn, Mary's daughter, has fond memories of her time in the air with her Grandpa, as do all the grandchildren. Her first flight is best retold by Henry.
"Dianna was sitting in her mother's lap when I took off," he said. "She got so excited that she began to scream and squeal. I think maybe because the strip was so bumpy. Once the plane lifted off, she calmed down. She loved looking around."
"Yes, I still remember how Lake Bardwell looks from the air," Dianna confessed. "To see things above with the eyes of a child, to be able to point things out was special." And just like her mom before her, Dianna thought all kids went flying, but as an adult she realized this wasn't true. "There's a much different perspective from above," Mary added.
If memory serves Mary Jane correctly, all of the couple's nine grandchildren were able to go up with their Grandpa before he landed the plane for good due to health issues. The five, soon to be seven, great-grandchildren are experiencing flight with their Great- grandpa through the stories he still loves to share. After four generations, Henry is still keeping his dream alive, albeit one- story-at-a-time.
Has Henry led a colorful life? You can bet he has. His life has been filled with airplanes, motorcycles and the Merchant Marines. His favorite memories by far still are found in his airplanes and the times he spent behind the stick. He still has the desire to go up one more time. "In his dreams," Mary Jane stated, "in his dreams." Well, a man can dream, can't he?
Written by Sandra Strong.