CORSICANA, TX —  The husband and wife at the center of fundraising for a local aviation and military museum are flying high with pride for the cause they share. Navarro County residents, Gary and Sarah Farley, head up the board of the Corsicana Field Aviation Heritage Foundation and have the patriotism and passion to prove it. The energetic pair oversees an expanding collection of World War II flight artifacts and memorabilia housed at the Corsicana Municipal Airport.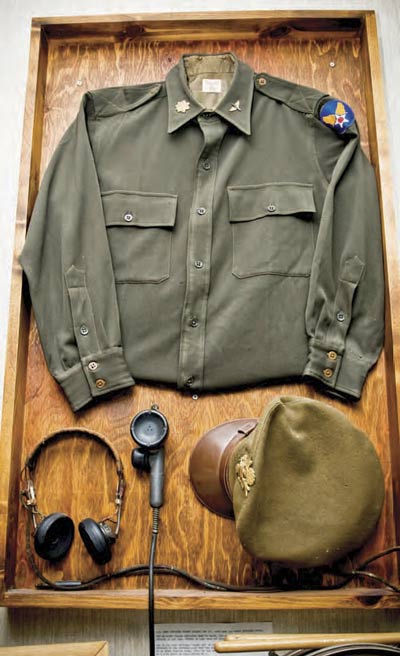 Founded in 1998, the Glenn Cumbie Museum of Aviation and Military History is outgrowing the two rooms originally allocated to it and is seeking a new home near the recently unveiled Army Air Force Cadet Memorial Park, a five-acre section of the airport property. "Our goal is to construct a free-standing museum adjacent to the memorial," Gary said. "The airport board and the city council have approved it, and we're now polling veterans on what they'd like the new building to be before we have architectural drawings and a survey done."
Sarah added that the new museum benefits civic pride and education. "It will be an asset to the city and to every teacher in the county," she said. "The younger generation is eager to learn more about their great-grandparents' contribution to the history of World War II, and many veterans and their families are already involved in the work we're doing."
Named for a former manager of the Corsicana Municipal Airport whose knowledge of aviation brought him recognition from the Smithsonian Institution, the Glenn Cumbie Museum focuses primarily on the history of the field, a one-time training base for Army Air Force pilots. Established in 1940 as a branch of Air Activities of Texas, a civilian-operated flight school affiliated with the Army Air Force, the present airport was originally known as the Corsicana Army Air Field. "The men who trained here came from all over the country as well as Brazil and Mexico," Gary said, "but they were very much part of local life, and some cadets did meet their wives and start families here."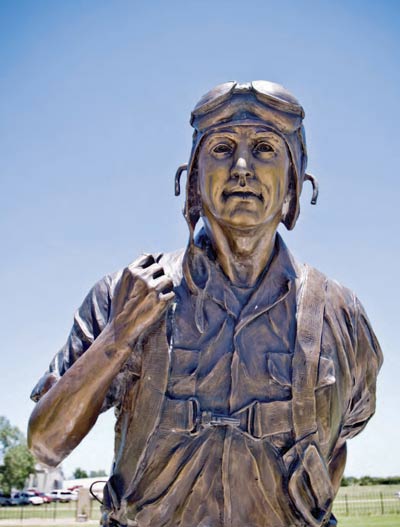 Gary explained that at the height of  the war more than 250 planes were based in Corsicana and that, between 1940 and 1944, some 5,000 cadets completed their primary pilot training at the field. "The men had a busy 10-week period here," he said. "They had to accumulate 60 hours of flying time in PT-19s, of which we have three on display — and they still fly. But the pilots didn't just have to learn to fly; they had to know meteorology, navigation, aircraft identification and physics, in addition to carrying out military drills and procedures."
The museum Gary and Sarah preside over brings to life the days of the war, with well-placed exhibits and informative place cards describing the items on view. Visitors to the museum, located in the pilot lounge and flight planning room in the airport's main office, see an original parachute, a foot locker, an instructor's jacket with Corsicana Field shoulder patches, a winter flying suit and a bugle played by a local cadet. There's a display of film strip canisters containing original celluloid training films, a set of dishes from the base's cafeteria and photos of the site after it was decommissioned and transformed into rental apartments and classrooms for what would later become Navarro College. There is also a wall of photos charting Navarro County's earliest connections to aircraft history, such as a 1911 refueling stop for a pilot trying to win a coast-to-coast flight contest sponsored by the Hearst Newspaper syndicate.
Sarah said many exhibits have been donated by veterans who served at the old Corsicana Field or by other locals. Some are gifts, others on loan, still others are items purchased specifically for the museum by Gary and Sarah, not all of which can be shown due to limitations of space. "That's one of the reasons we need a bigger museum," Sarah laughed. "We have so much in storage." Gary agreed, confirming that more than two dozen uniforms alone are stored off-site.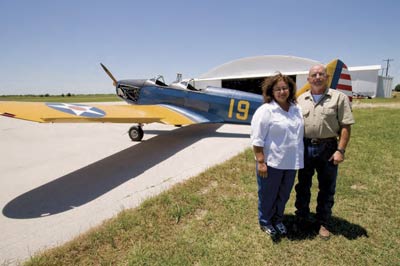 Gary also pointed out that, due to popular demand, the museum has extended its focus to include exhibits with a broader relevance. "We started out trying to gather items that pertained only to the field," he said, "but so many people were bringing in other items that we decided to expand our scope to all veterans and all wars."
The stories behind the acquisition of some of the artifacts are poignant. A pair of sunglasses in a monogrammed case came to the museum from the family of a woman who as a teenager lived in Emhouse. Walking through a meadow one day, the pretty girl attracted the attention of some of Corsicana Field's pilots-in-training. To show off, the cadets swooped down and around her, and when one of the planes did a summersault, out fell the pilot's glasses in their case. She kept the glasses as a souvenir of her heroic admirers until several years ago, when she presented them to the museum with much pride and emotion.
Another fascinating tale forms the back story for an Associated Press photo of a young fighter pilot that hangs on display. "Sarah and I first saw the picture at the Smithsonian, and I said to her, 'Wouldn't it be great if that guy was a Corsicana cadet?'" Later, while  researching soldiers' names on the Internet, he ran across the photo again. "The Web site said the man's name was Vernon Richards, an ace who had flown P-51s in Europe. Then the info pops up that he was in the Corsicana class of '43D. I thought, No way! He really was here!"
Gary said donations have also come through the museum's association with the Pilot Classes of World War II, the president of which, Major Ray Blake of West Virginia, was a Corsicana Field graduate of '44-H and has been a leading supporter of efforts to improve and expand the facility. "Major Blake was really touched that we cared enough to preserve the history of his old training base," Gary said. "Consequently, he has donated a lot of memorabilia, from uniforms to photos."
Over its 13-year existence, the museum has brought national attention to the city, through contacts with former cadets and instructors and connections to other museums and organizations. Gary and Sarah are looking forward to future fundraising events for the new museum, including a Hangar Dance set for October 1. The Corsicana Swing Orchestra will perform hits from the 1940s. "It will be fun and the sound will be amazing," Gary said. "A 16-piece band playing Glenn Miller songs! You can't beat it!"
Written by Randy Bigham.