BURLESON, TX — Two years ago, Shelley Gayler set out to explore her heritage. So far, the quest has taken her back in time, through realms of virtual data, volumes of documents and real-time trips to family reunions, ancestral homes and final resting places. Most importantly, it has expanded her world in ways she could never have imagined. "I was curious to know if the history of my family had ever been examined," she said, "so I searched online and discovered the Gayler ancestry had been somewhat plotted. That's when I got the 'genealogy bug,'" she smiled. "I began compiling back- up documents and, in the first few weeks, easily spent five hours a day on the computer." Thankfully, today's genealogical studies are greatly facilitated by the Internet and availability of data and social media. "The Mormon Church (LDS) AncestorHunt.com site is a fabulous source," Shelley said, "and it is free. There are also services like Ancestry.com and FindaGrave.com, and many states, including Texas, are now scanning documents."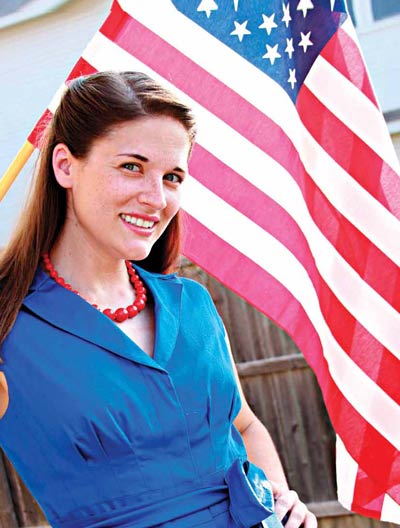 A Burleson native, Shelley graduated from Burleson High School in 2001. She attended Indiana University and earned a bachelor's degree in Liberal Studies in 2006. She worked in Indiana for a couple of years before returning to Burleson to ultimately purchase, design and decorate her lovely custom-built home. She has worked in Cleburne for the past three years and, in that time, her fascination with the mysteries of time and family has evolved and enriched her life.
"I had no idea that I would ever be part of the Daughters of the American Revolution," Shelley said. The prestigious national society requires proof of lineal blood line descent to an ancestor who helped win America's independence.
To her surprise, Shelley found that her fourth great-grandmother, Cassandra Parrish, was the granddaughter of a patriot from Baltimore, Maryland. "Not only was Thomas Chenoweth Jr., who lived from 1753 to 1814, a patriot," she said, "but his father, who lived from 1720 to 1791, also qualified." She contacted the Johnson County DAR Chapter. "They helped me to complete the application, and I was accepted on the first try. The DAR certificate looks like my college degree," she smiled, "and I am equally as proud of it." Today, she is an active member and the Public Relations Chairman of the Johnson County DAR Chapter.
Shelley is also active in the community of family "explorers." "I've helped a lot of people who have either been referred by the DAR or have contacted me through a Web site or message board," she shared. "Sometimes, people will ask to have a picture taken of an area gravesite. As I was preparing to vacation in Denver, I received an e-mail from a DAR member about an applicant needing a death certificate from Tarrant County. I told her I would be happy to get a copy and, since I was going to Denver, I would also deliver it. Now I have a DAR friend in Colorado!"
Shelley loves to travel and is an avid photographer. "In May, I went to Massachusetts, Vermont, New Hampshire, Connecticut, Oklahoma and Colorado," she said. "In Massachusetts, I found the cemetery where my second and third great-grandparents are buried. I call the picture of me taken beside their headstone my 'family portrait.' After so much research, it was surreal to actually see their names etched in stone." Even as a child, she enjoyed visiting cemeteries. "The headstones are works of art, and I like being outside and walking in such beautiful settings."
Shelley is quick to point out that the effects of tracing a heritage can be much bigger than recording a family tree on paper. "It appears that I share some of the same manners and interests as 'my people,'" she explained. "In school, I wanted to take French instead of Spanish, and now I know that my ancestors on my father's mother's side, the Guyettes, were French-speaking. They left France sometime in the 1600s to immigrate to the Provence of Quebec in Canada. Eventually, they settled in Northampton, Massachusetts, where my great-grandfather was born. He moved to Fort Worth where he lived until his death in 1983. Also, when I visited the town of Northampton for the first time, I felt as if I were home and knew exactly where things were."
Another advantage of discovering "what your people might have been like" is in the gathering of medical information such as prevalent illnesses or conditions or consistent patterns in the family that could prove helpful to future generations.
Shelley attributes much of her independence, as well as her eagerness to learn about her family, to the fact that she grew up as an only child. "Without siblings, you tend to do what your parents do," she said. "For example, while other kids were watching children's programming on TV, I would be watching Newhart." Her quest for heritage and the freedom of feeling comfortable traveling on her own has provided much more than a large binder filled with documents. "It has expanded my sense of family," she said. Shelley learned that her family on the Gayler side helped found the town of Mountain View, Arkansas, and that Gayler Mountain was named for them. "I attended my first Gayler Annual Reunion last October," she said. "I saw my surname everywhere. I met so many great people, and now I have cousins I never knew about. Between reunions, the whole family stays in touch through Facebook."
Shelley's advice to someone just beginning to explore their family's history is to get with family members.
"This is the first step," she said. "Collect information from everyone including names, birthdates and places from past and present. Take voice and video recordings because it's so important to preserve the histories of those still living. Also ask everyone to identify people and places in family photographs. Use online services and message boards and be prepared to go to the library to access newspapers and the County Clerk's offices to find land documents."
It seems natural for Shelley to fulfill such a true-life adventure. "I have always been 'old-timey,'" she said. "My favorite musicians are Roy Orbison and the Beatles, and if I could meet anyone from history, it would be President John F. Kennedy or Buddy Holly. I like black and white movies like The Maltese Falcon and Citizen Kane. My friends say I'm an 'old soul.'" Indeed, this young adventuress who evokes a myriad of classic dark- haired film and literary heroines seems strangely untouched by time. "I look like I'm 12-years-old," she smiled, "but I'll be 29 on my birthday."
Written by Carolyn Wills.