GLENN HEIGHTS, TX — The little city of Glenn Heights is proving itself big when it comes to environmental and community improvement. Keep Texas Beautiful recently announced Glenn Heights as one of just 10 winners of the 2011 Governor's Community Achievement Award (GCAA), a program created by the partnership of Keep Texas Beautiful (KTB) and the Texas Department of Transportation (TxDOT).
Connie Hearne, city staff support for Keep Glenn Heights Beautiful (KGHB) shared, "It's one of the most celebrated annual environmental and community improvement awards in Texas! And it means our group has one of the best grassroots environmental programs in the state."
Winners share $2 million in landscape funds from TxDOT, with Glenn Heights receiving $160,000 for a city landscaping project. "When I found out we'd won the GCAA, I was so excited I screamed like a teenager at a rock concert!" KGHB Vice Chairman Dawn Freeman said.
The award annually endows Texas communities with a share of landscaping prize money to be used in the construction of a beautification project within the winning community. Projects are completed on selected state rights-of-way and conform both to the winning city's aesthetic expectations and stringent standards of safety, design and maintenance laid out by TxDOT.
"KGHB moved from a provisional affiliate to KTB affiliate in 2009, just a couple years ago. That's a great indication of how dedicated the board members are, especially Connie Hearne, our city staff person," Dawn said. "I'm thrilled beyond words that we won, and I can't wait to see what wonderful things are going to happen in and for Glenn Heights because of it."
Glenn Heights tackled many challenges during 2010, which resulted in residential recycling implementation, trash pickup reduced to one day per week, the first household hazardous waste event and a three-year code enforcement initiative being implemented and funded. Efforts were also made toward reducing illegal dumping, neighborhood cleanups and more education provided to the public and youth about the importance of their environment.
"Our greatest contribution to the city is the education of our young people at the schools and helping our seniors who are unable to help themselves," KGHB Chairman Carl Whitehead said. Specifically, the group has done this through presentations on air quality, recycling, composting and water conservation. Other projects have included: rehabilitating the wetlands at Heritage Community Park, including the addition of new birdhouses provided by the Boy Scouts Troop 1880; and the Don't Mess With Texas Trash-off, cleaning roadsides with help from volunteers, such as the Girl Scouts, Lions Club and local churches.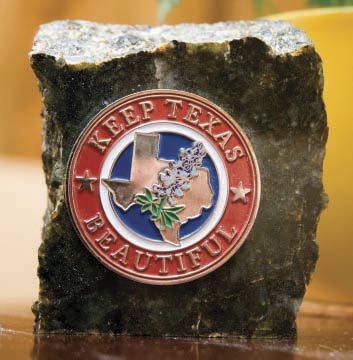 "I hope any Glenn Heights residents who read this will want to come out and help. I hope they'll look at the improvements that have been and are happening in Glenn Heights and be willing to volunteer a few hours for the events we have," Dawn said.
To that end, KGHB members agreed the group's biggest need is increased volunteerism. "We try very hard to get everyone involved and caring about our city and future. We are always looking for opportunities to spread 'green' knowledge," KGHB member Cynthia Smith, said.
Obviously, the more people get involved, the more KGHB can accomplish. "I think people would be surprised at how much fun it is to get out, meet new people and work with them toward a common goal," Dawn said. "I also think some people just don't know how to get involved or what they can do to help, or they think they will have to make monumental life changes to do any good. That's not true! There are so many little things everyone can do that will add up to a big, positive benefit." Just a few of the "little" efforts made by KGHB include: donation of trees for Arbor Day, flowers for flower beds in front of city hall and the city park and park benches that are ADA compliant for Heritage Community Park.
Young and old benefit from the group's efforts, and KGHB Secretary Angelia Garcia noted that adults need to follow local children's lead when it comes to improving the city. "The children we speak to are always happy to participate in our events. Now we need more participation from the adults in the community," she said.
With a mission of educating and engaging its residents to take responsibility for their environment, KGHB continues to seek ways to spread its message. "That's why we go to the schools to teach the students about air and water quality, conservation, recycling and other things. The kids really enjoy it, and so do we," Dawn said. "We encourage the students to go home and teach their parents. As a parent, I can tell you that when your kids think something is important, they will drive you crazy with it — but that's a good thing!"
On the group's agenda are more presentations at local homeowner's associations, churches and the like. KGHB is in the process of starting a Yard of the Month program to recognize those doing an exceptional job of beautifying their lawns. Evening workshops — following the success of a rainwater harvesting workshop this spring — may also be on the horizon.
"I'd like to have seminars on organic gardening, composting, using native plants in landscaping, raised-bed vegetable gardens … the list could go on and on! I'd also like Glenn Heights' citizens to let us know what they are interested in learning about conservation and environmental issues," Dawn said. "If you want to know more about something, there are probably a lot of other people who want to learn it, too, and we can find someone qualified to come teach us."
Not surprisingly, many KGHB members enjoy working outdoors, and some also serve on the city's parks and recreation committee. "My grandmother, who passed in 1997, inspires me when it comes to gardening. I became involved
with KGHB to fulfill that passion and give back to the community at the same time," Cynthia said. "I love to see my children share this passion and for them to involve their friends, too."
The other nine Texas cities earning the GCAA this year were Moulton, Whitesboro, Whitehouse, Dickinson, Cleburne, Temple, Pearland, Killeen and Plano. Glenn Heights officially received its award during the Keep Texas Beautiful (KTB) annual conference in June in Austin. KGHB is an affiliate of KTB and came in second place last year for the GCAA.
"I'm very honored to be involved with this group of thoughtful, conscientious and civic-minded people whose mantra is 'What else can we do?'" Dawn said. "I encourage others to help the group however they can. After all, everybody wants to live in a clean, beautiful city."
Written by Angel Morris.

Those interested in learning more about KGHB can call (972) 223-1690 or write [email protected].