WEATHERFORD, TX — A father's love is one that knows no boundaries. Dr. David Simmons is considered a father figure to so many in and around his community as he shows love through many ministries. He pastors the Silverado Cowboy Church in Weatherford and travels the United States ministering to people involved in ropings, rodeos and horse shows, as well as at various events for classic car and motorcycle enthusiasts. His work stretches across the globe through the group known as Cowboy Church Ministries, a traveling ministry offering Bible studies and helping to build churches.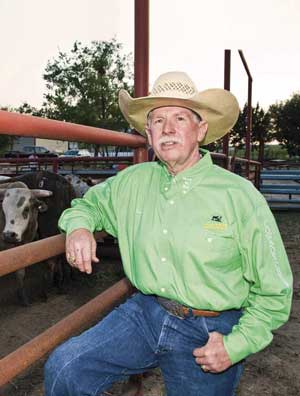 David was participating in revivals and camp meetings while working as an evangelist for a Pentecostal Church of God in California back in the mid-1990s when he decided to make a change. "I saw a need 16 years ago," David said. "I felt one day the Lord told me it was just time to quit and do something else. So, I came out and started doing rodeos and roping."
Having a strong desire to create an atmosphere for people who may not be able to attend a conventional church, David moved out to Texas in August 2000 to begin ministering alongside his wife, Kathleen, at Silverado Cowboy Church. His kindness is noticeable in the way he greets everyone he meets — with an open, loving heart. He's always willing to lend an ear and "hang out with the people."
David and Kathleen take their ministry on the road to those who work rodeos full time. Rodeos are like a home away from home for many, so the traveling ministry gives them a place to worship while on the road, and in many ways provides a family. David ensures a comfortable setting so people feel more at home. They come together as a group to talk and find hope, ask questions and feel the support of those around them.
"As pastors, we don't believe we should hide from people. We adhere to the belief that shepherds should smell like sheep," David said.
He tries to be down to earth, so people will feel comfortable talking to him about their problems and asking for help when they need strength to get through troubling times. "Everybody is looking for something, for strength," David explained. "Basically, we're all the same. We've got things going on in our lives, too, just like everybody else."
He is always there when people need a helping hand and feels like a father to many who come to him for advice. "You can't help but take on some of the people's problems. I don't mean that you actually have the problems, but you live the problems with them," he admitted. David helps people with their life struggles. "You almost have to live it with them in order to get through it." Examples of "living it" include helping a family bury a beloved pet or haul horses to and from the vet. "Those are things a father would do for them," David said.
David participates in local outreach programs with college and high school students. He actually gets out in the ring
with them. "We buck bulls, buck horses, team rope and barrel race," he stated. He might be rough and tough out in the ring, but he is a gentle man everywhere else. People tend to see his accessibility, and aren't afraid to look to him for answers.
An area leader for the Christian motorbike and car club, Chariots of Light, David reaches out through this group to help community members. "It's a fellowship of people who like to have classic cars and ride motorcycles," he stated. The group travels the country doing different outreach events. Chariots of Light recently visited with children at the Pythian Home in Weatherford, letting the children experience the thrill of riding on a motorcycle. David, along with the Chariots of Light members, is a positive role model to the children. "We just enjoy spending quality time with them," he added.
The children always have a great time when the Chariots of Light members visit. "They don't feel invisible. They feel that there are people who care about them," Cinde Watson with the Pythian Home said. "And who doesn't like to ride a motorcycle?"
David has helped many people over the years, much like a father with his own children. He's assisted them through difficult times, enabling them to find strength in their faith and the community. "Faith becomes a way of life," he explained. "It's just the life you live and the way you live it."
Becoming part of others' lives gives him a sense of purpose, but there is always something else to keep him busy. He raises bucking horses and bulls
and tends to a little herd of cattle with Kathleen. "I enjoy it," David joked, "but I don't know if Kathleen necessarily does."
David and Kathleen have four grown boys of their own, who are now married with children. "They're spread out all over the country," David said. Kirtis has been in the Air Force for eight years and is now stationed in Clovis, New Mexico. David Simmons Jr. pastors in Chino Valley, Arizona, and has a saddle shop there. Joshua is a firefighter in Merced, California, while Brian manages a music store in Fresno, California.
The 55-year-old does not get to see his children and five grandchildren, four boys and a girl, very often. "It makes Mom sad, and I'd like to see them more," he admitted, "but we do get to see them from time to time." As a father, David taught his children to be strong and find strength through their faith. David's own strength keeps him from worrying about his family. "They chose their jobs, and the one who has been to the desert three times chose to make a career out of the Air Force. He actually came out after six years for three months and went back," David said. "They all know Jesus, so I don't worry about them."
Although David probably will not get to spend time with his sons or grandchildren this Father's Day, he will get to see his father, Sam Simmons, who lives in Brock, Texas. "Of the three sons, I'm the one that gets to spend time with my father." David has not made plans with his dad for Father's Day, yet. "That will be entirely up to him," he said with a grin. "We'll do whatever Dad wants to do."
Written by Amber D. Browne.