WAXAHACHIE, TX — LaNae Vess never could have imagined what she would be doing with her spare time once she decided to leave corporate America. "I just knew I didn't want to keep my children, Shelbi and Kyle (who are now grown), in daycare," LaNae admitted. "I needed an avenue where I could stay home and care for hem, but I also needed something to do with my creative energy."
"I told her to go back in the house," Kevin said.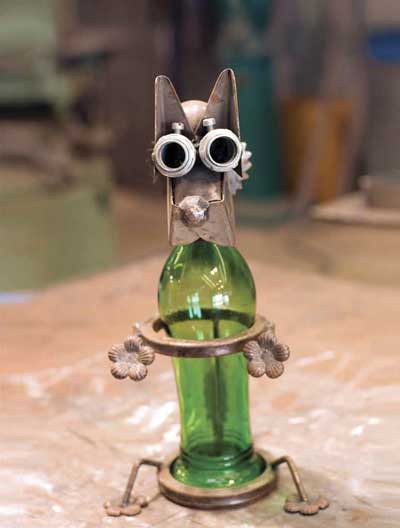 This same scenario played itself out numerous times before Kevin finally relented. As LaNae looks back on her "first lesson," she can't help but laugh out loud. "It was somewhat of a disaster. I got burned almost immediately," she recalled, still wincing at the memory of the pain. She learned that weld slag, the elements found in the sparks coming out of the weld, fly. In this case, they flew and landed inside her shoe.
Six months after that first encounter, LaNae went back to ask Kevin for another try. "I was more determined than ever to learn how to weld," she said. "Kevin would create something really cool and give it away. I wanted him to teach me so I could make decorations and artwork for my home." This time she didn't get burned, thus starting a journey that has brought her tremendous joy. As she looks around their Waxahachie home, she finds great pride and satisfaction in what she has been able to create.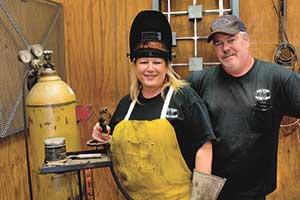 When visitors come into the home, they can look in any direction and find evidence of the "monster" Kevin created. The fireplace screen is one of many she has handcrafted over the years. The "kissing fish," which hang over the dining room window, were hammered out of copper and welded into a stylish metal frame. The wall art found in the entryway is fittingly named A Day in the Life. The collage includes a half-sun, half-moon and two brass birds. The sun is constructed from copper, while the moon is metal, with a few touches of brass. Just recently, LaNae created her "bottle puppies," designed from scrap metal and random nuts, bolts and washers. Some of the items guests admire most include the plate racks. At first glance, they appear to be identical, but on closer inspection, it is apparent each of the four have their own distinct qualities. "I don't  care how many of the same piece I do," she stated. "No two will ever be alike."
One request she had from a friend was for a unique Halloween costume. "She wanted a 'Queen of the Damned' costume," LaNae said, explaining this particular character was the lead in a recent vampire movie. LaNae outfitted her friend in a breastplate, belt, headdress and necklace, all constructed from a variety of metals. "She won third place in the costume contest," she said. "I can only imagine how detailed the first and second place costumes were."
As Kevin described LaNae's second "first real lesson," his pride regarding his wife was evident. "She was a little bit nervous, but her determination was everything," he admitted. "She picked the process up a lot faster than some of the students I've had."
"Kevin was real impressed with what I was able to do," she smiled. "He'll tell
you that I can cut better than he can." These two share so much more
artwork than merely welding. The tools of the trade include Mig welders, Tig welders and several sizes of plasma torches. Each of the three is used for a specific type of welding, which in most cases is dependent on the type of metal being used at the time. "Mig welding
is wire-fed welding," LaNae explained. "It's what I use most of the time." Mig welding is primarily used for commercial metals and heavy steel.
The Tig welder is used on cooper and aluminum. "It's a much stronger weld," Kevin added. "The penetration of the weld is deeper."
The plasma torch has become one of LaNae's favorite tools, with which she effortlessly cuts raw metal into the shapes and sizes she desires for whatever project she is working on at the moment. "It's all done freehand," she said.
Back in 1995, the couple realized there was a demand for the products they were crafting, so they turned their craft into a family-owned business, Steel Images Welding & Design. The smaller items they crafted for family and friends locally turned into much larger pieces that are displayed throughout the world from Singapore and Russia to Tokyo, Kuwait and Dubai. The art, although beautiful, also possesses a great deal of functionality. One overhead gate they made is hinged on one side to allow 18-wheelers entrance to the owner's property. "I like taking the idea someone had on paper and bringing it to life; giving it dimension," she said. "I think I can make anything, but Kevin's the quality-control guy. He makes sure its functionality will withstand the test of time."
"We really do work well together 90 percent of the time," Kevin said. "We haven't strangled one another or divorced. Overall, I wouldn't trade it for anything."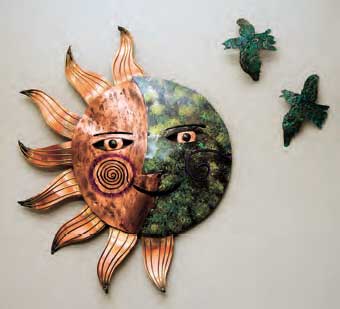 Written by Sandra Strong.