CEDAR HILL, TX — Amy Lamar has been coaching community members of all ages at local natatoriums for some time. When the opportunity to lead Cedar Hill High School's swim teams presented itself, she seized it and began to build a program with strong roots. Amy has been involved with competitive swimming's early morning practices, repetitive drills and the smell of chlorine since age 5, but coaching adds a new layer of responsibility to the sport she loves. "I'm not a morning person," she laughed. "Sometimes with practices, meetings and work, I put in 12- to 14-hour days. But, I love it so much I've never had a problem being motivated to work with the kids as student athletes and just young adults."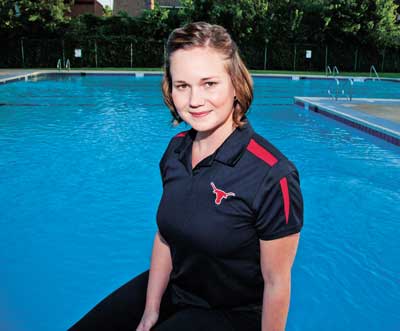 During the season, which runs from August to March, Amy wakes up at 3:45 a.m. to meet her team by 5:15 a.m. Practice, from 6:00 to 8:00 a.m., is at Duncanville High School — Cedar Hill does not have its own pool, despite having a swim program for 10 years. Amy ensures the students shower, change and get ready for school on time for their first classes.
As a girl, Amy began her swimming career in the well- established swimming community of San Antonio. "The aquatics program in San Antonio is pretty evolved. Neighborhoods have teams which compete against each other. Those teams feed into club teams, which in turn, support the high school teams," she explained. She competed through her senior year in high school and considered continuing her career in college. Ultimately, she decided to pursue a different interest and enrolled at the University of North Texas, with a major in photography.
While at North Texas, Amy was hired as an assistant photographer where she met Jay Lamar, the communications and marketing art director, who later became her husband. When she got the job, she changed her major to art education. After graduation, Amy became an elementary art teacher in Grand Prairie. Wanting to pursue photography and help Jay build their photography business, she left the school and began looking for part-time work. The Duncanville Natatorium needed managers and swim instructors, so she applied and was hired as an assistant manager, water aerobics and swimming instructor. She also took a summer job at Kirby Creek in Grand Prairie, coaching the precompetitive team to gain experience.
Last summer, Amy applied to coach the swim teams at Cedar Hill and was hired almost immediately. She credits her familiarity with many of the swimmers, through her work in local swimming circles, for her quick hire. The first-year coach led her teams to a great season, with the girls placing third in the district and the boys, sixth. The girls finished 10th at regionals, and Amy is confident that both squads will continue to improve. To help that process, she started a challenging new sport — water polo — to help the swimmers with their off-season conditioning and build team unity.
"When I was younger and swam, I always played water polo. I told the kidsfrom the beginning of the swim season that I wanted them to play water polo this spring, but they didn't believe me. It's a great way to stay in shape. Because it's a team sport and swimming is an individual sport, it's an exciting way to get the
kids together as a team and keep them mentally engaged," Amy said.
Water polo wasn't entirely foreign to her swimmers because they'd played for fun during practices. However, playing the sport correctly required learning a lot of technique, as well as adjustments for the different conditioning necessary. Amy started by teaching the basics: the six field positions and goal keeping, ball handling, using an eggbeater technique to tread water and communication with each other. Once the students started mastering those skills, she began to introduce drills and scrimmages to reinforce them.
"Water polo takes a lot of endurance. It's like swimming, but there are distinct differences. For instance, there are fast sprints, followed by treading water. In the beginning, I got in the pool with them, and they were very entertained," Amy smiled. "This is all very new for the kids. They're close as a team, and they did a lot of bonding stuff together during the swim season, but working together is new, and it has molded them in a very positive way."
Amy also accepted an offer from local water polo coach, Joe Linehan, to conduct a free clinic for the Grand Prairie and Duncanville programs. He taught the swimmers the basics of the game, how it flows and the specifics of the rules. "Joe told me there were only a handful of teams in the region three to five years ago, and now there are over 30. Some are consolidated between school districts, and some are coed," she said.
Initially, Amy got some resistance DeSoto NOW has worked with them to accommodate their pursuit of other interests. However, Duncanville NOW team in the future, she plans to eventually
in the interest of fielding a successful require her teams to compete in water polo. "This year we needed time to learn the game, and I've been patient with some of the kids wanting to do dry land conditioning or pursue other interests. Next year, though, I want everyone involved, so we can compete from the very first tournament," Amy explained.
As if she wasn't busy enough, Amy started Cedar Hill's first middle school swim team this spring with 30 swimmers signing up — almost double the high school team. This now requires her to make the trip to Duncanville's pool twice each day. She looks forward to the future, especially with some potential changes on the horizon.
"Both teams are young, so in the next few years, we will see some amazing stuff from them," she said. "In the future, we are hoping for an athletic facility with a four-lane indoor pool. We rent space and have to travel all over to practice and compete, so having our own facility would be huge. We got our first official board this year, and the team is extremely excited about that. The support of the administration and the athletic director for me as a first-year coach, in my first [high school] coaching gig, has been so great. It helps me maintain my momentum."
Written by Jeremy Agor.