RED OAK, TX — Destiny LaRue and Paige McMillan recently marked a milestone together: signing college letters of intent in soccer. But this is not the first achievement the girls have shared. Their friendship dates back to childhood and, of course, a soccer field.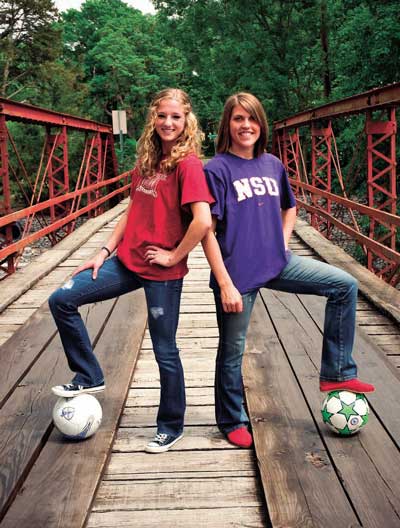 The Red Oak High School (ROHS) 2011 graduates met at age 5, when trying out for Southwest Soccer Club. "My best memory of playing soccer with Destiny is when she put a field move on a Waxahachie soccer girl her first game back after tearing her ACL," Paige said.
Destiny's family moved to Red Oak in 2002 for its quiet, suburban atmosphere, while Paige's moved into its Red Oak dream home in 1999. The girls played recreational and club soccer together at various points throughout their careers, most recently for ROHS.
"When I started, I did not expect the camaraderie that accompanies a team. It has been such a joy to play with every new team, and all my teammates over the years, and I have made many friends through this sport," Paige shared.
"Soccer was the first sport I participated in. I loved it so much I didn't want to stop playing. So I have played every fall and every spring since I was 5 years old," Destiny added.
Both girls dedicate many hours a week to their sport. "In high school, I spent two to three hours a day (during season); in select, I spent four-and-a-half hours playing and another three hours driving to and from practice or games. Each week, I roughly spent around 10 hours playing soccer," Paige calculated. A normal week for Destiny includes three practices plus speed, agility and quickness workouts, as well as a private skills session.
"Add in any games that may be scheduled for a minimum of nine hours per week plus extra training I do on my own, such as weight training at the gym," she said.
Paige has played select soccer for eight years, which requires year-round training. She has taken many soccer skills courses, and spent countless hours working in her backyard. "Also, for a year, I had a personal trainer to help me recover from ACL surgery and to make me physically, mentally and skill-wise a sound soccer player," she said.
Destiny played for the DeSoto Spice, DeSoto Ice and Duncanville Magic, from ages 5-10, and then earned a spot on the select team Southwest 93G of DeSoto for her first year of select U11. "I played with this team for two years before joining the Solar Soccer Club, based in Dallas, where I have been playing for six years."
Through the years, both girls have faced setbacks from injuries. An ACL tear made Paige that much more dedicated to the sport. "Most girls would be completely demoralized when they learned they had torn a ligament that takes six months and surgery to fix, but it actually helped me to become a better player," she said. "Instead of playing for six months, I worked out and worked on skills for when I would be released to play again. The time given to me due to that tear helped me to become better and stronger in the sport."
Injuries strengthened Destiny's resolve, as well. "I had a quad tear and ankle injury that required surgery in eighth grade. These weren't difficult to overcome compared to two ACL surgeries and a meniscus surgery (10th grade, right ACL; 11th grade, right meniscus; and 12th grade, right ACL)," Destiny recalled. "Ninety percent of the recovery from these injuries, for me, is mentally overcoming the fear of reinjury and having to start over again from scratch."
While the girls played together for ROHS as freshmen and sophomores, Destiny's injuries forced her to quit the school team and focus solely on club play. "Freshman year I was a starting midfielder on varsity. That was the year both Red Oak boys and girls teams beat Midlothian teams in the playoffs! That was one of the most emotional games I have ever played; our team was district champs and made it to the quarterfinals of playoffs," Destiny said. That year she was named First Team All District.
As Midfield MVP for the Lady Hawks in the 2009-10 season, Paige admits she wasn't always a team leader. "At first, I was not the best player on the field, by far. I have improved with every coach and every practice to become the good player I am today. I have a solid work ethic that has driven me to get better every time I touch a soccer ball or go to work out," she said.
Both girls say they are inspired by other soccer players: Paige, by Damien Duff of the Ireland International Team, and Destiny, by former ROHS teammate Brandi Smith.
"Damien proves that you don't have to be the biggest, fastest or most skilled player to do well in soccer. What it takes is a serious work ethic and determination to be the best you can be in whatever position or role you have been trusted to fill," Paige said.
"Brandi, a senior, took me in as a freshman and treated me with respect. She didn't succumb to the pressures of college life and continues to do well as a junior in college. We are still close friends today," Destiny said.
Speaking of college, Paige received a scholarship to play at Troy University in Alabama, while Destiny signed with Northwestern State University to play on scholarship in Natchitoches, La. They also see soccer in their futures beyond college.
"I'd like to continue to the professional and international leagues for women's soccer, then become a sports-specific physical therapist to help others overcome obstacles in their time in athletics," Paige said.
"Life after college could include playing in an adult league and/or coaching. Also, I will use my love for the game to help tell people about Christ," Destiny said, noting she hopes to pursue a seminary degree.
Faith is another common denominator for the girls, who both attend Ovilla's First Baptist Church. And while each love to read, Paige lists running track as a favorite hobby and Destiny claims Wii Dance for fun.
No matter where life takes them from here, the two say they will always remember getting their start in soccer together. And they each encourage others to pursue sports in some manner. "You may not be very good, but that does not mean that you can't play the sport and love it," Paige said. And Destiny added: "Try everything; decide for yourself what you enjoy; and then work hard to get better. Never give up on yourself … or your teammates!"
Written by Angel Morris.