WEATHERFORD, TX — Luann Robinson Hammet helps feed over 200 children breakfast and between 420-500 children lunch in the Bose Ikard Elementary school cafeteria. But she is doing more than making sure they key in their ID numbers correctly and get their trays. She also watches to make sure they eat well and eat all they have chosen to eat. "I ask them all the time to drink their juice and eat their fruit," Luann stated.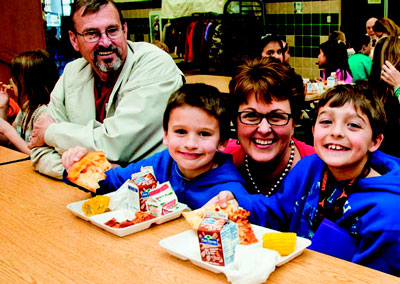 Obviously it is true, because while visiting a local restaurant, three kids came up to show her they were drinking their juices. "This is why I never go out of the house without my make-up on," she laughed. "It's one of the joys of my job when kids bring their parents over to meet me." Luann is the first to admit she had a hard time rearing her own three children. "People may wonder why I am being interviewed," she said. "But, I went through a real rough spell with mine. Because others helped me out so much, I now can help others." With glistening eyes she continued. "It helps to know, then love and eventually forgive yourself for the past. I am blessed to have my three kids." Her eldest, Victoria, age 20, is a mother herself to a boy named Caraway. Logan is 17 and her third child, Alexander, is 14.
Luann the Lunch Lady, as she is fondly called, is an LVN (licensed vocational nurse), but she has worked in the cafeteria for nine years. She decided to apply there because she'd have the same hours as her children. She has never regretted her choice. "This is my mission field. We don't just sling hash, we feed their minds and hearts," she confessed. "I tell them if there is nothing in the tank the brain will stop working, so please eat healthy and finish what's on your tray." She admitted she has always loved to cook. "I remember standing on tiptoe with a doll under one arm and a spoon in the other helping in my Mammaw's kitchen in Tin Top."
Weatherford ISD, as most public schools, follows the Federal guidelines of the Offer Serves Program. This means the children are not given a set meal each day as once was the practice in school cafeterias. Today, each child must be offered a choice of what they prefer to eat. This means each school must offer four to six choices in each of the food groups at every meal. Luann believes the students need guidance to help make healthy choices, and she is there to provide that instruction. "Some of these kids would eat the same thing day in and day out. I encourage them to try new things, especially fruits and vegetables. I tell them, just try a bite and then decide.
Expand your horizons." She laughed as she continued. "To me it's personal victory when they quit bringing the lunch box. I had one mother tell me her child liked the cafeteria food so much, I better be around to cater his wedding later on."
She wants the children to eat well while they are at school. "I worry about them over the holidays," she admitted. "When we had that ice storm, I prayed the whole time they wouldn't get too hungry. I know what that can be like. There are tough times out there. It's the mother's heart in me, I guess."
Luann believes it all boils down to feeling good about yourself. If you are eating right and healthy, you will do better in school and on the playground, be less grouchy and run down and have better self esteem. Couple that with loving, yet stern discipline and manners, and she believes the kids are headed down the right path. "There will be less drugs and alcohol and trouble if they feel good about themselves. When the brain heals, your life heals."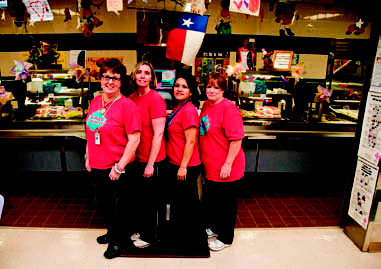 Many of the younger ones don't know how to peel an orange, open a carton of milk or properly use a fork. Her job may only be serving the children, but since she is there with them she feels obligated to assist them in learning to eat properly, both nutritionally and in mannerisms. She realizes she has them longer than any of the teachers because she has them every day for five or six years. She tries to teach them real food can taste just as good as chips and soda. She also tries to teach them not to waste food. "When I see a child getting ready to toss a piece of fruit in the trash I call them over. I show them two quarters and a dime and ask them if they'd throw that away. When they figure out that food costs money, they are less likely to waste it."
The school provides a summer program in which any child can come to eat breakfast or lunch even if school is not in session. That also speaks to Luann's heart. She then knows "her kids" are eating healthy and not getting into trouble when they show up during the summer. She looked away with new tears in her eyes. "I often wonder where these kids will be 15 or 30 years from now. I tell them to always respect the person who serves you food. Even if you end up in some big job, be nice to the people who work in restaurants, even the drive-throughs. They're working hard and deserve respect."
Luann also helps others outside the cafeteria. One 22-year-old professional bull rider named McKennon Wimberly was severely injured in competition. Luann organized a fund raiser in late March to help pay for his medical bills. The silent auction, regular auction and other events held brought his family significant financial relief. "It's a miracle he is alive," she added. "It's the least I can do. He's a fine young man."
Written by Julie B. Cosgrove.