WAXAHACHIE, TX — Cruising down Main Street in late May as summer begins to make its debut, conjures a brief flashback to a 1950's town filled with bicycles and children fresh out of school. Both sides of the road are flanked with American flags guiding passersby as if they were on a parade route. The flags continue on past the businesses and into the residential neighborhoods where homeowners proudly display them in honor of Memorial Day.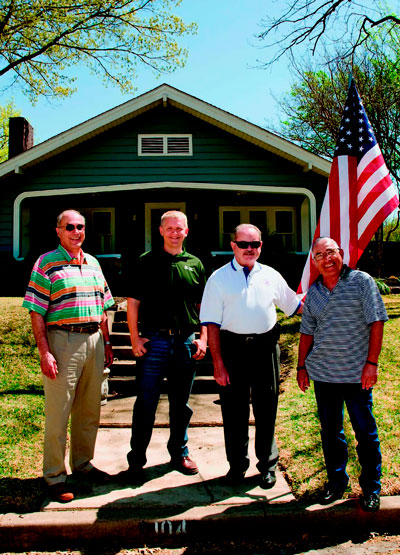 Rotary clubs across the country have created flag programs to show national and community pride, while at the same time raising significant funds for their service projects. After seeing the program established in Duncanville and Lancaster, Rotarian Joe Smith began developing a way to bring the program to Waxahachie. In 2003, the club officially began the Rotary Flag Program and fabricated 150 flags. Members started by asking their friends and neighbors, and soon the program caught on. Today the group distributes close to 1,000 flags to homes and businesses five times a year. The first streets to adopt the program were Marvin Street, Main Street and Mustang Creek Drive. "People seem to really like the beauty and pride that the flags bring to our community," Flag Program Chairman Don Stroope said. "We get a lot of compliments. The more flags we put out the more calls we receive about subscriptions."
The flags do not stay up year-round, but are distributed on
five holidays including Memorial Day, Flag Day, Independence Day, Labor Day and Veterans Day. To prolong the life of the flags the Rotarians collect and store them after each holiday. Each flag team, made up of three or four Rotarians, distributes anywhere from 25 to 100 flags in a single afternoon. Teams have 48 hours prior to the holiday to place the flags, and they must be collected within 48 hours following the holiday. "Each team spends around six hours putting out and picking up the flags," Don said. "Luckily we have a large number of retirees involved who can help distribute during the day."
Since the beginning of the program, the flags have been made by Rotarian volunteers in Rotary Club President Mike Tull's workshop. Eight volunteers can fabricate 150 to 200 3 foot by 5 foot, polyester-cotton flags in one afternoon. The flags are attached to an eight-foot metal pole and are supported by a metal sleeve installed at the location. Over time the flags deteriorate and the Rotarians routinely check for signs of disrepair. When flags are unable to be repaired, Boy Scout Troop 232 properly disposes of them.
Each flag subscription is $35 per year. Those interested in subscribing can do so by printing out a form on the Waxahachie Rotary's Web site and mailing it in with a check. There are no limits to the number of flag subscriptions a home or business can purchase. "We don't have a lot of citizens with multiple flags unless they have a large property," Don said. "Several businesses have multiple flags, like Carlisle Chevrolet and Farley Street Baptist Church, both with 20 flags each." While the flag program helps establish a sense of community and national pride, its mission is not solely aesthetics. Since 2003, the program has been the largest means of fundraising for the club. The majority of the money the Rotary receives goes back into community projects, and some of it goes into their international programs. They benefit community service projects, as well as groups, such as: Habitat for Humanity, Special Olympics, Boys & Girls Club, the Education Foundation of Waxahachie, Meals on Wheels, the Wheelchair Foundation and Operation First Day of School. Recently the club contributed $50,000 to the Hope Clinic. "The program brings in funds for our service projects, but it is about more than that," Don said. "From the railroad track to downtown all you see are flags. It is a beautiful sight. The community pride that is seen comes from so many citizens of the community participating."
Don has served as the flag program's chair for one-and-a-half years and has been a Rotarian for three years. Other Rotarian leaders include: Kirk Lipscomb, co-chair; Bob Diana, database manager; and the install team of Edwin Farrar, Rudy Rodriguez and Frank Guy. "In the past, the Interact Club has also helped with the refurbishing of the flags at the Boy Scout cabin," Don said, "which includes removing the old worn-out flags and disposing of them properly, then putting a new flag on the pole and covering it with a protective sleeve."
Like most of the other 80 members of the club, Don joined Rotary as an opportunity to give back to the community. Don's relatives are longtime Waxahachie residents, who started Stroope Pest Control in 1950. Four years ago, he moved into the community to help his grandfather run the business. "I'm lucky to be able to run a business, which allows me to spend time doing Rotary things during the day if I'm needed," Don said. "They have weekly meetings at lunch on Thursdays that would be hard to get to if I had another job." His passion for serving others started
long before he became a Rotarian. As a student at Texas A&M University, Don joined Big Event. He even met his wife, Courtney, through this service project. "The group made the Guinness Book of World Records as being the largest one-day, student-led community service program in the nation," Don said. "Out of 40,000 students, they get around 12,000 to show up for the project. My roommate was the director of Big Event, and Courtney was the assistant director. She used to come over to our room for meetings. I guess I swept her off her feet with my community service."
Each quarter, the Rotary tries to do a large service project to help members and organizations within the community. They do anything from roofing houses to cleaning up bushes at citizens' homes. However, they are always at work in small groups helping build wheelchair ramps and other smaller projects. Programs like selling flag subscriptions helps financially, but they are always looking for extra volunteers. Those interested in joining Rotary should contact a current member to begin the process. "It's important to give back to citizens who have made Waxahachie what it is," Don said. "The service-above-self motto is what led me to join Rotary. It's a great feeling to give back to the community. Rotary has a lot of opportunities to give back and to meet good people."
Written by Sydni Thomas.
Editor's note: Subscription forms can be found at www.waxahachierotary.org.