CEDAR HILL, TX — Our own Cedar Hill is making an international impact. Local businesswomen and Northwood University have partnered with Dr. Terry Neese of The Institute for Economic Empowerment of Women (IEEW) and businesswomen nationwide to "pay it forward" by mentoring women from Rwanda and Afghanistan, as a means of improving their lives and bringing peace to their nations. "This is such a natural fit with our goals as a university," Dr. Fegan, provost of the Cedar Hill campus of Northwood University, remarked. "We are always conscientious about our responsibility to our students, society in general and especially about being a good neighbor and maintaining a valuable partnership within the community. To also provide a global footprint through mentoring the women from these countries in business and entrepreneurial skills fits right in line with our philosophy of political and economic freedom for all people."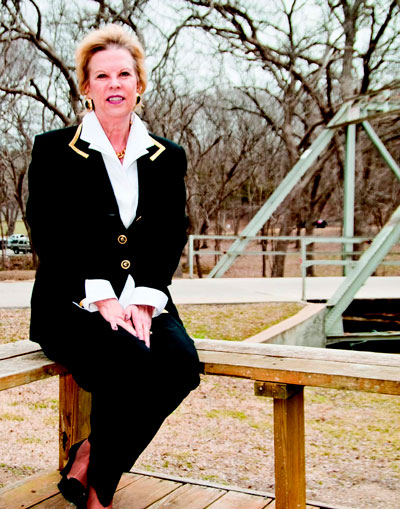 The program, Peace Through Business, was conceived following a conference call Dr. Terry Neese received from the State Department of Education and the White House. Dr. Neese, who grew up in an entrepreneurial family, developed Terry Neese Personnel Services 35 years ago, which her daughter now runs. Owning her business led her to become active in NAWBO (National Alliance of Women Business Owners). "I became a member in 1986. Up until this point in my life, I had done very little travel outside of Oklahoma," Dr. Neese recalled with a small grin. "By 1988, I was on the national board of the organization with 35 chapters nationwide. In 1989, as president elect, I understood the need to be an advocate for women business owners. Soon, I had traveled to almost all 50 states." As president, Dr. Neese's goal was for members to travel to Washington, D.C. to inform Congress on the unique issues businesswomen face.
Her experiences led to the formation of IEEW, a nonprofit institute which teaches women how to get involved in public policy, network and advocate for small businesses. "I wrote a training manual on the importance of getting to know your congressman and political leaders (federal, state and county). Following a 14-state tour with the manual, I received the conference call, which thrust me into global businesswomen's issues," Dr. Neese summarized.
Invited to Washington to brainstorm ways to help Afghan women become self- employed and self-reliant, Dr. Neese was appointed to the U.S.-Afghan Women's Council, originally formed in 2002, with a mixture of women from the United States and Afghanistan. "When I went to Afghanistan and saw firsthand the challenges they face, I couldn't even really comprehend it. There is no infrastructure. Women aren't allowed to drive. Bomb threats are daily realities. Each day, these women leave their homes never knowing whether that day will be safe or not," Dr. Neese recalled. "That trip changed my life and made me more aware of the blessings of freedom. I wanted to help. I felt I had been working my whole life to come to ace. My destiny is in helping these women." In both Afghanistan and Rwanda, so many men have been killed, that it is up to these women to resetablish economic stability in their countries. Yet this is especially difficult in societies where women have been seen and treated as property.
As a plan began to unfold, Dr. Neese knew she would have to find a university partner to complete the plan. Dr. Fry, then president of Northwood, offered her use of their facilities, curriculum, housing and food — initially on the Michigan campus. In 2009, the program moved to the Texas campus. Dr. Fegan indicated the first year's involvement in Peace Through Business emphasized awareness. "Last year, we shifted toward acceptance through getting the community involved. This year, we are moving toward greater accountability and considering potential opportunities for progress. We are asking, where will we take it from here?" Dr. Fegan explained.
Local involvement included several Cedar Hill businesswomen paring up as mentors. Luanne Alcaraz, owner of Chick-fil-A, and D'Lana Motta, owner of Virginia's Boutique, participated as mentors. Luanne felt she learned as much from Joanne, her mentee from Rwanda, as she was able to give. "These women are so eager to learn, so inquisitive and ready to share their culture with you. It was an eye-opener," Luanne remarked. D'Lana echoed Luanne adding she still e-mails Farqhana in Afghanistan, who is also in retail work. Farqhana also teaches business and English classes to other women and is working with the Afghan women who will be here this summer. This year, the Cedar Hill Chamber is focusing the July 14 Chamber Night Out on giving people of the community an opportunity to meet the Rwandan and Afghan women. "I am hoping this will build a deeper relationship of awareness and partnership between the people of the community, the women, mentors and potential mentors," Dr. Neese remarked. The program provides business training for 30 women from Rwanda and Afghanistan. Each of the women must have been in business for themselves in their country for at least one year. They receive about eight weeks of training in their country and then come to the States, where they receive one week of intensive courses in business and marketing skills and entrepreneurial training at Northwood. Each woman is then paired with a local, mentor businesswoman who works in the same industry as theirs, working together for one week, side-by-side.
Such issues as access to capital and presenting a unified voice are addressed, along with business strategies. Rwandan participant, Natacha Kabandana listed ideas and methods she would be applying immediately: contracting, budgeting, evaluating her suppliers, marketing, communication and human resource management skills. Natacha's mentor remarked she was like a sponge, soaking in all the knowledge, experience and suggestions that she, as a mentor, could provide. Their time in the States concludes with
a wrap-up summit and graduation. Randall Stephenson, CEO and president of AT&T, who has sponsored the program since its beginning in 2007, met with all of the women in 2010. They discussed business plans, financing, marketing and leadership. At last year's graduation, he said he would happily hire any one of them to his management team, but he knew their goals were to return to their countries to work at solidifying and improving their nation's economy through work, education and training others.
As part of the program, each woman mentors at least 10 other women in the year following participation in Peace Through Business. These women return to their countries as leaders, who have met their ambassadors at the summit and are ready to "pay it forward" by effecting an economic change in their country.
Written by Beverly Shay.