RED OAK, TX — It had been a long time since there was a musical production at Red Oak High School (ROHS), and Choir Director Mechelle Foster set out to change that. Mechelle, along with several other teachers, administrators and community members, successfully staged a production of the hit musical Grease this year, bringing musical theater back to Red Oak for the first time in a long time. In fact, most people she talked to knew there had been a musical at some point in the past, but no one remembered when, much less which plays had been performed.
Mechelle, a vocalist since about second grade, sang in church at first and then became very involved in choir programs in junior high and high school. She aspired to a professional singing career and entered college as a vocal performance major but, after starting her family while still an undergraduate, Mechelle changed her focus to music education. She began her career a few years later teaching elementary and junior high, and now has found her niche in high school.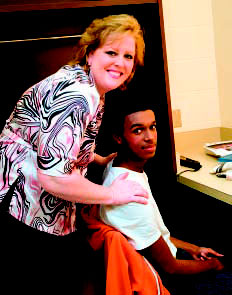 "I got into directing when the position at Red Oak Junior High School came open. They had not done a classic choir program, and I jumped at the chance
to start one because I wanted to grow a program that would be known in the Dallas area," Mechelle explained. "I teach because I think everyone should have an opportunity to learn how to sing. Every year, I have a student who wants to join choir but is hesitant because they don't think they're good enough. My students just look at them and repeat what they've heard me say dozens of times before, 'Everyone can sing. If you think you can't, Mrs. Foster will teach you how.'"
While she was teaching junior high, Mechelle and her colleague, Katrina Keener, began producing musicals, which were condensed for younger students. Audiences enjoyed them, and their students looked forward to the annual production, even badgering the teachers about which musical they were going to do next. Once students moved up to high school, however, there was no longer an opportunity to participate. That changed quickly when Mechelle was hired. "I sat down with Richard Thomas, the high school band director, and Angee Hallmark, the assistant theater teacher, and we started talking about what we might want to do. We decided that Grease would be a good option for the first year and sat down with the script to figure out what we needed to do to ensure it was family friendly," Mechelle explained. Once the play was chosen, the three teachers worked through the planning process to figure out how to make the production work, from instrumentation and set design to staying within their budget. They also asked Laura Kelly, who works with the ROHS drill team, to help with choreography.
Armed with a plan, Mechelle and her team held auditions and had 67 students try out. Of those, 29 were awarded parts in the musical. "The cast and chorus were kids from freshmen to seniors. I don't agree that lead roles should be limited to upperclassmen, so the best person for each role got it," Mechelle said. "About 90 percent of the kids were also choir students, so it was nice to see them in a different environment."
Rehearsals began about 13 weeks prior to the performance and were broken down into three phases, the first being music. "You can't have a musical if the kids can't sing," Mechelle laughed. Choreography and blocking (assigning characters' placement on the stage during each scene) followed, and the final phase incorporated all the parts together on stage. As with everything in the production, rehearsals were a team effort. Mechelle taught the music and did the blocking, while Angee, who specializes in technical theater, worked on set design, costumes, lighting and sound. The students rehearsed about seven hours each week and learned valuable lessons about time management and organization along the way.
While the students were learning lines and notes, many other people joined in preparing for the show. Burl Sloan and some of his art students helped with sets. Some band students got to use their instruments in a setting other than the usual marching band and orchestra. Mechelle's husband, Brian, and District Superintendent Scott Niven, designed the set and built it with the assistance of ROHS Principal Kevin Freels and Red Oak Independent School District (ROISD) School Board President John Hawkins. Stacy Stockdale and her graphic design classes created T-shirts, and Angee's husband, Adam, who is a graphic designer, created posters and programs. Richard recruited a former Red Oak student and that student's friend, along with an elementary school principal and two current students, to provide the music for the show.
Another benefit of the show was that Grease was the first major production in the school's performing arts center, so school staff learned a lot about lighting and sound. Because of the high-tech nature of the audio/visual controls, students gained valuable experience in technical theater as they learned how to use them. Mechelle and her team hope to include even more students in the future, including using home economics students for costume design and graphic design students for publicity.
Mechelle believes it was everyone's combined efforts that paid off in a great show. In fact, many are already asking what show they will do next year. No decisions have been made, but since students are aware of current musicals like Rent, Hairspray and others, Mechelle would like to introduce them to the classics. "A lot of recent musicals focus on a certain voice type and range, especially the alto and tenor lines, and I want to give other voice types a chance to show what they can do. Also, I want the students to understand how the older musicals built the foundation for today's musical theater," Mechelle explained.
The show's success was rewarding, but Mechelle pointed to other important benefits of students' participation, too. "The experience the students gained extends far beyond fine arts. These kids can grow beyond sitting in classes and actually see what it's all about," she said. "My biggest goal is to put tools out there for my students, teach them how to use them, give them the opportunity to use them, and then let them decide what they want to do." It is always exciting for Mechelle when students want to major in music. If she can give them a love of music, confidence and stage presence, "it will carry over and be a positive influence on other parts of their lives." And that, she believes, is truly hitting her mark.
Written by Jeremy Agor