MIDLOTHIAN, TX — Belting out a country western song in his usual nightclub, everything felt familiar and routine. Corby LaCroix did not know that by the end of his song nothing would feel familiar or routine. As a young musician, this was what he wanted to do, what he was trained to do, and country music was his pleasure. "I was right in the middle of a song, and all of a sudden, I knew that I was done with that," he said. "Every fiber of my being hated what I was doing, where I was, what I was singing and the place I was singing in. It was like God got inside and flipped a switch. I told the club owner that I was not going to be coming back."
The roots of Corby's dilemma began long ago. Playing the piano as a young boy seemed to be the outlet for his musical talent. However, the piano did not appeal to him as much as the guitar. He remembered the first time he picked up the guitar, at age 10. "At my grandmother's house, I was messing around with a guitar and managed to eke out a song, playing by ear." By trial and error, he discovered that he could indeed play a song on the guitar just by listening to the tune and figuring out where the notes were on the guitar. His playing by ear style extended to piano playing and caused his teacher some consternation. "I would frustrate my piano teachers. They would put the music in front of me, and I would act like I was reading it because I knew where to turn the page, but I was playing by ear. My teachers were fooled for a while, but then they caught on," he admitted smiling.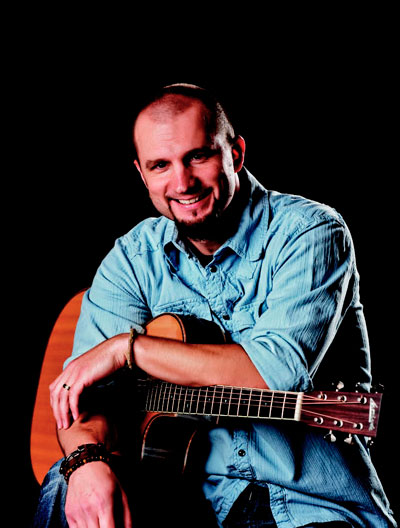 Even though Corby's teachers were distressed at his lack of knowledge regarding note reading, Corby knew his way of expressing music was
playing by ear. He acknowledged, "Reading music was never a gift of mine. I can read it, but it takes me a while. It is so much more efficient for me to hear the song and play."
Though his interest in the guitar began at age 10, Corby did not seriously pursue it until his senior year in high school. "I was really into country music at the time. I listened to songs on the radio to try and figure out what they were doing and how the chords fit together. After a while, I thought, Maybe I should sit down with someone who has been doing this for a while and shave some time off of my learning curve." During this time, Corby was a part of an organization called Young Life. The guitarist who played for their club meetings agreed to teach him some of the finer points of guitar playing. After high school, Corby followed Cari, his girlfriend and now wife, to Waco to attend McLennan Community College (MCC). "I didn't know what I wanted to do until I stumbled upon their commercial music program. It turns out there were only two programs like it in the whole state." In the program, the students could study the music business, music production, audio tech and commercial vocal and instrument performance.
Corby had found the perfect program for his needs. "It was everything from vocal training, ear training, music business, copyright, publishing to management. It was just how to make it in the music business," he stated. An integral part of the program consisted of students who formed bands together within the program. Elaborating, Corby stated, "They had a rock band, a Christian band and a country band to play gigs on campus."
Corby graduated with an Associate of Applied Science in commercial music performance. After graduation, he formed a band named Corby LaCroix and Cuttin' Loose. The band became popular and started opening for Nashville acts such as the Dixie Chicks, Tracy Lawrence and Diamond Rio. Corby enjoyed a degree of success with his band singing country music, until that night, right in the middle of a song. He felt God was saying that was not where He wanted him to be. Corby remembers telling his band members that night that he could no longer continue. "My band members got mad at me, and the club owner got really mad, and rightly so, because we were supposed to play three nights, and that was just the first night. That was a mistake. I should've honored that commitment. But at the time, I couldn't. I could hardly make it through the first night. This was in November. I did play the rest of the gigs on the calendar, and that was it."
After Corby quit the band, playing the guitar was not a priority again for almost two years. It wasn't until he joined Midlothian Bible Church (MBC) that he again picked up his guitar. "I recognized the call to do Christian music and wanted to participate in worship," he said. "Six or seven months into my job here [at MBC], I went to a worship conference in Kansas City where I was in a songwriter's forum with Matt Maher. He was talking about his approach to writing songs. It started opening my eyes. Before the forum, I looked at Scripture and noticed that certain songs came out of this verse or that verse. But after that forum, writing songs from Scripture was brought into perspective. I started writing songs and realized God was allowing me to see the Scriptures lyrically and to see patterns, especially in the Psalms and in some of
David's writings. So I started writing with Brady Goodwin."
With a collection of songs written, the CD named Declaration took shape. Eight of the songs in the album are original, with two of those co-written with Brady. The other two are "re- worked" hymns. "The CD was done in a way to cause people to seek the Lord," Corby explained. "My songwriting style right now is to take Scripture and write songs out of them. I have Scripture references for all of the songs, and Layne Mershimer (pastor of MBC) wrote a devotion for each song. I want it to be not just a music CD but a study guide kind of thing, too — a way to sit down and worship the Lord in music and then to go to His word."
Corby now believes "we are to use our gifts, our resources, our time and our efforts to bring praise and honor to the name Jesus." Doing just that, he has moved from country music and clubs to Christian music and church, using his talent in a way that brings fulfillment to his life.
Written by Betty Tryon.