BURLESON, TX — A little encouragement goes a long way. Parent Teacher Organization (PTO) moms at Hughes Middle School and The Academy at Nola Dunn are helping their children, thanks to coaching they received from Dr. Wes Center, "the brain doctor." A professor, licensed professional counselor and consultant, Wes talked to moms at several PTO meetings about things they could implement at home to help their child learn.
Simple, positive reinforcement includes saying key things like, "How smart you are!" versus, "Good job." It also involves teaching study habits that will back up what kids are learning at school.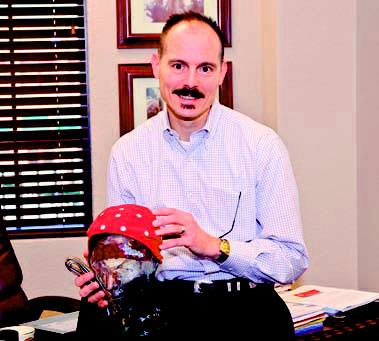 Wes learned the value of encouragement from the man who inspired him to follow his dream. "When you're married with bills and kids, life can get overwhelming, and support is extremely important," said Wes, who told his friend, Dr. Al Hulse, about his desire to hang out his shingle. "Dr. Hulse, the best primary care physician I know, told me, 'You'll be able to help people!' He called recently to check up on me and continues to give encouragement."
Giving more of the same when he counsels individuals and couples, Wes also teaches the skill of encouragement to his students in the Southwestern Baptist Theological Seminary Marriage and Family Counseling Program. As a clinical professor, Wes prepares lectures and case examples, and sometimes videos, to talk about counseling from theoretical or intervention perspectives. He then spends five hours one evening per week with his students in a clinical setting. First-semester students observe through glass while fellow students counsel real subjects, then talk with their professor about what they should or should not have done. Second-semester students are a junior part of a co-therapy team. Third-semester students are a senior part of a co-therapy team, helping guide their teammates in how to conduct a counseling session. All the while, Wes provides feedback on how to be more effective counselors.
On the heels of such interactive teaching, Wes supervises students in their fourth semester of clinical training. Some of those are at state agencies like The Texas Department of Mental Health and Mental Retardation or church-based counseling centers. Some are at Wes' Burleson clinic, walking side by side with him and learning by doing. "That is called micro skills development. See one, do one, teach one," Wes said. "Kristin Elliot is here assisting me in brain mapping and neurofeedback, and doing counseling and women's issues, plus conducting counseling at Southwestern."
After 2011, Southwestern will revamp their curriculum and their Marriage and Family Counseling Program — which once served 280 students in the Ph.D. and master's programs — will be phased out. Wes will press on to consult and counsel where he is needed. "What we counselors do is essentially missionary in nature," Wes said, remembering that even in high school in Houston, he thought he would go into ministry. "My parents, who had been in ministry, got divorced when I was 14. The reaction of the church to my parents' marital problems was troubling. There was no one there to give them help; the only advice given to them was to pray harder and read their Bible more." At the same time, his older sister was struggling with her relationship. Wes left for college hoping to get away from all the misery at home. Most of his buddies went into ministry after graduation from Howard Payne University, going on to attend seminary in Fort Worth.
Knowing he was immature and suffered from wanderlust, Wes and his best friend went into the military. "When I chose the Marine Corps, I never intended to stay in, but every time there was an opportunity to do something different, I signed up for it," he said. Wes was stationed in Okinawa for one year, but stayed three. "It was great! I learned how to scuba dive, and that became one of my passions. By the end of my time there, I was a master scuba diver and became a scuba instructor. I picked up golf in Okinawa, too, but that's one of the very few things I've never taught anybody — because I never became good enough."
Before retiring in 2002 from an assignment in defense acquisition, Wes served in four command positions. During his career, Major Wes Center commanded 370 marines at Cherry Point in North Carolina. After deploying to Saudi Arabia and Kuwait, he returned to Cherry Point and served as an executive officer of two squadrons and one battalion. As he was coming up for promotion to Lt. Colonel, the Marine Corps decided to cease using Hawk missiles. "That affected my ability to be promotable, since I was essentially a Marine without a weapon system," Wes said. "We were strongly involved in church, and in talking to my pastor and close friends, it seemed God was calling me to do family ministry. I felt like, based on my parents' experience and others in my family, there needed to be people who could do that kind of counseling work."
One thing led to another, and with the counsel and prayers of his wife, Lydia, and others — including Dr. Hulse — Wes decided to make use of his Veterans Administration benefits. He retired, settled to Fort Worth to attend seminary and seven years later he had a Ph.D.
and is now a member of the American Association of Christian Counselors. He has a formal consulting arrangement with East Fort Worth Montessori. But since he lives in Burleson, Wes chooses to give his time to Burleson ISD. Most recently he has been active on the Student Health Advisory Committee. "I feel it is part of my responsibility as a parent to give something back to the community," Wes said, "because they've done such a good job of educating my children."
The "brain doctor" is especially passionate about helping returning veterans. "Having been a combat vet myself, I know what it's like to have bombs dropped on me. I am really excited about the possibility of getting the Veterans Administration to approve us to give neurofeedback therapy for Post Traumatic Stress Disorder (PTSD) to these veterans," Wes said. "Our real goal is for people to thrive. Survive is OK, but thrive is what we're after.
"Truthfully, the problem with PTSD, and even with some marriages, is that people look to survive just one more day. As long as you're in survival mode, you'll never get into 'thrival' mode. Our goal in treatment is to de-link the power of the emotions that are recalled by the historical event. We encourage people not just to survive trauma, but to erase the lines they've drawn between the physical, mental, spiritual and emotional, and to leverage all your parts to help you heal. The scars are there as reminders, not that you were a victim, but that you are a victor!"
Written by Melissa Rawlins.