MANSFIELD, TX — Gone are the days where retirement means selling everything and buying a condo in Florida, playing golf every day or packing up the motor home and traveling the country. Retirees are choosing to give back to their communities, instead of sitting back and enjoying the fruits of their labor. A study conducted by the Urban Institute in 2007 showed that 45 percent of those who retired between 1996 and 2004 participate in volunteer projects through organizations and agencies.
Phil and Jackie Stover moved to Mansfield from Houston in 2005 following retirement. After years of dedicating themselves to their jobs, the Stovers began using most of their time to volunteer. Shortly after moving, Phil took over as the president of Kiwanis, a club founded in 1915, whose purpose is to serve the children of the world. Jackie became the volunteer coordinator at the Wesley Mission Center, a community outreach program supported by First United Methodist Church (FUMC) of Mansfield. The Stovers spend at least 15 hours a week at the center. "I set up a workshop at my home so that I would have a good place to work on the computers," Phil said, indicating he is a certified Microsoft refurbisher. "Once I get rid of all personal information on the computers, I repair them, install new software and bring them back to the Wesley Mission Center Thrift Store. Some of the computers we don't sell have been donated to a mission in Mexico or used here at the center as part of our job assistance program."
The thrift store was started in 1979 when FUMC had a lot of donated items left over from their Lord's Acre sale. After decades of growth, the store led to the creation of the Wesley Mission Center (WMC) in 2000. Now, the WMC serves members of the community by providing counseling, food, clothing, financial and job assistance. "All of the money we make at the thrift store is given back to the Wesley Mission Center so that we can assist others," Jackie said. "We operate on that money and donations."
As the economy took a downturn, and the unemployment rate grew, the WMC and other food banks across Mansfield saw a rapid increase in need and a decrease in donations of nonperishable goods and funds. Keeping up with demand was becoming more difficult, especially during the summer months when parents had to worry about finding breakfast and lunch for their children, who take part in Mansfield Independent School District's (MISD) free and reduced lunch program during the school year. Phil and his fellow Kiwanis members met with Common Ground Network, Inc., a nonprofit organization made up of churches and agencies to coordinate assistance programs for local low-income families, to find a way to meet the community's need. In 2007 both groups formed Feed the Kids for Summer and provided bags of breakfast and lunch food for children of low- income families in the district.
The summer program was initially a suggestion from MISD. Nurses and teachers had noticed students coming back from vacation malnourished and disruptive. Since the program was started, these same teachers are witnesses to its success. "The nurses and teachers have
told us that the kids on the program are coming back each fall nourished and ready to learn," Phil said. "There are government programs that would have taken care of these students in the summer, but since MISD is so far spread, we didn't have a central location to serve them." During their first summer they distributed over 2,000 bags. Each consecutive summer, they have seen a dramatic increase in distribution. They are preparing to hand out over 6,000
bags this summer. The program runs for 10-12 weeks depending on the length of summer vacation from school. Each school notifies eligible families. With the increase in demand and limited funding, families are approved on a first-come, first-served basis, so it is important to apply as soon as possible.
Phil and the other volunteers spend days planning, buying and organizing for each weeks' distributions. Before he can go shopping, the order must be completed and faxed to Sam's Club on Monday morning. Each item has to meet the guidelines of the program. They must be easy to open, nutritious and if there is cooking involved, it must be microwavable. A typical bag contains three drinks, three snacks, three desserts, two boxes of cereal, one soup, one pasta meal and a can of tuna fish. "If funds are available we try to provide fresh fruit, which can be difficult to keep fresh," Phil said. "If they want it, families are given one jar of peanut butter each week, too."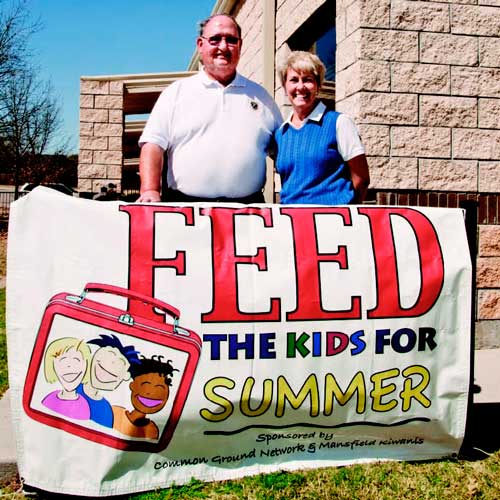 On Tuesdays, Phil drives the truck to Sam's to pick up the pallets of food they ordered. The cost is around $2,500 per week above donations of nonperishable goods to fill their order. They stretch the food as far as it can go, but are still not reaching all of the hungry children in Mansfield. This year, there were 11,000 students enrolled in the free and reduced lunch plan at MISD schools.
Wednesday is the designated day to assemble all of the bags. Feed the Kids for Summer does not have a site of their own at this time. Since it is made up of several churches and organizations, they meet at one designated location, First Baptist Church in Mansfield, to prepare the bags. Volunteers arrive at 10:00 a.m. and unload the truck. Later that same evening, community families come together to fill the bags before the seven food banks arrive around 7:00-7:30 p.m. Families in the program pick up their bags at the food bank to which they are assigned on designated days.
Two days are needed for the Wesley Mission Center's food bank to distribute their bags. "We've had a great number turn out in the summers to help," Jackie said. "Kids are out of school, so families can serve together. It's a great activity for families and a way of giving back."
The need for volunteers, young and old, in the workforce or retired, is great. Operation costs are at least $25,000 each year for Feed the Kids for Summer, and that doesn't meet all of the needs in the community. A donation of $5 will fill a local child's bag with food for a week. More volunteers like the Stovers are needed for day-to-day operations in local food banks and organizations like FUMC's Wesley Mission Center. Volunteering as little as 30 minutes can help fill over 600 bags on the Feed the Kids for Summer Wednesday night assembly line. A little time goes a long way to feeding a hungry neighbor.
For more information, call (817) 473-6650.
Written by Sydni Thomas