ENNIS, TX — Kathleen Prachyl took her first trip to the Czech Republic in 1996 with a tour group that originated in Ennis. "That first trip included three generations," she remembered, "my mom, Elaine Gallagher, my two daughters, Stephanie and Jessica, and me." Her second trip with the same tour group also included three generations. "My boys, Andrew and Daniel, went with mom and me." Now that Kathleen, her mom and a few of their close friends go as tourists without a guide, Kathleen is hopeful one day she will be able to take a family trip that will include all her children at one time.
The freedom the small entourage has, minus a guide, allows them to "go where we want to go" and "see what we want to see" on "our" timetable. The biggest obstacle they had to overcome was the driving. "I'm one of the designated drivers," Kathleen laughed. "Now that we travel as tourists, we do all our own driving. The only thing I miss about not having a guide is being able to look out the window at the sites."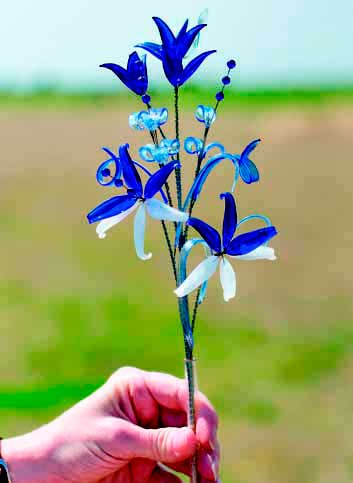 Thankfully for Kathleen, the steering wheel is on the left side of the car and driving is done on the same side of the road as in America. To keep everyone safe on their journeys, Kathleen did her "homework." She studied several pages of street signs before actually taking on the European roadways. One of the funniest signs resembles a contour bra. "We call it the sign with the bra in the road," Kathleen said, laughing aloud. "It looks like two bra cups, but it means you're about to drive over uneven pavement. Driving really isn't so bad once you get the hang of it."
Getting over her fears and learning to drive opened so many doors for the group. As the five meet at Elaine's house before leaving Ennis, they all have ideas on what they want to see and sites they have a desire to visit, sometimes for the second, third and fourth times. "We always have a long list of things we want to do and places we want to go," Kathleen reiterated, "and castles are always on the 'to do' list."
Several years ago, Kathleen and her mom met family members from Frystak, one of the many small villages located in the Czech Republic. "Our Czech cousins were even able to locate the house where my great-grandmother was born." Thanks to this family, going back has been simpler, and much more relaxed, because of their hospitality. "They have a small apartment we stay in when we travel in that particular area," Kathleen explained. "When we're in other areas, we try to stay at penzions, the equivalent of a bed and breakfast here in America, because they're cheaper than hotels."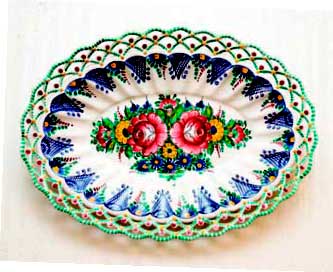 Last year when trying to locate the Edison 7, a penzion in Slovakia, the group ended up getting lost. "We pulled up in front of this house," Kathleen shared. "A guy was getting out of his car, so we asked him directions." She laughed as she remembers him turning around and walking back to his own vehicle. "He loaned us his GPS. He programmed in the address and told us to ask the manager of the Edison 7 to store the GPS in his safe and he'd be by in a few days to retrieve it. How many people in America would trust five strangers with their GPS?"
When asked what her favorite part of the Czech Republic is, Kathleen answered, "All of it. I love the architecture, the landscape, the small villages and towns. I find I have a great time looking in the various shops, even hardware shops," she added with a grin. "If you look long enough, you'll find something unique, something you won't find in an American hardware store."
Attending the wedding of one of her newfound cousins a couple of years ago gave Kathleen a couple more lessons in Czech tradition. "After they were married, they were given a white dish which was dropped on purpose before them. As the new bride and groom, they must clean it up together," Kathleen said. "Soup was the first course of the wedding meal. The couple was draped as one in a large white cloth. They were given one bowl and one spoon. They began their married life feeding one another. These two traditions represent a picture of the married life to come; to help one another in all things."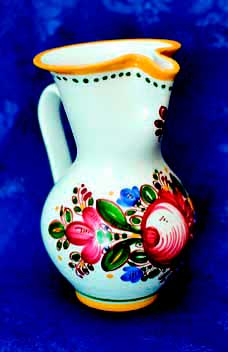 The Festival of Kings, in the Moravian village of Vlcnov, is similar to the annual Polka Festival here in Ennis. "There are various bands, craft items to buy and lots of food. It's a day of drinking, eating
and dancing. The men and women in the procession and even the horses in the parade are dressed in very detailed costumes." According to legend, the king must be a virgin, and is now a boy of 10 or 12. As a person who loves taking photos, Kathleen has been able to memorialize this event in an album that she loves to share with visitors.
So many keepsakes and memories that reflect her Czech heritage have been purchased abroad and now have a special place in Kathleen's home. Memories with meaning are definitely being made. Her modest collection of hand-painted Czech plates is displayed on the walls, a collection her mom started for her many years ago. Christmas ornaments manufactured at the Irisa Ornament Company in the Czech Republic are some of Kathleen's most favorite memorabilia. "We have toured the factory several times and once they allowed us to try blowing the glass ourselves," she said. "The glass is very thin and lightweight. The ornaments are very detailed and delicate."
Authentic Czech lace curtains adorn Kathleen's kitchen windows while a Bohemian Czech lead crystal dish is home to scented potpourri. "I also collect calendars from the Czech Republic," she admitted. The reason she almost came home last year without one was due to a rather nasty accident. "A friend on her first trip with us took a very nasty fall," Kathleen explained. "She broke her ankle so badly that she had to be hospitalized." The surgery she underwent at the hospital in Zlin included a plate and several screws. When she got home a week later, her American physicians said the European surgeon had done a stellar job.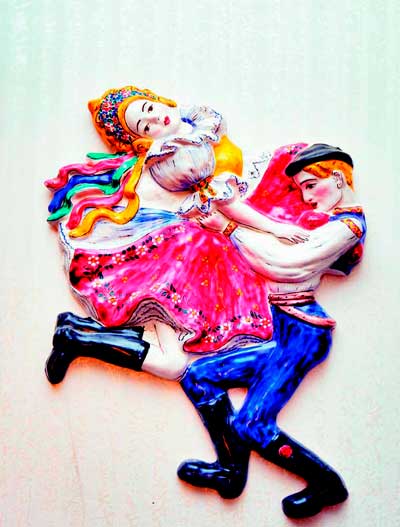 The group's next trip to the Czech Republic is slated for the last week of August and will extend into September. In order for Kathleen to make the trip happen as often as it does, she has adopted a somewhat frugal lifestyle — a lifestyle well worth the memories it reaps. "As long as my mom is able to make the trip and she wants to go," Kathleen said, "I'm going to do all I can to make it happen."
Written by Sandra Strong