RED OAK, TX — Kelby Wood did something many fourth-graders do; he entered an art contest at school. You probably remember entering one or two of those during your school years, even though nothing much ever came of them. Well, Kelby's story is not quite like that.
One day at school, Kelby's art and music teacher, Ms. Sykes, told him and his classmates about a contest to create a character that promoted safety awareness. "We were supposed to do a drawing about what to do during a fire or tornado — stuff like that," Kelby remembered. "She told us we could win a T-shirt if our drawing was chosen as a finalist. I thought it would be really cool to win a T-shirt." When he got home, Kelby told his parents that he wanted to enter the contest so he could get that shirt, so his mother helped him research animals that might make a unique mascot for safety awareness. They came up with an anteater. "We weren't even sure what one looked like before we Googled it," Kelby's mother, Jessica, admitted.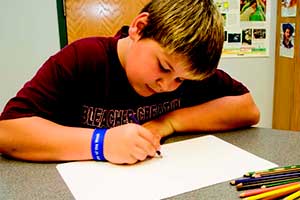 Once Kelby had an animal to base his drawing on, he had to find a name; since he was using an anteater, it only seemed natural to call his creation the AntEnator. He took out a sheet of paper and drew his character protecting a little girl from playing with household chemicals while holding a tornado and sucking the H1N1 virus out of the air. After practicing one time, he was pleased with what he had drawn. Then he had to redraw his creation in the much smaller space provided on the entry form.
The contest Kelby entered went beyond his school — way beyond. It was open to every student, from kindergarten to 12th grade, in 16 counties. At this point you might think Kelby's chances of winning that T-shirt were rather slim. But here is where the story gets interesting.
Kelby and his parents and sister were at church when his parents received a call from www.knowwhat2do.com, the people running the contest. They had good news for Kelby. "We took him aside to tell him," said Kelby's father, Rob.
"We were afraid he might freak out and didn't want him to embarrass himself," Jessica explained. Despite their good intentions, they might have overdone it a little.
"He thought he was in trouble," Rob confessed.
Kelby had been waiting for this call. "I got better than a T-shirt," Kelby reported with a smile as he held up his giant-sized "check" for $500. "I thought it'd be cool if I won. Then one little ring on the phone, and I got it!"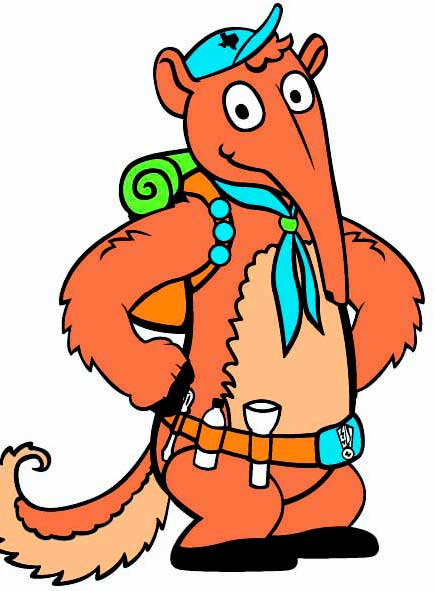 The group running the contest received more than 500 entries, but the team evaluating the entries chose Kelby's drawing of the AntEnator. Apparently, the meteorologists on the selection panel were especially pleased, voting unanimously for Kelby's drawing. Now the North Texas Emergency Management System is using Kelby's AntEnator on its Web site and a life-sized mascot costume is being made for school appearances. The AntEnator will even have his own comic strip, which will be used in safety education materials throughout the area.
Though he has already been presented with an award for his creation by the vice program chair in a ceremony at church, Kelby has been invited to a dinner in April where the costume will be unveiled, and Kelby will be on stage with his character as its creator. He may even be called upon to make appearances promoting safety alongside the AntEnator.
Kelby's parents are very proud of him. "It's been nice to have him recognized," his mother beamed. "He loves drawing," his father added. His sister, Kim, agreed, "I think it's kind of cool." Kelby spent his prize money on new clothes and took his family to dinner and a movie. He offered to give some of it away, and even bought shampoo for his sister.
This is not Kelby's first recognition for his drawing. Last year he won first place in a school art contest with a drawing of an octopus. And recently his drawing of a helicopter was presented to a veteran on Veterans Day.
Despite the recognition the AntEnator has brought him, Kelby said his favorite thing to draw is Spiderman. "When I draw," Kelby said, "it's like the thing I'm drawing is really real — like drawing Spiderman makes him feel like he's real." Kelby likes to have good paper and pencils for his drawings and his sketch pad goes everywhere with him — even to the race track for the drag races. He also enjoys how-to-draw books, especially those that teach him how to draw his favorite comic book characters.
Kelby is thinking about entering a comic strip contest as a follow-up to his success in the character contest. With all the acclaim he has found in drawing, you might think Kelby would be considering a career in art, but he is not. "I want to serve in the military." After all, flying helicopters might be as fun as drawing them.