DESOTO, TX — Making a difference by pushing issues that can improve the community is Lee Merryman's job and daily goal. "I am always looking for grants that serve the community," Lee said. "This is something needed for the community." Lee moved to the DeSoto Independent School District (ISD) to manage a grant. Two years ago, she became the grant coordinator and wrote a special grant, which started a unique program that has not only improved the community, but is also part of an issue that is affecting the nation.
With the help of Lee and other DeSoto ISD colleagues, the Where I Now Gain Success Dropout Recovery Program (WINGS) was formed. WINGS was created to help young people between the ages of 16 and 25 who have dropped out of a Texas public school finish their coursework and earn their high school diploma. WINGS is not just a program providing education. This is a program where young people can replenish their hopes and dreams.
The goal of the program is to provide students with an opportunity to earn the credits and skills needed for a high school diploma and beyond. Students are allowed to work at their own pace and as their schedules allow. The program offers basic subject classes, as well as computer programs, dual credit, tutoring, job and career fairs, college entrance counseling and financial aid assistance. The center also provides free child care during classes,
Duncanville NOW area transportation, family and substance
abuse counseling and mentoring. Lee had no problem proposing her
grant to the superintendent, teachers and community-based organizations. All were on board. "The community has been behind us, and has been instrumental in our success," Lee stated. She hired great retired teachers and DeSoto ISD staff
to teach and run the programs, including Jane Koch, Kathy Goad and Linda Murphree. "The staff has been fabulous — so excited about the program.
They see the kids work hard and are determined," Lee shared smiling. "They are committed to the program."
WINGS received the funding from the Texas Education Agency (TEA) in August 2010 with a $100,000 grant. Since their start-up, the TEA made a visit to the center and nominated it as a model school for state dropout recovery programs. "I was happy to get it done "We want people who care about young people, to encourage them to stay in school, talk about life and help them through problems."
this quickly," Lee said. "We are doing so well. They wanted to make us a model school after three weeks." This is a huge honor for Lee and her staff, as they hope this will draw support and sponsors. Next year, the school will only be funded by donations, sponsors and average daily attendance record funding from the
state government. At the heart of WINGS are its beneficiaries. The students have a variety of backgrounds and reasons for their high school departure, but all have a common goal now to receive their diploma and finish what they started. Many realized it was too difficult without a diploma or felt it was still needed. "These students come back ready to work," Lee shared. "We have a lot of interesting students — lots of different types of stories." Lee even shared how one of their students was an actor in Los Angeles and came back home to enroll in WINGS. He turned down a role from a major TV network in order to finish his
Duncanville NOW education.
Another star student in the program is Varri Harrison, age 19, who enrolled in WINGS in October. Originally from New Orleans, she is a Hurricane Katrina survivor who moved to DeSoto. After having issues with depression, she left high school during her senior year to take time off. She heard about the program from a friend and quickly enrolled. "I want to be successful and get my high school diploma, so I can continue on with my modeling career," Varri said. She is not only enrolled in WINGS, but she is also enrolled in a modeling school in Dallas. Lee and the staff describe Varri as a hard worker who comes in daily at 8:00 a.m. for coursework and leaves around 3:00 p.m. They believe this will take her to a quick graduation date. Varri enjoys the staff and the program, as well. "I love it. You don't have to rush, and you have tutorials to help you. No excuse not to pass," Varri explained. "I'm making great progress." Varri's plan is to finish the program so she can fully commit to her career choice.
The center usually gets about one new student a week and currently has 50 enrolled. Lee thought the center would have a slow admission rate, but students have been streaming in since August. "We pulled records and started calling students who dropped out about the program," Lee explained. Teenagers and those within the age limit interested in the program can continue to enroll anytime throughout the year.
Since students decide their own schedule and pace, their graduation depends on how often they attend classes, where they started in the program and how
hard they work. A classic, cap-and-gown Duncanville NOW program. Afterward, students have the
skills needed to move on to the next step in life. For example, Aaron MacKenzie, another WINGS student and Lee's mentee, plans to join the Army after he graduates. "I also want to go to college, study business and move to Los Angles to start a business," Aaron shared.
Lee explained most students seek to join the military and attend community colleges after graduating. "We are pushing
for beyond college," Lee emphasized. The program also recruits mentors to
support the students in all areas, including friendship. Mentors visit students once a week and most are usually community and business leaders in the area. "We want people who care about young people,
to encourage them to stay in school, talk about life and help them through problems," Lee said.
The center has gained great tangible support and donations, including computers. These items allow small classes, independent study and tutoring to run smoothly and efficiently. "We don't have a lot of money for the program, so we are looking for volunteers and retired teachers," Lee explained. WINGS also accepts individual donations of items on the center's wish list.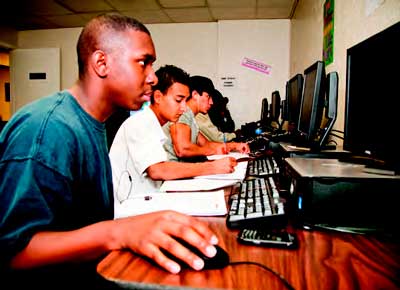 WINGS is not alone. According to an ABC news report, President Barack Obama called the U.S. dropout rate a "crisis" in America and announced in March that he plans to grant $900 million to school districts and state governments. Two students graduated with their diploma from WINGS last year, and several more graduated in January. The WINGS program is not just changing the lives of young people in DeSoto, but is also part of a plan to change the future of an entire nation.
Written by Antoinette Nevils
Editor's Note: For more information on the WINGS program, contact Lee Merryman at [email protected]