BURLESON, TX — On the sill of a tall window near the Bagleys' breakfast table rests an elegant orchid in shades of fuchsia. It was a birthday gift from Larry to Glena last year and an example of how this couple, married 41 years, continues to make their experiences special. "Last year, Glena received a gift on each day of her birthday week," Larry said. "She's my original."
"We're original for each other," Glena added. And considering the circumstances that brought them together, it would seem their destinies were determined.
Larry grew up in Sweetwater, Texas, and had it not been for an odd turn of events, he and Glena might never have met. It was the late '60s. Larry was a missile technician in the Army, and he had every expectation of going to Vietnam. "The day we were to leave, my unit received orders to report to Key West, Florida, instead. When we arrived, we were given the choice to report to any missile base in the United States. I picked the Nike Hercules Missile Base in Alvarado because it was in Texas." He was stationed in Alvarado for six months and, in that time, a mutual friend introduced him to Glena. Before long, the two native Texans were married. They began their lives as husband and wife in a marriage that continues to be powered by a spirit of collaboration and an agreement to keep each other a priority.
When Larry retired in 1994 following 28 years with Amoco Oil, Glena suggested moving from Odessa to Fort Worth. They purchased a condominium overlooking the fastidious lawns of Ridglea Country Club, which was also convenient to the elementary school where she is a diagnostic technician.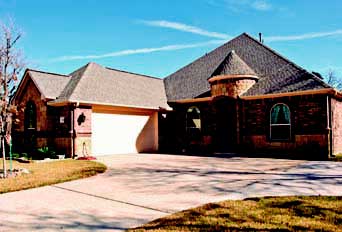 Until the beginning of last year, Burleson was nowhere in their future. "I was born and raised in Cleburne," Glena said. "For me, Burleson was a place to drive through to visit grandparents in Fort Worth." As it turned out, 2010 was a pivotal year. It began with their daughter Pamela, 2-year-old beloved granddaughter Katheryn and son-in-law Pete moving from Dallas to San Jose, California, and with Larry discovering something in Burleson that would turn
their worlds upside-down. "We like to collaborate," Glena said. And that is a good thing, for it was this spirit of collaboration that enabled them to build their dream home and move to Burleson last July.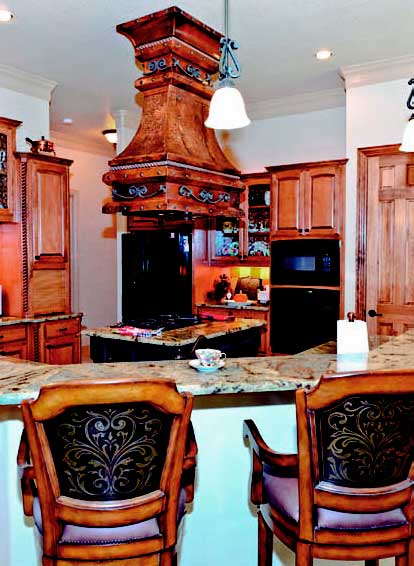 It began when the Burleson neighborhood of Southern Oaks caught Larry's attention. "He thought we would like the area," Glena explained. "He knows I am all about a view. We picked our Fort Worth condominium largely because it overlooked the country club."
When they saw the lot in Burleson and realized it was an opportunity to customize a home against a backdrop of trees and the Southern Oaks Country Club, they agreed it was time to build a home and that Burleson was the place to do it. "We looked at a house in the neighborhood that had already been built and made changes to fit our style. We like the Tuscany look, and I found a photo in a magazine to guide us," Glena said. "The house, built by Peter Thomas of Oakmont Classic Homes, is basically designed around the view from the back of our house. We wanted the inside to be as open as possible so the great room, breakfast area and kitchen are banked by large windows with full views to the outside." The master suite is also fitted with large windows and offers stunning morning views. "I like to have my coffee sitting in the oversized chair in our bedroom," Glena said.
Attention to quality and detail is abundantly apparent in the 2,800-square- foot home. From the custom front door with scrolled ironwork on a glass panel to the striking "art piece" of a copper vent-a-hood over the island cook top in the kitchen, it has all been carefully chosen.
"Larry was there through the building process," Glena said. "We would come out in the evenings. We made most of the decisions together, except for the vent-a-hood that was Larry's project. He designed it, but it was handmade by a local craftsman."
The kitchen's granite countertops and exquisite cabinetry, coupled with the copper vent-a-hood, make the perfect statement at the heart of the home. The kitchen opens to the great room which is lined with tall windows and accentuated by a large remote-controlled gas fireplace. "Larry's favorite rooms are the master bath and game/media room," Glena
said. The master bath includes beautiful travertine tile and birch cabinetry. It is home to two angel statues mounted above each entrance. Larry's game/ media room sports a full-sized pool table and large-screen TV with four electric- controlled leather recliners. The walls are deep red, the carpet is stylishly patterned and the bar countertop is made of rainforest marble. There is also a balcony that affords a view from the upstairs.
Glena picked most of the home's interior colors which, in Tuscan fashion, are "tannish" yellow with a soft faux peach on some of the ceilings and in the formal dining room. The ceilings, most of which are at least 11 feet tall, have varying architectural features including the "barrel" entrance with two chandeliers that cast their own patterns. The ceilings are accented with crown molding throughout.
There is an office toward the front of the house with custom-made cabinetry and a not-so-custom statue. "I call him Einstein," Larry said. The 3-foot plaster statue with a stack of books in his hand resembles the famous scientist.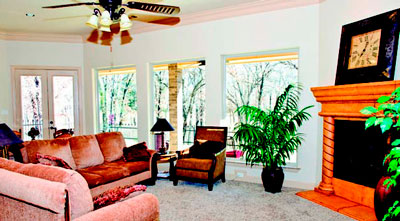 Not surprisingly, one of the three bedrooms was decorated and reserved especially for "Princess Katheryn." Although she lives in California now, she has already visited her special room, and like grandmother like granddaughter, her favorite spot is the little table in front of a big window.
The Bagleys left the backyard small to minimize maintenance and for the enjoyment of having a long back porch. "The foliage from the natural stand of trees and tall grasses between the house and golf course cools the wind as it comes through in the spring and summer," Larry explained. "We like the wilderness of the natural area, and it helps with drainage during heavy rains. In the springtime, the trees fill out, but we can still see the golf course when we're sitting down. Our condominium was on a golf course in Fort Worth, but this is different because it is natural."
"I could have a little hut out here as long as I have the view," Glena said. "But I love the style, and we love living in Burleson. I don't mind coming from work on that busy highway because I know I'm coming home."
Written by Carolyn Wills