ENNIS, TX — Ravi Dubose and Curtis Tekell, Ennis High School seniors, have been friends since attending Austin Elementary School. They have run track and played football together, and hope it will not all end next year when they attend college. "We would really like to go to the same school, but we're keeping our options open until track is over this year," Curtis explained. They both think they will run track in college and are hoping to also play football.
Ravi agreed, "It would be great if we could continue to play sports together at the same college, but we will just be thankful to get any scholarship."
Both young men were bright and articulate as they teased each other and talked about their love of sports. Curtis' favorite sport is football and he wants to play it forever. Ravi's favorite sport is track and he has loved to run for as long as he can remember — always running with his cousins and uncles.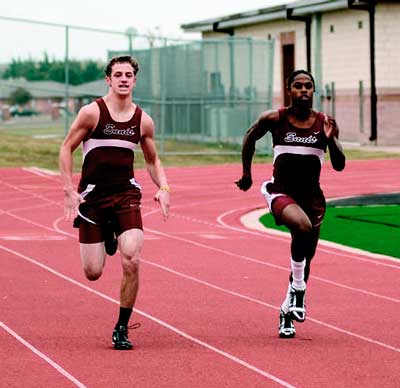 Curtis, Ennis' starting quarterback, began running track in junior high, which helped him stay in condition during football off-seasons. Ravi has run track since the eighth grade. A coach, watching him run and high jump, asked him to play football. He has played wide receiver during his junior and senior years. They both agreed the bond that grew between them from running track first, helped them immensely in football. "We have such good chemistry in or out of sports, from friendship and running track, that the trust was already there when we played football as the quarterback and receiver," Curtis said, looking toward Ravi. "It really helped."
The emotions and excitement really went up a notch though when the two athletes started talking about track. Both young men have been on the varsity track team since their sophomore year. While Ravi has always focused on track, Curtis began to really focus and learn to love the sport in high school.
Ennis Coach Steve Morrow has been a driving force in both of the runners' lives. Coach Morrow's passion has inspired Ravi to do better and work harder every day. "Coach means a lot to me," he said. "I appreciate that he pushes us to work hard. He takes time out for all of us."
At first, both young men tried all running and field track events, but Coach Morrow has since helped them narrow down to three running events each. Ravi runs the 200-meter and is the first leg of the 4×4 relay. Curtis runs sprint relay and is the fourth (anchor) leg of the 4×4 relay. And, here is where it gets really interesting — they both run the 400. This of course, means the two friends are competing against each other. "We love running against each other," Curtis said, while Ravi nodded his head in agreement.
"It keeps us constantly pushing ourselves and each other, trying to beat one another," Ravi grinned. When asked who wins the most they looked at each other and laughed. They agreed their best times switch back and forth. Curtis ran the 400 last year at district in 50.6 seconds and at regionals he came in at 50.3 seconds. Ravi thought he had run it at 49.9 seconds. Both young men seemed genuinely humble when asked their winning times and seemed to remember each other's times better than their own. They moved quickly on to the next subject.
"Remember the Corsicana meet last year?" Curtis asked.
"Oh, man," Ravi fell back against the couch and shook his head slowly. "That was the first time I ever saw Coach Morrow smile! He said the 4×4 relay was the best race he had ever seen!"
And, what a meet it was! Earlier in the day, there had been a "photo-finish" ending between Curtis and Ravi in the 400. The computer at the finish line indicated Ravi had come in first and Curtis second. But what came up later is still the talk of the high school track world.
Midlothian had beaten Ennis during the 4×4 relay the year before in another photo-finish ending, making them district champs. Ennis' four-man team had been focusing on that rematch ever since. Curtis said he had run the sprint and the 400 earlier and had rested, but he was quick to point out that Ravi, their first leg runner, had run the 400 and then had just finished the 200, when it was time to start the relay. There was no time for a break. "Man, I was so tired," Ravi remembered, "but I said to myself that I was going to give it my all, and I went ahead of my opponent at the last 80 meters."
"Ravi was awesome," Curtis bragged. They agreed their second leg runner really held his own but Midlothian passed him. By the time the baton was passed off to their third leg runner, Waco had also passed them, leaving them in third place. When the baton was finally passed to anchor-runner Curtis, Midlothian, Waco, Waxahachie and Ennis were packed together. Waxahachie handed off the baton badly, so that left three teams in a clump of runners. As they came into the last curve of the home stretch, Waco tried to make a move on Midlothian from the outside, trying to cut them off.
Ravi could barely finish the story. "So that gave Curtis the inside lane, and he took advantage of it and won! I will never forget that race!"
Their passion for track has also spilled over to their teammates. "We try to be leaders by example," Curtis said. "I'm more outspoken, but Ravi mostly leads by example."
"Yes," Ravi agreed. "I think others see when we step it up and push each other. The hardest part of track is consistency, like one meet you could do really well and the next meet you do not. Consistency is hard, but if you really work at it, it's worth it."
Curtis added, "We don't want each other to fail in anything. I mean, if I would see that Ravi's grades were down and he wouldn't qualify academically to run, what good would that be?" That does not seem to be a problem however, with Ravi getting all A's and B's, and Curtis in the National Honor Society.
These two outstanding young men want what is best for each other. Ravi emphasized, "Getting an education is really the most important thing to us. We both want to go to college and graduate."
Written by Aleta Penfold