RED OAK, TX — While some might think quilting is a lost art, Red Oak's Peggy Terrill knows otherwise. Relatively new to the craft, Peggy proves interest in quilting is still around today.
"About five years ago, my husband gave me a sewing machine for Christmas, and while I was taking classes to learn how to use it, I signed up for the Block of the Month Club," Peggy recalled. "I think the techniques are so much more up-to-date, the designs are so modern and the tools and equipment are so helpful from the days when my mother and grandmother used to quilt. Of course, some quilters still do it the old-fashioned way, which is good to keep that technique alive, too."
Active in the Creative Quilters Guild (CQG) of Ellis County and slated as the group's next president, Peggy was destined to love quilting long before she acknowledged the craft.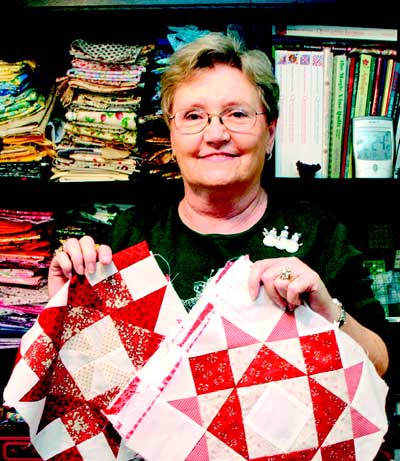 "My mother, who has quilted all her life, is 94 years old and still loves quilting. She asked my sister and me several years ago if we were going to carry on the tradition of quilting in our family and we both said, 'No.' We had no interest in it at the time," Peggy said. "After getting the sewing machine, I approached my sister and told her I would piece a quilt if she would quilt it; I love sewing on the machine, and she loved doing handwork. She said, 'OK,' and that's how it began."
Wrapped up in quilting from that moment on, Peggy found kindred spirits in the quilter's guild. "Because I had a lot to learn the first year I joined the CQG of Ellis County, I volunteered to help with the annual quilt show. The next year I was asked to be quilt show co-chairman, then the next year I was chairman," Peggy said. "This year I'm chairman of the hospitality committee for the guild and, in July, I was asked to be president of the guild for two years. It's such an honor to be asked, and I'm still in a daze thinking I said, 'Yes.' I'm so looking forward to the new position, and I hope I'll do a good job."
It was her outstanding work on this year's quilt show that made her a shoe- in for CQG president, members said. The show's chairman sent 1,500 e-mails to quilters around the world asking for eight-inch blocks including the quilter's name and locale and depicting the theme, "Stitches Around the World." "We received 252 blocks and made
three quilts, and I was one of the lucky people who received 81 of the blocks to make a quilt. For a year, we three owners of the quilts are displaying them at different venues to showcase our craft and the worldwide interest from quilters," Peggy explained. "I made a block with my name, Red Oak, Texas, and the year and it's included in one of the quilts. The quilt I have in my possession has blocks from many different states, as well as Canada, Switzerland and Africa."
While Peggy marveled at the blocks from around the globe, she said there is no other place than Red Oak she would want to call home. "We moved to Red Oak 24 years ago to have a more country atmosphere and to be closer to family that lived in DeSoto at the time. I was born and raised on a farm in Oklahoma and appreciated the similar lifestyle Red Oak offered," Peggy said.
She fondly recalls a time in the '80s, when all of her family from Oklahoma visited and attended Red Oak's Founder's Day. "We went to the parade, threw candy and yelled like little kids, and then spent the whole day at the park. It was fantastic!"
Such memories depict the importance of family to Peggy. "My most valuable asset is my family who always supports me in whatever I do — my husband, Norman; our two sons, Mike and Rick; a stepdaughter, Tanya; and a stepson, Randy," Peggy noted, also mentioning two grandsons, Chris and Jason. "My mother, two brothers and sister still live in Oklahoma, but we are a very close- knit family and have many get-togethers throughout the year."
Perhaps this type camaraderie is another reason Peggy is attracted to quilting. "I love taking the classes and learning new techniques through the tips from other quilters," she said.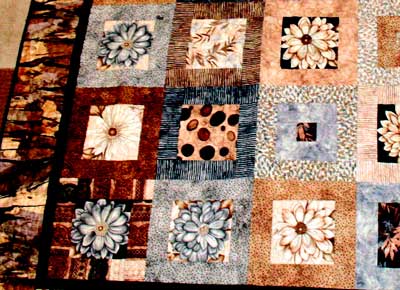 Some of her own favorite pieces are a quilt she dubbed Chocolate Meringue, made for her husband, and a Christmas table runner she worked on for 12 hours. While she also loves to cook and "play in the garden," Peggy is beginning to gear up for the guild's July 2011 quilt display, "Two for the Show," and encourages those with an interest in quilting to get involved.
"Not all items are large quilts. Nowadays quilters are making jackets and wearable art, bags, table runners and placemats. There's a world of small items you can start with until you feel comfortable to try a larger project," she said. "Quilters are always willing to help other quilters, so pick a pattern, visit the local quilt shops, join a guild and before you know it, you'll be a quilter, too. Just be brave and start!"
Written by Angel Morris