MIDLOTHIAN, TX — Cherie Wagoner, principal of J.A. Vitovsky Elementary School, created something special for her school. It houses the only bilingual program in Midlothian. This is a natural fit because Cherie originated the program eight years ago as principal of Baxter Elementary School. "The program moved with me over here six years ago," she stated. "That was exciting to start and implement a brand new program. It was the first time having a bilingual program here in Midlothian, and I must say, I think we have a real good one."
Cherie prepared for this field while in college. At The University of Texas at Arlington (UTA), she had a double major in elementary education and in Spanish. She earned her master's degree in counseling at University of North Texas. While getting her degree, she also became bilingually certified. Returning to UTA, Cherie earned her administrative certification and superintendent certification. She also has 18 hours toward her doctorate degree.
Cherie remembers when she first came to Midlothian 25 years ago and started doing her student teaching here. She said, "I got hired on as a fifth-grade teacher at J.R. Irvin. I went away for a short period to be a bilingual teacher in Ft. Worth and decided I wanted to come back to Midlothian." Laughing she added, "I'd had enough of the big city!" When Cherie returned to Midlothian and implemented the bilingual program, her goals were "for the students to be bilingual and biliterate in both languages. We don't want them to lose their
Spanish as they are learning their English." Students in the program at Vitovsky are growing and flourishing in their studies. Cherie stated, "Our children have gone all the way through since prekindergarten, and they are heads and shoulders above our ESL (English as a Second Language) only students. The research showed they are scoring out much better."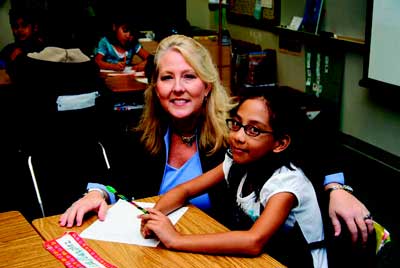 Bilingual education is part of the Texas education system. Cherie described the school's responsibility: "By state law, if you have 22 or more in one grade level in a school district and their first language is all the same language and they qualify as limited English-proficient students, then you have to start a bilingual program. Some districts will file a waiver, but we decided that because the population demographics were changing that we would go ahead and investigate programs. We visited lots of bilingual programs in the area and went to workshops to determine what the best program model would be. We started at prekindergarten and kindergarten, and last school year we added fifth grade. So, we have now completed the program and have it all the way through fifth grade."
For a child who has been in the program from the beginning, the instruction is primarily all in English by the fourth or fifth grade. The school does continue with Spanish maintenance so the students do not lose that language. Cherie attributes much of the success of the program to the program model they use. "I think the program model we have is a very developmentally based program. The children only do Spanish, writing, reading, listening and speaking in the lower grades, and we slowly transition over time. A lot of programs immediately immerse them in English, and that defeats the purpose.
"Another reason for the success is we have a very strong teaching staff. They are highly qualified and just outstanding. They are certified bilingually and are fluent in both languages. Once they come here, they stay because they have been in other bilingual programs in the area and they feel like this program is head and shoulders above wherever else they have been in terms of support.
We have had strong support from the administration in anything we needed in training and materials."
Cherie is very proud of what Vitovsky has accomplished. The school has been at exemplary level for the last two years without needing exceptions or TPMs (Texas Projection Measure). Community volunteers in the school's mentoring program have helped with the success of the students. "We have a huge mentoring program on campus," she said. "Last year there were about 48 community members who came in and mentored students. We've seen kids really turn around [because they know] there is another adult in their life who cares about them.
This is probably the most diverse campus in Midlothian, but we embrace that. We don't hire anyone here unless they ascribe the same philosophy we have that all children matter. We want all children to be successful at the highest level, whether they have a disadvantaged background, a learning disability or even our gifted students. I could step away from this campus and the kids would still be successful, because this campus really works very closely together. It's a unique place to work. There is something special about Midlothian Independent School District and about J.A. Vitovsky. If Midlothian wasn't a great place to be, I don't think I would've stuck around 25 years!"
Written by Betty Tryon