CORSICANA, TX — How can you resist one of those furry, wriggly, warm little puppies? They bounce up and down begging to go home with you as the perfect Christmas present for your child or, perhaps, for the child in you.
In that first flush of puppy love it is difficult to remember that: 1. Puppy will grow up to be a dog; 2. Puppy will need to be housebroken; 3. Puppy will need immunizations every year and food every day; a place to sleep and exercise; and its needs will be your responsibility for the next 10 or 15 years. Oh wait! I think I need to think this out again.
There is help for anyone who is thinking of having a pet. The Web site www.Petfinder.com has information about different breeds of dogs, tips on training puppies and older dogs, estimates of the costs involved in pet ownership and much more. The main focus of this service is dog and cat adoption and prospective owners are directed to the Web pages of participating animal shelters where they can see pictures and read stories about available animals. The Corsicana Animal Shelter (CAS) uses this service to find homes for its animals.
The city of Corsicana took ownership of CAS seven years ago and, in 2009, Julianne Burkhalter became the director of animal services with oversight of CAS and Animal Control Services. Katy Watkins became the manager of the shelter located on South 12th Avenue. The two most important elements of proper animal care are sanitation and ventilation, and the existing systems are inadequate relics of earlier times. Also, there is no room for the much needed expansion of space to house more animals. While the city manager and city council, along with Chief Bratton, are supportive of the work of the shelter, the city is not able to fund the cost of a newer facility.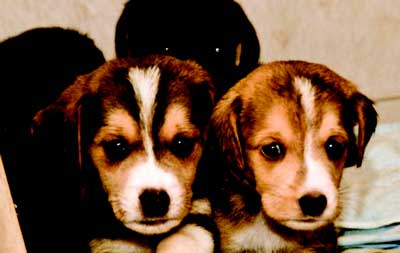 This is where the Humane Society stepped in to raise money to build a new animal shelter. Julie Maupin, president of the Humane Society said, "The animal shelter is a very old facility housed in a metal building held together with Band-Aids. Chicken wire holds up the insulation on the inside, and its location next to the railroad tracks means that many times during the day and night the staff and the animals are treated to the deafening roar of a passing train." Because of the poor condition of the shelter, the staff feels that the people in the community are reluctant to come there to consider adoption of an animal. "They even have trouble finding the place," Julie added. "If it was located in a better place and it looked clean and neat, people would stop by. There could be space where a family could spend some time with a dog or cat and play with it to see if its personality would fit with the family.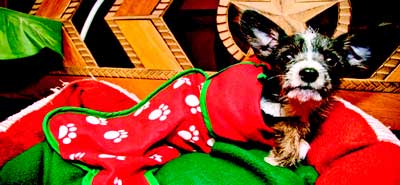 "We are excited about the plans for a new facility," Julie said. "We have done the preliminary studies and worked with an architect to design a new shelter with state-of-the-art ventilation to keep animals safe from airborne viruses and separate plumbing in the kennels to facilitate cleaning and disinfecting them. Even the fencing and flooring are designed to be easily cleaned. CAS, Animal Control and Humane Society staff will each have office space, and there will be a surgical suite and a pet visiting room. "Our Cause for Paws campaign is underway," Julie added, "and we will be vigorously pursuing various donations and funding sources so that construction can begin as soon as possible."
Like the other members of the board of the Humane Society, Julie cares about animals. She and her husband, Bill, share their home with two shelter dogs, one rescue dog and a stray who dash happily around the house and yard. "We all celebrate when the staff at the shelter finds a home for a healthy, good- tempered dog that has been neglected, and it is now in a family that takes care of it. Once they had three blind dogs, Molly and Jack, brother and sister puppies and Inca, an older dog. Lynn Gatlin, who had a blind dog herself, was determined to find them homes so she wrote touching biographies with pictures and all three were adopted. One family even kept Molly and Jack together. Working with the Humane Society has been an education for me," Julie said. "There are always new challenges, but the staff and volunteers at the Animal Shelter are wonderful people to work with."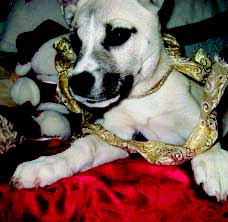 The Humane Society has raised funds for a trailer that CAS uses to transport animals to adoption events. You may have seen CAS staff and Humane Society volunteers in front of the Collin Street Bakery on a Saturday morning, or at Day in November or at Derrick Days. People who come to the bakery on a Saturday morning stop to meet the dogs and cats. One such event resulted in 18 adoptions.
The Humane Society has also focused on fundraising to support a spay/neuter program. The most effective way to prevent over- population is to encourage pet owners to have the surgery done on their pets," Julie said. "Hundreds of animals have to be euthanized each year for lack of space to house litters of unwanted puppies and kittens. It is cruel to turn a pet loose in the country to be attacked by a pack of coyotes or to starve because it is used to living in a home where it is fed by the owner. There is no excuse to neglect this important step in animal care because the Humane Society has obtained grant funding to help people who cannot afford to pay for the procedure."
CAS depends on donations from individuals who donate money for medicine and food, but there is always a wish list for such things as towels, collars, cat litter, blankets and cleaning supplies. Veterinarians in town contribute some of their time to do spay and neuter surgeries. Volunteers are always welcome to donate time to walk or play with the dogs, and, of course, dollars are also welcome at CAS to help pay for the basic items on the shelter's wish list. Come on in and meet the perfect Christmas puppy who is waiting for you!
Written by Joan Kilbourne
Additional resources:
The Humane Society of Navarro County
The Corsicana Animal Shelter