WAXAHACHIE, TX — Like different children in the same family, each room in Bob and Becky Lynn's 75-year-old home has its own distinct personality. And also like children, each room loves to play dress-up — especially at Christmastime.
The original 1,500-square-foot house was built in 1935. Since it bears a historic designation, it must maintain its original dignified appearance — at least, on the outside. During most of the year, it does just that. Even the parlor just inside the front door wears period costume: art deco chairs and a baby grand piano. But by December 1, an 8-foot white floral tree has appeared beside the dining room door, festooned with full-size top hats in red or black. One stray hat winks from atop the piano, snuggled next to a red feather boa and a saucy pair of feminine, high-heeled red Santa boots. A reindeer ballerina stands on tiptoe to see, while stylized red Christmas trees on the mantel lean toward each other as if sharing the joke. "Those are our 'tipsy' trees," Becky explained.
The parlor's whimsy echoes the Lynns' own love story. The traditional way to a man's heart is through his stomach; rarely do you find a way to a woman's heart through a man's stomach. Bob and Becky, longtime casual acquaintances, had become "single again." Becky, a fourth-grade teacher at Northside Elementary, was also a cook of almost legendary skill. One day, Becky related, "Bob got real hungry. He called me and asked, 'If I bring some food will you cook it?' I told him, 'Yes.' I was perfectly content staying single, but we found out we liked all the same things. Bob even likes shopping!"
Bob smiled and patted his stomach. "That was 14 years and 40 pounds ago!"
Anyone might gain weight in the inviting "Peacock" dining room, featuring off-white trim against bold blue walls. For the holidays, the room glitters with peacock-feathered garland, centerpiece and Christmas tree, their blues and purples frosted with gold.
The kitchen, just beyond the dining room, wears a casual costume that could have been designed by Mrs. Santa herself. Dubbed "The Gingerbread Room," it is accessorized with candy canes, its own shiny red tree and gingerbread people. These seem to have come from the gingerbread house outside, which last week had been an ordinary tool shed.
The Lynns bought their home in 2005. When they first began looking, they did not consider an older house. But their Realtor knew of one previously for sale that she thought they would love. It was not even on the market, but she asked the owner whether she would like to sell. The owner agreed. When the Realtor described the house, Becky said, "We decided to buy it without even seeing the inside first."
Becky's favorite room is the white bookshelf-lined library off the entry. Mischievous stuffed animals adorn its white Christmas tree, their teasing smiles giving no hint about what is in the gift-wrapped packages scattered around the room.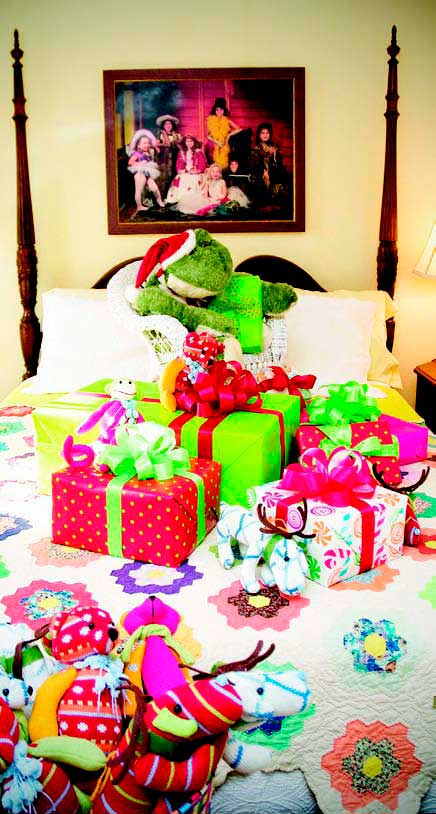 The front rooms still have their original windows and dark wood floors. But in the five years since joining the Lynn family, the house has grown considerably. A new den with a stone fireplace puts on Christmas finery each December just like the older rooms. A tall gold-and-silver "snowflake" tree occupies one corner, while smaller trees twinkle from tabletops and shelves. Wilson, the Labrador Retriever, has his own tree on the hearth, just below his personalized stocking. Not surprisingly, the master suite holds yet another Christmas tree, laden with handmade ornaments. Lighted "gifts" and stuffed bears fill a guest cradle along one wall. The room also sports greenery, tinsel and a snow-skiing polar bear. Becky is most enthused about the suite's two separate bathrooms. "It was Bob's idea," she said. "He managed to get two whole bathrooms into this space. We just had to make one of the closets smaller… and it wasn't going to be mine!"
In the spare bedroom, a boisterous pile of gift packages and stuffed animals spills over the bed. And the closet holds a secret: a leaded-glass window in the hallway is set into one of its walls. The glow from the window lights up the hall whenever the closet light is on. "This window came from an old building in Chicago," Bob said. "When we bought it, we had no place to put it." In the last few years, the Lynns have gained four grandchildren. "It's a new chapter in our life," Bob said.
"Grandparenting is the only way to go." With all the toys and presents, it is no wonder the little ones love to visit in December. In fact, it looks as if the home dressed up just for them. Bob disagreed. "No, we do the fun stuff for us — if they like it, that's great!"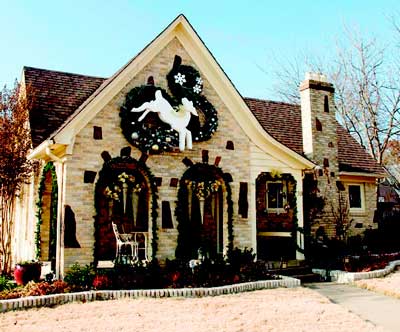 How can the home of two busy professionals transform, with no visible effort, into a winter wonderland full of quirky decorations? If you suspect they had a little help from elves, you are not far wrong. "We bought most of our decorations from the Briar Patch," Becky explained. "Last year we gave Kirstie Brown, the owner, a house key, and she started decorating while we were at work." Elfin help could not have come at a better time; the Lynns' house was slated for the 2009 Candlelight Home Tour. They love to share their home, but they must find many volunteers. Bob has learned to keep the house manned throughout each hour of the tour. One evening last year, tour traffic dwindled. It was early, but no visitors had come by for some time. Bob finally suggested the volunteers call it a night, so they left. He shook his head. "It wasn't 15 minutes later when two busses pulled up, and people just poured out." Becky laughed, remembering the chaos. "It was hectic there for a while!"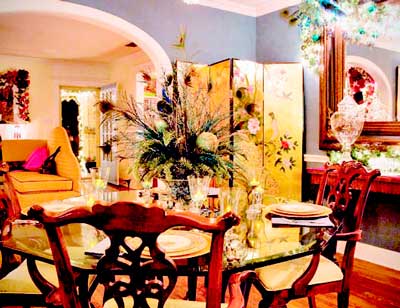 Bob explained why they do not mind hosting: "I think we are two of the most blessed people we know, and we feel an obligation to 'pay it forward.'" He cited the cochlear implant that saved Becky from losing her hearing and having to retire from teaching. Afterward, she heard her first birdcall in 10 years. "That was a tremendous treasure given back to us."
Besides, the invitation to host came from Waxahachie Merchants' Association founder Hilda Harbin Chapman, whom Bob describes as "a silent hero — absolutely tireless." Despite some initial misgivings, he said, "We enjoyed it; we got to hear people's memories and the history of the neighborhood."
The masquerade is over in January, when the Lynns must face the hardest job of all: "Un-decorating," Becky said. "It takes weeks!"
Written by Janice C. Johnson