CORSICANA, TX — Modern architecture and a location on a quiet cul-de-sac belie the magical world that lies within Fred and Jane Gordon's home. Jane, who grew up in Albuquerque, New Mexico, has not only collected art from southwestern-style artists from several different mediums, but she is also an artist with great talent. With their three cats, Dora, Mindy and Clare, keeping their almost-closed, sleepy eyes on her, Jane uses her artist's eyes to create jewelry, magnificent photographs, knitted and crocheted lap robes and "Eyes of God," otherwise known in Spanish as Ojos de Dios, which are used as wall hangings and mobiles. "Jane is quite the artist," Fred said proudly.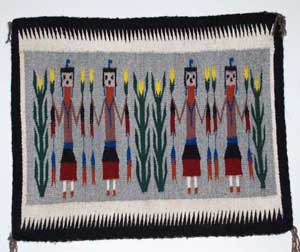 Natural light is an artist's friend, and Jane glowed in light streaming from the vaulted ceiling inserts in her living room as she displayed the lap robe that she was making for a local nursing home client through the prayer shawl ministry at their church, Immaculate Conception Catholic Church. Jane has bought and received donations of yarn and masterfully weaves the colors together using every bit of the yarn to make her warm and comforting lap robes. A shut-in herself for a few months following surgery, Jane found that her skills in knitting and crocheting the robes kept her busy and sped up her recovery.
A fire stove in the living room gives Jane an opportunity to use her artist's eyes to create an exhibit of an okra pod rattle and gourds in her collection of Indian baskets, rocks and petrified wood, which she describes as "a little piece of New Mexico." Overseeing the display is a statue of St. Francis, the patron saint of ecology. Jane has artfully framed and hung several watercolor paintings by the late Vera Nolan, which feature the red rock of New Mexico. Two photos taken by Jane of the couple's trip on the vintage steam engine of the Cumbres and Toltec Scenic Railroad complement and frame a snowy New Mexico scene painted by Barbara Jones. "There was so much snow that it caused slipping on the tracks," Jane recalled of that October trip from years gone by.
Jane has created space in nearly every room of her home for at least one intricately woven Eye of God wall hanging or mobile made from her yarn that she crosses over two sticks. The Huichol Indians of northwestern Mexico are credited with originating the tradition of presenting the central eye, woven by a child's father, to the child at birth.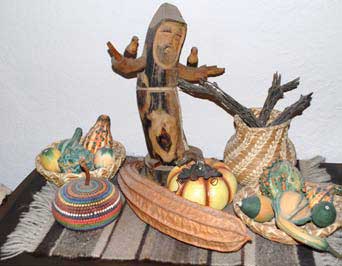 Another "eye" is then added for every year of that child's life until he or she reaches the age of 5. The four points of the eye's design represent earth, fire, air and water, which combine to give the eye the power to see and understand the unknown and unknowable. Jane weaves Ojos de Dios designs that are very complex and beautiful, some with as many as eight points, but they are not spiritual. More treasures lie within the china cabinet that graces the dining room. "I've just collected this and that," Jane explained very modestly. Her most prized possession is a Blackware pottery bowl made by Maria Montoya Martinez and her son, Popovi, who lived in the San Ildefonso Pueblo of New Mexico. The original "Maria bowl" is joined by other pottery bowls and a horse-hair basket woven in the design of a labyrinth. A Zuni Indian Frog Woman vase signed with a frog design by the artist is an example of an animal fetish believed by the Zuni tribes to hold great powers, especially with the spirit world. Statues of a storyteller and "Van Goat," so named by Jane because he had lost an ear, bring humor into the collection. Viewing the precious pieces Jane remarked, "It is like taking a little journey."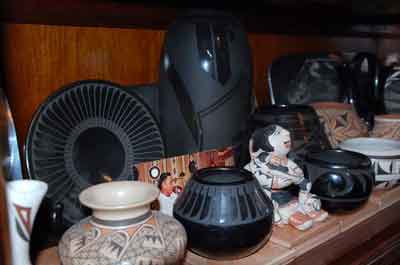 A framed Navajo weaving in the hallway shows the various native southwestern plants that are gathered by the Navajos for use in making their dyes for the sheep's wool. A woven Navajo saddle blanket decorating a nearby sofa utilizes many of the colors. In their guest bedroom, Jane pointed out two of her early paintings — a pastel on black paper cubist-style city scene and a watercolor scene of the Chama area of New Mexico. "My mother framed them and gave them to me after she found them," Jane said.
Jane's photographs of Canyon de Chelley in Arizona enhance the colors of a blanket that she knitted and crocheted. Jane also uses many of these same colors in the beautiful southwestern-themed necklaces that she enjoys making. One unfortunate experience with prickly pear cactus has kept Jane from using that plant in her art. "I dodge that bullet now," she laughed. The couple uses another bedroom as an office and headquarters for Fred's ham radio hobby, as well as his reading nook.
"I'm just very boring; I read a lot," he said modestly. A consultant now, it was Fred's position with Exxon that brought the couple to Corsicana, in 1981. Prior to that, they lived in Dallas, where they met and married 32 years ago. Jane, a respiratory therapist, worked for Parkland Hospital in Dallas, Navarro Regional Hospital, in Corsicana and did some agency work prior to retiring. Originally an art major during her college years in Albuquerque, a professor talked her into training for a "real job" rather than becoming another starving artist — a decision that she has not regretted. Finding activities to fill their retirement years has not been difficult for the Gordons.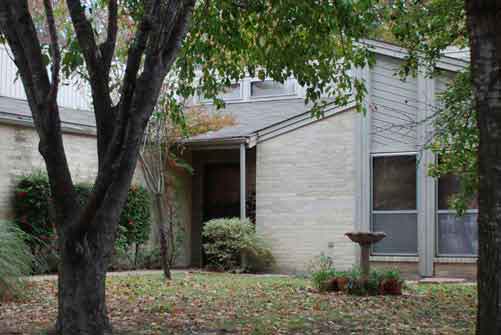 "Women, especially, are like fresh red meat when they retire. I've had to turn people down, and sometimes they get mad," Jane said regretfully. Jane, however, does enjoy performing with her church choir and "The Bad Habits" as Sister Mary Dyslexia. "I can't quite get together with everyone else on the choreography, and people laughed, so we made my clumsiness part of the act," Jane laughed.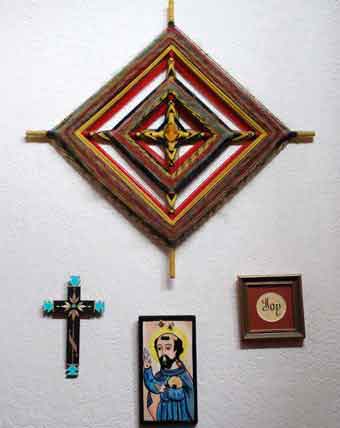 As the cats "go fishing" among the baskets, Cookie, their dog, wanders into the house. "She's what you would call a gently used dog. We got her from the pound after her owner had died," Jane remembered. "She's had to adapt to our cats, but she's done pretty well. She's outnumbered!"
Since their family members are scattered to the winds, Fred and Jane enjoy living in their adopted central Texas city of Corsicana. "We feel safe here," Fred said. Jane added, "Cast your bread on the water," to which Fred quickly responded with wry humor, "And it will sink." But as the cats' eyes, the many Ojos de Dios weavings and Jane's artist's eyes watched him, Fred added, "Home is where you make it, and we have made this our home."
Written by Virginia Riddle