ENNIS, TX — Her mother said it best, "I took my daughter to the first grade at Austin Elementary School, and she's still there!" Indeed, Ennis teacher, Donna Monreal, attended the elementary school as a little girl and now has been teaching at that same school for 30 years. It even gets better. Donna smiled, "I attended elementary school here at Stephen F. Austin, and later went on to college at Stephen F. Austin State University.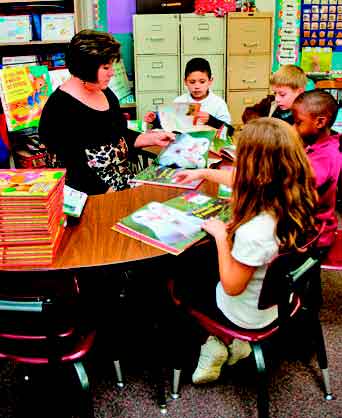 I graduated in August of 1981, married in August of 1981 and started teaching in August of 1981! Mr. Selzer was the principal when I was in elementary school, and then he interviewed me for my first teaching job and hired me!" she laughed, "I just loved him.
"I started dating Pete in the 10th grade, where we both attended Ennis High School," she continued. "He was my first real boyfriend, and we dated until we married." Pete Monreal is employed at a glass company in Corsicana, and has worked there for, you guessed it, 30 years.
Donna enjoyed talking about all of the coincidences in her life, but was quick to thank God for them. "I am just so thankful to God for so many things. I knew I wanted to teach since the first grade," she remembered. "My teacher was Miss Roderrick, and she was such a good teacher."
As visitors enter her room, they immediately see Donna's love of teaching, although an eager first-grader may not appreciate it. The walls have room for nothing else. "Remember, I've been collecting this stuff for 30 years now," she laughed.
Bordering the room is the timeless alphabet on the walls and homemade curtains on the windows. Displayed quite prominently is a big poster of Mrs. Monreal's Rules and Consequences. Fun clocks to help teach time are all about, as well as charts of numbers, simple math problems and calendars. Some of those items have been crafted by Donna's friends who enjoy helping. Of course, children's artwork and special assignments are proudly displayed everywhere.
While there are plenty of student desks, 19 in all, the teacher's desk seems to be missing in action, but Donna spends very little time sitting behind her desk anyway. "I spend all my time with the kids," she added. Donna explained her favorite work area is the reading station, consisting of a curved-type table with tiny little chairs around the outer side. Then, there are the books, lots of books — way-too-many-to-count books, books everywhere. "My major thing is reading. I just love to teach reading!" she explained passionately, emphasizing the word "reading" each time. "I tell my kids, if you can read, you can make it through life … period!
"It's amazing to watch these little kids, who may start out knowing just a word or two and then by the end of the first grade they can read! I mean, they are only 6 years old! It's just something else," she gushed, "I never get tired of it."
While reading is her favorite thing to teach, the students are Donna's favorite part of being an educator. "I just love my students. I have a very close family, and my kids are like family to me," Donna said, tearing up a bit. "Every kid is as important to me as the next. It doesn't matter their background, they are treated equally. Kids come to school with different levels of abilities, that's just the way it is, but they all want to know they're special. They're each special in my class!"
Donna shared how so many children come to school with problems from home needing to know school is a safe haven. She strives to help her students get a good, positive feeling about school and themselves. She encourages her students to try to accomplish things, and even if they do not succeed at first, to keep trying. Eventually they will get it.
She also emphasized she could not do all she does for her students if it were not for all the help she gets. "I've always had one or more amazing parent volunteers from each class. I could never keep up with all the extra activities if it weren't for my parents," she explained. "This school is so special because the staff helps each other out. We're like a family here, too. Also, Austin Elementary tries hard to keep its technology upgraded. Of course, I've never taught at any other school, so I'm pretty sure it's special, but then again, I guess I could be wrong?" she joked. Donna's whole family has also played a huge part in her teaching success. Her parents, Helen and Bill Brasher, have been helping from the beginning. Her mom has helped in the classroom, baking cupcakes and reading to the children. Her dad has been available to fix things in the classroom and even restored three children's rocking chairs for the room. One of the chairs is Donna's from childhood, another belonged to Donna's two grown sons when they were little and her dad found the other one at a neighbor's home and repaired himself. He just thought the classroom could use another child's rocking chair. Even Grandma Helen White, who is 92, has helped by attending on Grandparents' Day. What about her two grown sons — Cole and Kellen? They attended Austin Elementary school too, naturally!
Pete has also been a familiar face in the classroom. Pete, who is 6 feet 4 inches tall, once entered the room, and a child said, "Miss Monreal, he sho' is long!" Pete helps pick out Christmas gifts for the kids and helps get the classroom ready for a new school year. However, Pete has mostly been there for Donna over the years by just listening to her talk about "her kids."
"In the evening, Pete is such a help to me because I can relax and share my day with him. We may just talk about the kids and laugh about the funny things they do and say, or maybe I need to discuss a particular problem I'm having with a child. The hard part of this job is leaving the problems at school," she confessed. "I value Pete's input, and he has given me great advice over the years. I simply could not have done it without him," she admitted, "He loves my kids, too!"
Another thing Donna admits she could not do without is prayer. "God has blessed me with a job that I just love, and I pray for my kids every night. It's the last thing I do before I go to sleep." Prayer prepares her for the next school day.
Written by Aleta Penfold