MANSFIELD, TX — Art historians laud muralists for bringing art into the public sphere. Modern muralist, John Stephenson, transports public experiences into the privacy of homes, businesses and churches in Mansfield and the Metroplex. Scenes of well-known heroes — from football players to Walt Disney characters to people straight out of Bible history — grace walls belonging to John's friends, clients and even his own family.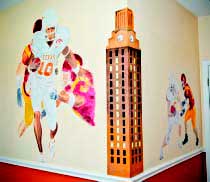 "Normally I paint the background first, but in the youngest kids' rooms, I painted the super hero characters first, so they could enjoy looking at them and then afterwards, a day or two later, I painted the background," John said. Asia, his 16-year-old daughter; Samuel, his 13-year-old son; Hanha, his 6-year-old daughter; Joshua, his 2-year-old son; and their mama, Sarah, have enjoyed watching John experiment and personalize each room of his house.
John is a true Renaissance man. Self-taught in a lot of areas, learning hands-on as often as possible, John's parents and grandparents encouraged him from the young age of 8 and told him his art was really good. As he progressed through school, he won numerous awards. After high school and two years of community college, he pursued an art career more seriously, attending Ringling College of Art and Design in Sarasota, Florida, to learn more drawing techniques, computer graphics, photography and oil painting.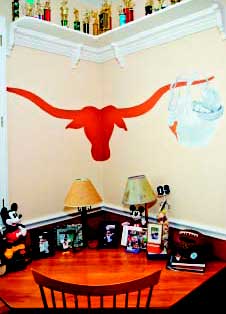 Continually busy, John is forever trying his hand at art in a variety of mediums: pencil, pastels, watercolor, pen and ink, charcoal, acrylic or oil painting on a small scale, while at the same time running a house painting business. "I taught myself to play guitar because I enjoy hearing
this form of art so why not try it? If you're passionate about something, you go after it," said John, who hopes to inspire people through his art. "We're all made in God's image, and my image of Him is as the ultimate Creator; we too have this desire to create. I like to create! When I see a beautiful mural or some extraordinary painting, I say to myself, I'd like to try that!"
Some of John's walls are textured, painted and glazed, and his living room walls have impressions of leaves. "I wanted it to look like fossils, not a painted stencil, rather to have an imprint of something beautiful in nature," said John. His family room had dark wood paneling and now has hand-troweled Venetian plaster texture, painted earth-toned brown with a copper and bronze metallic glaze. "My latest interest is working with more transparent colors in my painting to achieve a stained or washed look. What inspired me was going to the Cotton Bowl and seeing large murals that aren't really painted, but look stained."
Depending on the size of the murals John paints on people's walls, he sometimes requires the help of his mother-in-law, another local artist and one or two helpers. "I'll oversee everything, talk to people about what they envision," John said. "We work together, and then I'll finalize it on paper. I then lay out the background on the wall, and if needed, I will instruct my helpers to paint inside the lines." Occasionally, he will rent a scissor lift, a mechanical scaffolding machine that lifts John and his helpers closer to the ceiling, so they do not have to get on a ladder. "Safety is extremely important when working in tall spaces. Being on a ladder, going up and down carrying paint is time consuming and dangerous," said John, who will rarely be found lying on his back to paint. "I'm really glad that I don't have to lie on my back, because it's hard enough to keep your hands above you all the time. If I'm gonna be up high and detailing with lots of colors, I want to be standing on the scaffolding. If I need to spend a lot of time for detail, I sit. Comfort is an important issue so that you don't portray an image of frustration, but rather of happiness."
Caring for his helpers' comfort and health, John makes use of his experience with various products to plan his projects. "I prefer latex paint, general house paint and tubes of acrylic. House paint is good for doing backgrounds, and you get really good coverage for large areas. The fine little tubes are for detailing and mixing of colors," John said. "What differentiates mural artists as opposed to canvas painters is the extensive knowledge of products, what can be done, how quickly. I know what medium to use, inside or outside. I know what products last, which are good, which will not harm you. Knowing that, you can protect people who are around you while you work. Breathing in too many fumes is hazardous to everyone's health — painters and homeowner."
The families who commission John will often sneak a peek and give input on the progress of the work. On one occasion, a creative moment happened while decorating the ceiling around a skylight. John recalled, "I had a little pearlescent paint when airbrushing clouds on the sky, and didn't realize that the sun shining into the room would make the sky glow!" From that heavenly beginning, he painted a dove descending.
Then, he depicted stones on archways leading out of the couple's dining room into the hall, where he inset the phrase, "Great is Thy Faithfulness."
In another collaboration, a couple handed John five photos and asked him to memorialize on their son's bedroom wall the 2006 Rose Bowl football game, during which Vince Young became Most Valuable Player while The University of Texas at Austin (UT) beat the University of Southern California. "The 60-inch- wide UT Longhorn emblem in the corner was my idea, and I painted the helmet hanging from the horn," John said. Now that mass media moment is forever the special possession of one young boy in Mansfield. One of John's recent clients did go public, when she commissioned the artist to paint scenes of a few cowgirls. A lady out of Weatherford Googled him and asked him to translate vintage Dr Pepper art into a hand-painted landscape that wrapped around her travel trailer. "I painted one cowgirl with red hair, like the client, and to me she resembled Lucille Ball sitting at a campfire next to a little motto: 'God Bless Cowgirls!' Initially she just wanted two cowgirls; the mural grew from there, and was fun to do." John's wife, Sarah, said the whole neighborhood had fun watching John, who spent several weeks out in front of their home painting the four-sided mural with aerosol oil paints, so it would be weather resistant. There goes John, trying something new again, bringing art into the public sphere.
Written by Melissa Rawlins