RED OAK, TX — Three years ago, Alma Kelty had never heard of Zumba, but now she teaches the dance fitness program six days a week throughout Ellis County. "Zumba is about having fun, and the result of it is exercise," Alma explained.
Alma recently taught a two-day Zumba class to students at Ferris High School. She also holds classes for Ferris Independent School District [ISD] teachers and the Ferris community three times a week. "It's a good opportunity for them to exercise and get to know each other. You can make great friends through fitness, and the most rewarding part for me is helping influence others," she added.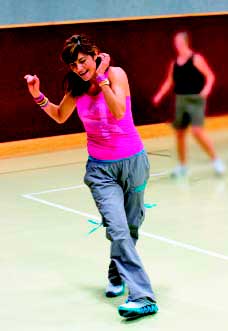 Alma also teaches one-hour classes at the Waxahachie YMCA. In addition to regular Zumba classes, she teaches Zumba toning, which uses resistance, such as small weights, to help students gain muscle tone. In the summer, Alma teaches Aqua Zumba, a pool exercise especially beneficial for students with joint problems. Other forms of Zumba include Zumba Gold, a slower-paced instruction for beginners and those with physical limitations, and Zumbatomic for children.
Alma first learned of Zumba from her YMCA fitness instructor while living in Indiana. After Alma admitted she knew nothing about Zumba, the instructor, impressed by Alma's natural fitness ability, sent her to get her instructor certification. Students in her first class were just as unaware of Zumba as she had been, but the class quickly took off. Less than two years later, Alma sent two of her students to get their certification to become instructors.
When Alma and her family moved to Red Oak in 2009, she was not sure if she would teach in her new community. "I went to the YMCA in Waxahachie and introduced myself," she said. "Because an instructor was leaving, the situation was just right for me to begin teaching classes about a week later."
Alma is a member of ZIN, Zumba Instructor Network, and benefits from the organization's distribution of music and choreography. She often modifies the routine to fit the needs and abilities of her students. She may slow down the routine for seniors or speed up the movements in order to keep the attention of teenagers.
During a typical class, Alma leads students in exercise through 14 songs. Every month, she replaces two of the songs with new ones to provide variety. "I get together with friends to do choreography," she said. "We share ideas and make up routines."
In about 30 minutes, the group of fitness instructors can create a routine for one song. They choose steps and take turns adding to it. After committing the routines to memory, they add them to their classes' lineup.
Alma typically has at least one new student in each of her classes, and she encourages her students to be patient. "I've seen so many people lose weight just by doing Zumba," she said. "If you keep doing it, you can look back and see the difference."
Alma grew up in the town of Manzanillo, near Puerto Vallarta, Mexico, beside a community park. "I always liked to exercise," she said. "I grew up in a family with 12 children, and we were very involved in sports because the park was so close by."
In school, Alma participated in volleyball, track and soccer. She and her husband, Red Oak City Manager Tim Kelty, have four sons who share her love for sports and fitness. She often runs with her older boys, and her youngest son enjoys Zumba. Dividing her time between her classes and her sons' activities does not allow much free time for Alma. "Sunday is my only day off," she joked.
"My family is very supportive of me," Alma smiled. "My husband is so proud of me when he sees the impact I have on other people."
Alma's impact extends beyond her students. Last spring, she organized a Zumbathon fundraiser to raise money for the health care needs of the young grandson of one of her students in Ferris. He was diagnosed with a rare form of cancer, and Alma called upon Zumba instructors across the Metroplex to assist her in helping the family. Each instructor led one song during the two-hour event, and supporters bought tickets to participate. "They had the opportunity to see different styles of Zumba and help someone in their community," Alma said.
"Zumba is really growing," Alma explained. "It's fun and doesn't feel like you are really working, but you can burn up to 1,000 calories an hour."
Zumba was founded in Colombia in the 1990s by combining Latin dance music and fitness. The tempo changes in the music help transition the dance moves to incorporate the use of all of the major muscle groups. Alma has hopes of teaching classes in Red Oak and getting certified in other areas. "I hope to have a place of my own one day," she shared, "to offer Zumba and other classes as well."
Since it is time for New Year's resolutions, Alma offered advice to those wanting to establish a new exercise routine. "You should start slow, make a decision and stick with it," she encouraged. "It takes time and commitment to change your life."
Written by Alana Williamson