MANSFIELD, TX — Janice Womble stays beautiful by living according to her motto: "Be good to your body, and it'll be good to you." She is a city girl who moved to the country — Mansfield — after she and her husband, Royce, bought a farm here nearly 30 years ago. They lived in North Arlington, where they owned and operated Arlington Sporting Goods for a grand total of 41 years. Coming to Mansfield for weekends, and staying in their cabin, Janice and Royce began to garden. Little did she know, she was being good to her body by digging in the dirt and eating the food they raised!
"I married my husband 37 years ago. I had three children and so did he. At that time I did not consciously do things to take care of my body," Janice said. "When you're in your 20s, you're busy raising a family. You don't think about the fact that you can't sit down and watch television because that's the worst thing you could possibly do for your body. I think walking — anything like that — is very good for you. But when you reach our age, you need to do what you can to keep your body motivated and working."
Janice had already been walking three times per week at the Mansfield Activity Center when she celebrated her 65th birthday and discovered that her AARP insurance would pay for a 24-Hour Fitness membership. "Now, I work out for one hour Mondays, Wednesdays and Fridays, early in the morning. I work on the elliptic machine for 20 minutes, the treadmill for another 20 minutes, on the crunch machine for your back and waist and on the machine that you lie on your back and lift weights with your feet. I can do 150 pounds at least!" Janice said. "I have a trainer there, and every six months he runs me through the gambit. It's a big help that he tells me how I'm doing and how to add more cardio with it.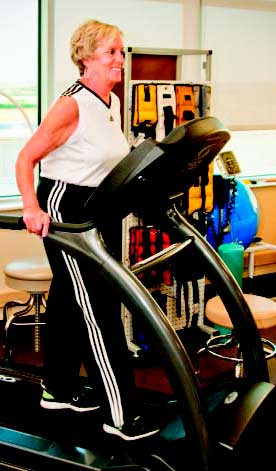 "It's not about weight, nor shape; it's about the inside," Janice said. "This gets your heart rate up and lets your muscles be active. As you get older, it's not near as easy as you think it will be. You do it because it's the right thing to do. You don't ever want to give up. You do it anyway, whether it's rainy, it's 107 degrees or you just feel like staying in bed."
Her exercise-committed lifestyle has contributed to Janice's well-being, so she's able to turn around and give back to the community. She goes to 24-Hour Fitness at 7:30 a.m. because that is what time her volunteer shifts begin on the other two days of the week. At Methodist Mansfield Medical Center, Janice performs activities that challenge her balance, flexibility and cardio strength. "Like all of us who volunteer, I deliver newspapers, wheeling them up stairs or to the doctors' offices in the professional building," said Janice, who this year is president of the medical auxiliary. "I also have board meetings, finance meetings, auxiliary meetings; but I do that after my workouts.
"This volunteer job is the greatest thing that's happened for me since I retired from Arlington Sporting Goods four years ago," Janice said. "I came to this hospital for my give-back time. It is one of the most gratifying things I do, because I see people every day — some are here for happy things, some for very sad things — and learn that when people come in they want to see a smiling face. It gives you a warm heart to know that you've done something good for somebody."
This month, Janice is giving a lot of time to her auxiliary's Holly Days event, encouraging women to get their checkups and wellness visits. "My doctor calls me her poster child," explained Janice, who sees her doctor once a year for a physical check-up. "I have my mammogram every year; I've had my bone density test; of course, I've had my colonoscopy, which is very important. Women today have got to take care of themselves — especially their hearts! More women have heart problems now than ever before. I know that because Dr. Taylor spoke at our auxiliary meeting and told us it's not a man's disease; heart disease can happen to anybody."
Prevention is best accomplished through practicing good habits, which in retirement has become Janice's lifestyle. "Royce and I work outside all the time. During the week, we eat big breakfasts. We have our big meal in the middle of the day, around 2:00 p.m., and then at night we snack," Janice said. "We eat fish, a lot of chicken and steak one time every two to four weeks. We still grow our own vegetables. He and I both do the weeding, which is exercise. When you get out there on your hands and knees pulling, planting and mowing at least twice a week, you always sweat. You do lots of cardio bending; every time you put an onion in the ground, you're bending over, using your legs, using your arms." This body of hers is only going to last so long; while Janice has charge over it, she is enjoying every moment!
Written by Melissa Rawlins