Fortunately, the building has a 30-foot ceiling; otherwise Scott Sapolio would have hit his head many times over. As he rebounds from the trampoline at The Palaestra Gym in Farmers Branch and soars into the air, he likes to reach up and touch the rafters.
Scott has taken gymnastic lessons for only about nine years. Of course, that is still over half his lifetime. The 15-year-old high school sophomore began competing at the Junior Olympics level in 2004 and was crowned State Champion in five of the last six years. And the sixth? Scott shrugged. "That was 2007, the year I broke both my arms," he said. He also holds multistate Regional Championships from 2005, 2006 and 2009. In all, his room is festooned with 37 gold, 16 silver and 11 bronze medals.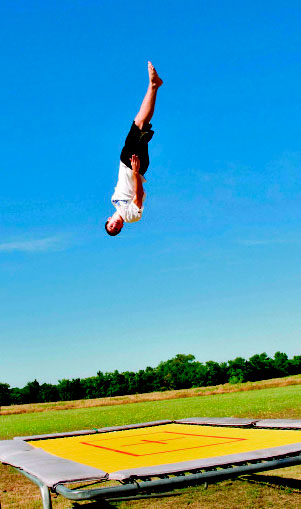 Scott showed his talent for gymnastics long before attending a class. When he was only 3, his older sister, Jessica, took gymnastics. Scott started by imitating her exercises in the backyard, moved on to recreational classes at age 6, and was competing by age 9. He now specializes in three events. Power tumbling involves a series of flips down a long, specially-constructed mat of fiberglass and hard foam. Double mini-trampoline consists of a running start, then springing from a combination ramp/mini trampoline into a pass of flipping, twisting and landing skills. Scott's third event is regulation trampoline, now familiar to those who watch
the Summer Olympics Games. He competes through the organization USA Gymnastics, of which the Palaestra is a member club.
Competing at this level means a demanding practice schedule: Scott makes the one-hour commute to the gym four days a week, working out for three to four hours at a time. His high school, Waxahachie Preparatory Academy, offers a three-day- a-week schedule that encourages such activities. Even so, it takes the whole family to coordinate transportation. His mother, Karin, or sister, Jessica, usually drive him to practice, but both his grandmothers step in to help when needed. "We can't wait for him to get his driver's license," Karin said. Vincent, Scott's father, works long hours and is not available for weekday practices. But he goes to competitions whenever he can. "Once he took Saturday off and drove to Tulsa just to watch Scott compete in one event," Karin said.
Competition takes a toll not only on Scott's time, but on his body as well. Besides the two arms broken in a practice accident, he has sustained cuts, stress fractures and some painful joint conditions. In 2009, he had to wear a back brace while two stress-fractured vertebrae healed. The brace came off just one week before he traveled to Holland for his first international trampoline competition, where he performed well, but did not medal.
Despite his injuries, Karin said, "He never once considered quitting. He gave up Scouts; he gave up soccer; we went to homeschooling, and then to Waxahachie Prep — just so he could have the time to practice and travel."
Scott has several natural traits that make him well-suited to gymnastics. "I'm pretty calm," he said, "whether I'm competing or just learning a new skill." He also has a "try-anything" attitude and is very spatially aware; that is, aware of his body position. That is not to say that new skills always come easily. Scott remembers when he was trying to master the triple back flip, and landed flat on his face. "I learned that they use those big, squishy landing mats for a reason!" he quipped. Vincent noted that from a young age he was always focused, and his coaches commend his good attitude and work ethic.
Even the calmest person might shy away from risky new skills after getting injured, and Scott is no exception. "After you crash on a high-level skill it gets scary really fast — especially if it happens again. You kind of get a mental block." His head coach, gym owner Becky Weathers, has helped him recover from these setbacks. "One thing that helped is once when I took a few months completely off practice," Scott explained. "Other times, I will break a skill down into small parts, and drill over and over on just one thing, like a single flip or twist." What keeps him going despite the challenges? "It's just fun," Scott said. "I enjoy competing — and it's cool when you win all three events."
Since he started competing, Scott has set a series of goals. He has enjoyed success at the state and regional levels and has been chosen twice for USA Gymnastics' Elite Development program. Now his eyes are on at least one gold medal at the National meet, then a place in the World Competition in the fall of 2011. "At the Final Selection competition, they take the top four for the World's. In 2009 I came in fifth — missed it by one place," Scott shook his head with a wry grin. Yet with all Scott's goal orientation, gymnastics is not his whole world, nor is competition. He works hard in school, where his favorite subject is science, often doing homework in the family's van or on airplanes. He is an amateur illusionist, amasses trivia facts and enjoys art. He also volunteers at Lone Star Cowboy Church, "Jonathan's Place" for homeless children and the Dallas Zoo. Karin added, "He is a good support for his teammates and has helped many kids learn new skills. He has a lot of patience and keeps encouraging them to improve and try again."
Gymnastics has given Scott and his family some unexpected opportunities. Vincent pointed out, "We started out with classes for fun and weren't really thinking of him competing." But the meets have given them the chance to travel in 12 states, besides the trip to Holland. "We try to do fun things and learn about the history of the places we visit," Karin said. "In Holland, we visited the Anne Frank house. And in San Francisco we bicycled across the Golden Gate Bridge." On one trip to Los Angeles, Scott got to meet George Nissen, the inventor of the trampoline, who died in April of this year.
Scott's parents encourage him to do his best, but to have fun and keep his priorities straight. "God, family, education and then gymnastics," Karin said. They can see how his hard work in gymnastics is helping prepare him for adult life. His determined attitude and habit of self-motivation will serve him well regardless of his eventual career. And then, Scott has noticed the health and fitness benefits of his athletic discipline. "Without gymnastics," Scott said, "I'd be just another skinny kid."