Kindergarteners at LaRue Miller Elementary School have learned lessons some never learn in a lifetime. Three of their classmates are hearing impaired, each with cochlear implants. They communicate primarily in sign language, though also orally and with gestures. The sensitivity shown by everyone in the classroom comes so naturally, they do not realize how mature they are. Their classroom teacher Michelle Spradley said proudly, "This group of kids has taught me more than I ever could have taught them. That's what makes this job so amazing!"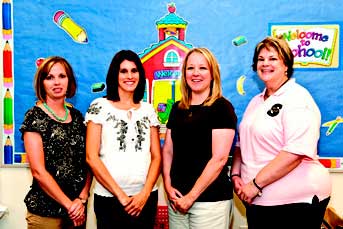 The three students began receiving deaf education here in Midlothian through prekindergarten and Head Start programs. They and their families have bonded and support one another. Though their hearing varies, their desire to learn does not. An extraordinary team of four teachers made a commitment to help them succeed, and has seen growth beyond measure. This team includes Elementary Generalist Michelle Spradley, Deaf Education Specialist Jennifer Mabra, Auditory Impairment Teacher Leisa Bradley and Speech Pathologist Elizabeth Todd.
Upon entering their classroom, all students are busy working on morning activities. As Michelle works with individuals at her desk, their other teacher, Jennifer, rotates around the classroom. All students interact with ease, sharing crayons and Play-Doh. At first glance, one might never realize anyone requires special assistance.
When Michelle gathers the students on the carpet for "Calendar Time," Jennifer positions herself across from her. With a master's degree in deaf education, she skillfully signs while maintaining eye contact with the three hearing-impaired students. The children watch both teachers carefully. When Jennifer signs as they count to 100, many students join in, having learned by observing all year. Some can also sign letters, days of the week, seasons, their friends' names and the words on their word wall.
Providing assistance to students with special needs in the classroom is called "inclusion." Their learning is hands- on and follows the curriculum, though modified when necessary. Michelle
and Jennifer constantly communicate, planning lessons and considering adaptations. "I see them talking in the hall every chance they get!" Leisa said. Inclusion also gives those with auditory impairments the same opportunity
as others to shine in the classroom. One of them, for example, excels with computers. His classmates look to him as the leader and will ask for help. Elizabeth said thankfully, "It is so encouraging to see the students respond positively to inclusion; it is a plus for everyone."
Leisa accompanies the three students to other classes, signing for them in art, P.E. and music. She also signs as they work with Elizabeth in speech, and provides a weekly sign language class for teachers and parents. All of this effort helps support these students and equip staff. "This is my first year teaching in Midlothian, and I have been so impressed with this district," Leisa said.
Elizabeth agreed, "It is a privilege to work with this team of professionals with such a capacity for truly caring for students."
Elizabeth first taught the students speech in Head Start, as well as sign language to their parents. "I have watched the students grow up since they were 3 years old," she said. "I am so proud of their success. My favorite part of the day is when I get to work with them. They came up to me today and gave me a hug. I am blessed to work with such loving students."
Elizabeth, Leisa and Jennifer, as well as one first-grade teacher, are the only teachers who can sign in the district. Because Jennifer is certified Early Childhood (EC) through 12th grade, she can progress to other grade levels with the students, moving up to co-teach first grade next year. The other expected first-grade teacher is planning to attend a workshop with Leisa this summer at the Texas School for Deaf Education in Austin. "She wants to be as prepared as possible," Leisa stated.
"The entire school has embraced these students and their families," Jennifer explained. "Other grade-level teachers and administration sign, 'Hi, friend,' to them when they see them in the hall." Classmates have requested to be in the same room with them next year, having learned to sign and communicate sensitively. "They know to tap gently on their shoulder to get their attention," Michelle explained.
Jennifer nodded, "They can also sign questions such as, 'Do you want to play?'" They both laughed, describing that while in centers in their classroom, students role-play them both, deciding who will speak orally, like Mrs. Spradley, and who will sign like Mrs. Mabra.
The three deaf education students have learned to read, beating statistics. Reading and language are typically found to be the weakest development for hearing-impaired individuals. "In fact," Leisa said, "most are expected to graduate high school on a third-grade reading level."
"They do have extra challenges when reading or trying to process words and use visual phonics," Jennifer explained.
"But we don't try just one thing," Leisa emphasized. "It's trial and error until they get it!" This team effort has paid off. "They love reading and are on level with their classmates," Michelle said proudly. Clearly this team is committed to teaching beyond the curriculum and helping students succeed.
Written by Cari LaCroix.