Overwhelmed with emotion, the woman approached the stage and stretched her hand toward the singer, Betty Barajas. As Betty clasped her hand, the woman quite unexpectedly slipped an authentic pearl bracelet around her wrist. Surprised by the gift, Betty said, "I gave her my hand because I thought she wanted to hold it. One time when I was in the middle of a song, a lady got up, walked up to me and put a diamond unity necklace around my neck. You would be surprised at the jewelry given to me." Betty has been giving pleasure to listeners for a long time. She began singing in church when she was 3 years old. Her dad was the pastor, so it was natural for her to sing in the choir. "I have four sisters, and we all sing. We actually were the choir!"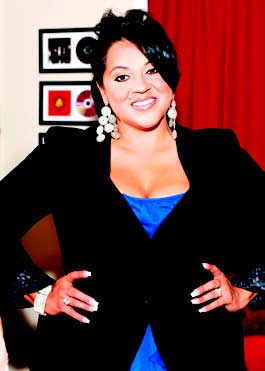 Now, Betty sings with her husband, Mario, in his band El Conjunto Baraja de Oro. The music they produce and play is indeed so special that they have been nominated numerous times for the Tejano Music Awards. The couple's remarkable journey began while Mario was a member of another band. Betty stated, "Mario told me he always wanted to be in a conjunto band. Conjunto is a Spanish word for the type of band we have; a four-piece band with drums, accordion, bajo sexto and bass guitar. The music is different from the Tejano band. I said to Mario, 'Honey, you can do it.' When he started putting the band together, every single member he interviewed couldn't sing harmony so he asked me to sing when they were practicing." Betty's harmony was so perfect she has been singing in the band ever since.
"It turned out to be the best thing for the band because people love that we are husband and wife in a band together. In the music industry, you don't have a lot of that — especially in Hispanic music," Betty said.
Mario remembers the first time he heard Betty sing. "Wow, she blew me away," he exclaimed. "To this day I haven't met anyone who can sing harmony like her. She would tell people she ended up singing just to help out the band, but she has become a key element in the group. When she was pregnant she couldn't make one of the gigs and, for us, it was the worst gig ever! She is like the crowd motivator; she gets everyone [excited about the music]. "
Their music is so beautiful that it transcends language barriers. The band sings the majority of their songs in Spanish, and Betty is amazed at the number of people who enjoy their music even though they do not speak the language. "At the Bob Phillips show, it was so surprising that they embraced us. When it was time to sign autographs and sell CDs, I looked out at over 60 people standing in line to buy the CD, and about 15 of them were Caucasian. I told them there were no English songs on the CD but they said, 'I don't care; I still want to buy it.'" Their new CD titled The American Dream is dedicated to the military in honor of all the troops.
Betty is not only an accomplished singer; she is an effective band manager. She was able to attain a three-year contract with Hohner USA Musical Instruments for Mario to represent their accordions. He receives a brand-new accordion every year of the contract.
Betty's ability to motivate extends into her private life as well. Her love for music impels her to encourage parents whose children are interested in music. "Listen parents," she noted, "if your child has an interest in music, let them follow it because there is too much other stuff for them to follow. Music will capture them — they can feel it and seek it out. Students have it so hard with peer pressure. Back in the day, I would hear about some possible drugs at school, but it was nothing like it is now. Sometimes, I will let all the kids get on stage with me to sing so they can get a feel for the stage. Children are our future, and they are the next generation of musicians."
The next generation of conjunto musicians has big shoes to fill. Betty was nominated for 2008 Entertainer of the Year at the Tejano Music Awards. That same year, the band was nominated for Conjunto Album of the Year. In 2009, the band was nominated for five different categories. Mario stated, "In any genre of music, being nominated is like you already won. If you win that is a plus but being nominated means you carry that title and you're at that next level. We haven't brought the win home yet, but I know it is sure to come."
Betty added, "Mario says music comes from the heart. Our passion is music."
Written by Betty Tryon.