Growing up in Pennsylvania, Steve Szeszko spent most of his youth playing outdoors, going to school or practicing with the school band. He was never much interested in competitive sports. Today, Air Force Master Sergeant Steve Szeszko, husband and father to two young daughters, is passionate about marathon running, one of the most challenging of competitive endurance sports. "My interest in running began when we were stationed in Colorado Springs," Steve said. "My boss would talk about races and how much fun they were, so I decided to sign up for a three-mile race. I had never even run a mile race before, but I finished the three miles and had so much fun that my interest in running just kept building."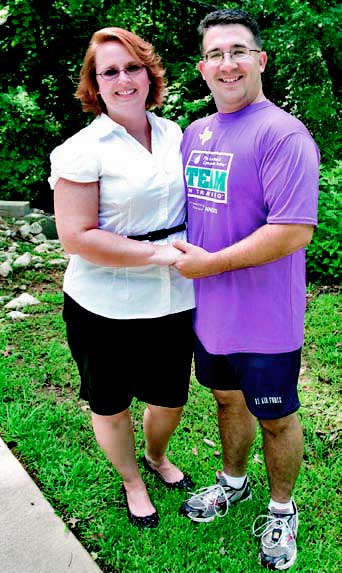 In their next move, the Szeszkos were stationed in Tacoma, Washington, and, on occasion, a representative from the Leukemia & Lymphoma Society Team in Training (TNT) program brought flyers to the recruiting office where Steve worked. The more Steve read about the TNT program, the more interested he became; yet it would take one more move before he would act on his interest.
The TNT program provides training for marathons and half marathons or hiking adventures, triathlons and 100- mile century bike rides. In exchange for raising funds, participants receive up
to five months of intense training and education by certified coaches, plus the support of motivated teammates, and lodging and airfare to one of the more- than-200 accredited national and local events in the United States. "I told my wife I wanted to do it," Steve said, "so when we got to Texas and I received a brochure in the mail, I signed up to train for the TNT Marathon in Dallas."
This was his first marathon, and the training began last November for the big race on April 11. "We started running two miles a day and gradually increased all the way up to 26.2 miles. My 9-year- old daughter, Madison, really took an interest. She would ride her bike beside me during my training runs through our neighborhood, and the neighbors would wave as we went by." On Saturday, he would meet with his teammates. "There were 12 of us and we would do longer runs together, maybe 18 miles."
When race day finally came, it was hot, hotter than any of their training days. "We weren't prepared for how hot it was, and by the 18th mile I had lost all of the salt from my system. Sometimes you can get to a point where you think, I can't do this anymore, you can't feel your legs and you hurt all over. After a TNT mentor gave me a salt packet and glass of water, though, I was good to go again. And I finished the entire race. My goal was to finish under five hours. I finished at 5.59.14 hours, but the important thing is that I finished."
Whether he is running a 3K, 5K, half or full marathon, running is now a passion for Steve. "It's infectious and fun. My daughters are running now, and it has given us quality dad-and-daughter time. My 11-year-old daughter, Sydney, and I ran the [Fort Worth] Cowtown 5K together, and Madison just finished her first 1K." Steve's wife, Connie, participates in her own way. "Connie says everyone needs to be a supporter of something and she supports the family's passion for running. She and my daughters have cheered for me in every race, and when I'm a couple of hundred yards away from the finish line, they jump in and finish with me."
Steve also enjoys his Facebook bragging rights and weight control. "I remember when I posted that I had hit 100 miles of training and some of my Facebook friends commented: 'Are you crazy? You're running a what? No way will you make it. All runners are skinny guys.' After April 11, I enjoyed posting that I had finished my first marathon." As for his weight, Steve is 20 pounds lighter. "I'm running so I don't have to diet," he added.
In a runner's world, it is the personal record that really counts. "Every runner talks about your PR — trying to best yourself," Steve explained. "I kept a log for my first marathon. My first two-mile run took about 20 minutes and, as the weeks went on, I could see my time getting faster and the mileage going up. I'm a competitive person, and I do consider running to be a sport. It is a competition with yourself."
Steve also sees running as a fun sport. "If you're not having fun, it isn't worth it," he said. "Runners are social people, and the sport tends to be very encouraging. The inner pride of performing in front of people, sometimes crowds ringing cowbells to urge you on, gives you the energy to keep going."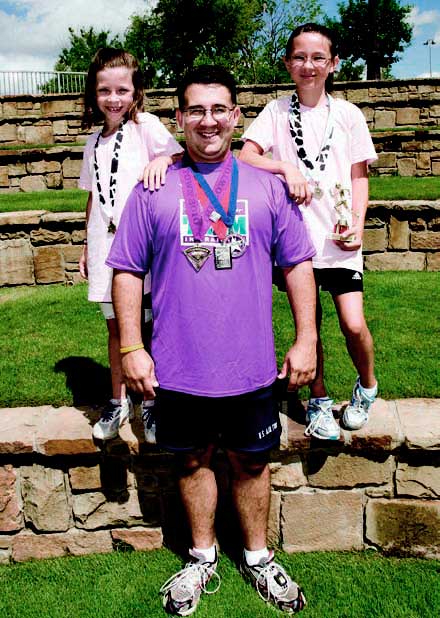 So what does the future hold for Mansfield's Marathon Man? "I'm training for the Oklahoma City Marathon," Steve said. "My hope is to become a TNT mentor in time to help with the fall training and spring marathon."
Written by Carolyn Wills.