Did you know that Mr. and Mrs. Santa Claus live right here in Corsicana? Every year more and more families learn about the Christmas party that takes place in December at Santa's house. Rumor has it that Charles and Evelyn Harrison know quite a bit about this event since it takes place in their big backyard.
During most of the year, the jungle gym and the bathtub that serves as a fort or a ship that sails away on adventures are enjoyed by the Harrison's six grandchildren and their five great-grandchildren. But in October, a transformation begins. Mr. and Mrs. Claus bring their big red sleigh out of the shed. They unpack thousands of lights and set up the serving table for the party. Painted wooden figures pepper the space with Christmas characters and lighted bells are hung from the flagpole in the front yard.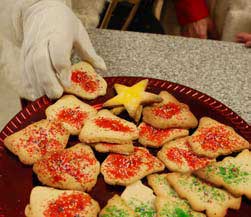 Evelyn Harrison, sometimes known as Mrs. Claus, grew up in Sioux Falls,
South Dakota. She passed the civil service exam as a high school senior and when she graduated, she was employed at the Air Force base in Sioux Falls. That is where she met and married Charles, who was stationed there. Evelyn has convictions about the value of families staying together.
"I am one of eight children," she said, "and I am the only one still living. I urged my cousins to get together here while they are still able to come. I even sent them 'stimulus checks' to be sure they would."
Charles Harrison, sometimes known as Santa Claus, grew up in Kerens, Texas, which was home to his great-great-grandmother. Both of his great-grandfathers were in the Civil War. When Charles enlisted in the Air Force, he was involved in World War II. He served in the infantry until he was injured. After that, he was sent to be a nose gunner on a B29 Liberator plane. Charles said, "I knew nothing about guns or planes but that didn't matter at that time." Later, he became a teletype operator and again, "All I knew was how to type."
Charles arrived at the Air Force Base in Sioux Falls with 40,000 men, all scheduled to go to Japan. The plan changed when the A-bomb fell. "The base closed at the end of the war," Charles said. "I was in headquarters detail, so I
closed the gates."
Back home in Texas, Charles had worked on a farm for $1 a day, so he wasn't surprised when he found a job working on a farm in South Dakota and was told that he would be paid $1.
"What surprised me was learning that they meant to pay $1 an hour." When he returned to Texas, Charles said, "I worked at the agriculture school the Army managed in Kerens. The Army started a junior college in the barracks and that was the beginning of Navarro College. Altogether I was in the Air Force for 21 years." Charles explained that he served a year beyond the required 20-year retirement mark "to be sure some joker wouldn't count wrong and mess it up."
Even now, he remains connected to the service. There is a picture on the wall of their home of Charles in the uniform of the Commemorative Air Force. When Charles and Evelyn returned to Texas, they began farming on Charles' grandmother's corn and cotton farm. Later, he joined the tombstone business in the footsteps of his father, grandfather and uncles. "In those days," Charles remembered, "people could take an insurance policy for 10 cents a month, and when it was needed, they would be provided a $100 monument." The large raw granite slab table in the backyard of his home is a reminder of that time.
In 1987, the couple moved to their present home in Corsicana. While their son-in-law, who lived in Garland, was building their house, Charles and Evelyn worked each night clearing the site after the workers left. "No one would come to do it all the way from Garland, so we came home from work and afterward we were sometimes too tired to bother eating dinner. We both lost 20 pounds," Evelyn said. Charles and Evelyn paid off their house working at jobs that paid well during the industrial boom time in Corsicana; Charles worked at Bethlehem Steel and Evelyn worked at the hat factory.
Evelyn remembers that it was hard to learn how to sew the braid for the hats. "I even cried sometimes at first," she said. But the boss was encouraging and the $3-an-hour pay was a big step up from her previous job that paid only 75 cents an hour.
The Christmas party tradition began in the late 1950s in Kerens. Charles was already dressing as Santa to ride in the Kerens' Christmas parade. Their oldest daughter was impressed that her daddy "frowed" away candy in the parade. Her first grade class was invited to the first party. The next year, 25 families drove by in cars to see the decorations and eat cookies. The third year, more than 50 people began to walk around the yard looking at the new lights and displays. In the Texas spirit of "Y'all come" Evelyn would open the windows so they could smell the cookies baking. And they did come! Last year, the party in Corsicana had more than 1,000 visitors.
Evelyn makes cookies all year long to freeze for the party in December. The Harrisons have three lots to decorate, starting in October and ending on Thanksgiving Day. There are cutout wooden figures, and countless lights to see. Santa sits on his big, red sleigh inviting children to join him to have their pictures taken.
Children can ride on the barrel train, climb on the jungle gym (painted red of course), jump in the bounce house and ride down the slide. They can sit in the bathtub the Harrison children used when they were small to take imaginary journeys.
When she could no longer find space to store enough cookies for the crowd, Evelyn searched everywhere for a popcorn making machine. When she inquired at Corsicana National Bank, she was told, "Use ours." Neighbors help serve the cookies, nachos and popcorn and pour punch and coffee for visitors.
Neighbors drive the tractor that pulls the barrel train. A group of neighbors gathered for punch and cookies at Santa's house in October to work together refreshing the paint on the cutout figures. Asked why they began hosting the Christmas party, Charles just smiled and said, "We just wanted to have a good time."

Written by Joan Kilbourne