Holiday spirit is something that Chad and Elizabeth Wester like to share with their friends and their family. "We usually have a couple of parties here during Christmas," Elizabeth said. "We always do a neighborhood party, because we are really close to all of our neighbors and spend a lot of time together."
The Westers have two girls — BriAnn, a freshman in high school and KayLee, a second-grader. With an upstairs game room, replete in Texas Rangers baseball decor and equipped with games, air hockey, a Sony Wii®, a small soda fridge and futons for slumber parties, the neighborhood children — 14 in all — have their own party hangout.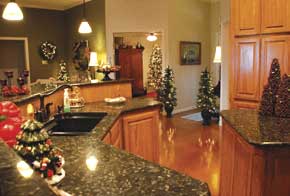 "The game room is more for the kids," Chad explained. "They can come up here; they can play and watch TV, and we can be downstairs. They don't interrupt us or vice versa, but they are still here in the house, and we can check on them if we need to." Having extended family close by makes holidays much more stress-free and cuts down on travel time.
"Both sets of our parents are here," Elizabeth mentioned. "Most of our grandparents are here, too, so we pretty much stay here in Ennis for Christmas."
Christmas Eve often finds them at Chad's parents' home. "We have 'Santa Claus' on Christmas
morning here at our house. Usually my parents come over for breakfast and see what the kids got; then we go over there in the afternoon for Christmas lunch."
Family traditions are cherished by Chad and Elizabeth both. "We have stockings that have been passed down by my dad's mother, Frances Wester," Chad mentioned. Hung on a special stocking hanger in the hallway, each stocking sports "Granny Wester's" special mementos of each person.
Chad's has his class ring whereas Elizabeth's has her wedding photo. Elizabeth likes to keep organized, whether she doing her job as one of the office managers at AGTM Engineering, or driving her girls to school, Lionette practice and dance classes. She is the Lionette booster club president and also a PTO officer for Sam Houston Elementary. She and Chad are the entertainment chairmen for Ennis
Relay for Life and also operate Custom Sounds, a disc jockey service, on the weekends. The key to keeping things organized is the "mud room."
"This is main central of our house," she said. "This is literally my favorite area of the house. I am such an organized freak." Backpacks, dance bags and coats each have a place. "Everything comes here and nothing goes further than right here.
We all have our own hook." Calendars, school items and invitations are neatly grouped here. Chad, an Ennis fireman, even has a cabinet here where he can plug in his chargers and radio scanner.
"We usually have the Bardwell Fire Department party at our house," Elizabeth said. Chad volunteers there as assistant fire chief, as well as teaching at the Navarro
College fire academy.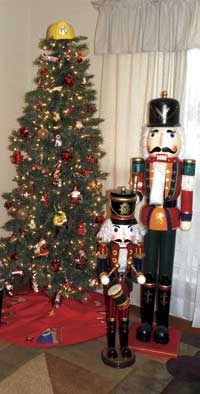 Even at Christmas, Elizabeth organizes gifts for parents, nieces, nephews and siblings under one tree and then puts immediate family presents under another tree. With over 20 trees on display throughout the home, this is no problem.
"We have a tree in every room," Chad agreed. "The tree in the office is decorated with a fire department theme, which coincides with the room's decor. A lot of the fire ornaments
I've had since childhood." Some were passed down from Elizabeth's father, who was a fireman before he became city inspector. "Elizabeth even comes down and decorates a tree at the fire station."
Every tree in the house has a different style and coordinates with the room in which it is placed. "My mom likes decorating trees, so she usually comes over and helps me," Elizabeth mentioned. "Chad's mom also really likes to decorate, and I kind of got the multiple-tree idea from her, because she puts up lots of trees." The dining room's light-toned wooden furniture is accented with a tree resplendent in red, silver, snowflakes and glitter.
The cozy family living area sports a country-style tree with old yarn ornaments, little sweater ornaments and little wooden wreaths. Stained concrete floors and an open-living concept make meals a low-maintenance family-affair. "Chad does all the cooking and that is one of the things he wanted, when we built our house five years ago, for the kitchen to be open to the living area," Elizabeth mentioned. Pendant lights on a track over the bar, verde granite countertops and an island-on-wheels all contribute to a living space that makes family gatherings convenient.
The master bedroom, with its iron-and-wood bed, decorated in cinnamon tones, has two trees of its own, each decorated with glass ornaments. The marble counters in the master bath reflect the golden
glow of that room's tree. Elizabeth's grandmother's quilt hangs in her bedroom on a quilt hanger made by her father. Beneath it is an heirloom chest. "That was my toy box when I was a child," Chad pointed out. "My grandfather made it." A Willow Tree angel collection in the bedroom
coordinates with the Willow Tree nativity in the living room. BriAnn and KayLee help put a
festive spin on their own rooms.
"Every year we buy them a Hallmark ornament, and they each have a tree in their room which they decorate," Elizabeth said. KayLee's room has gauzy butterflies suspended from the ceiling which mimic the design in her quilt. Pastel blue and green walls are enlivened by fuchsia accents and her crown/tiara collection — souvenirs of birthday and wedding celebrations. The contemporary flair in BriAnn's room is typified in the turquoise IKEA® nightstand and round turquoise chair.
A silky purple bedspread plays off lavender walls. "We dazzled up the green lamp ourselves," Elizabeth demonstrated, "with beads and ribbon." The daughters share a bathroom, jaunty with its lime-green-and-fuchsiastriped shower curtain. "They have a pink, purple and green aluminum tinsel tree for their bathroom."
Elizabeth's Christmas preparations begin the week of Thanksgiving. Chad pulls down box after box from the garage attic, with a friend's help. "It takes me a whole weekend to put it
up," she said. "I basically un-decorate the entire house, clearing out everything that can move — ficus trees, rockers, regular decor and then I start." Glass hurricanes filled with balls go on the coffee table, a berry wreath hangs over the fireplace, and a cheery snow globe collection nestles on the end table. In a couple of days, the Westers are ready for the festivities
to begin.
Written by Kelly Kovar.