During this season of miracles and wishes, Shawnay McCain is a wonderful role model to us all. In many ways, she is a miracle. Born with intra-ventricular hemorrhage (IVH), which is a type of bleeding from fragile blood vessels in the brain, "it created cerebral palsy and epilepsy with her,"
said her mother, Charlene McCain.
In fact, Charlene said the medical personnel who have treated Shawnay continue to be amazed with her progress. "She is a miracle. The fact that she is walking and talking and breathing as she is has amazed everyone. She has gone through so many surgeries and constant therapy."
Not only were the surgeries numerous, they were innovative and invasive surgeries that redirected the nerves and tendons in her arms and legs "so that when her brain triggers the wrong instructions, her body does the right thing. On some of those surgeries, they had never done that on a child so young."
As she grew, she rose above everyone's expectations. Everyone, that is, except her teacher, Sherry Stewart. Almost instantly, Sherry recognized that fighter's spirit of which Charlene is so proud. "She is an amazing young lady capable of doing anything," said Sherry.
Today, Shawnay attends Legacy High School, but is also enrolled at Ben Barber Career Tech Academy for special classes. As a vocational adjustment coordinator in Mansfield, Sherry introduces those students with special needs to job programs, teaching them how get and keep a job, how to perform tasks and strive for promotions.
"Shawnay is a great advocate for those who need a voice," Sherry said. "She is so determined and shows people what these kids are capable of." In fact, Shawnay has been a voice for those with a disability her entire life. From the early surgeries, in which she helped the medical community, to her entrance into elementary school, she has been an advocate. "But sometimes  Shawnay has processing issues," Charlene laughed. "She might mean to say, 'Would you come over here?' but winds up saying, 'Come over here!' She comes off as more demanding, but it seems to work for her."
Whatever her processing skills, she is a natural born leader. In elementary school, she was always a teacher's aide, and by middle school, Shawnay earned the nickname, 'Momma,' for the way she cared for fellow students. But it was when Charlene took in a special needs child that Shawnay understood the true need for teaching those with disabilities a sense of independence.
When Charlene learned of a wheelchair-bound child with severe disabilities who had been abandoned, "we took him in. It was supposed to be temporary, but he stayed with us for five years." It was Shawnay who taught the boy how to do things like turn on and off his television set and sign, "yes," when he wanted something.
When Shawnay learned that children who attend daycare can no longer do so after the age of 14, she applied her job training skills from Ben Barber to write a business plan. "Yeah, it was a page, front and back," Shawnay said of her plan. "And I drew a picture of the building, too. The bottom floor is for the wheelchairs, and the second floor is for the kids who can walk. Everyone would sign in their names at who still need assistance while their parents are at work. Her idea blossomed after she realized one of her friends is very good at vacuuming. It is a skill, Shawnay determined, that could be put to great work.
"We would teach them how to do paper work, vacuum and file stuff," Shawnay said, adding that a playground and basketball court would also be nice for play time. "It was amazing," Charlene chuckled. 0"One day she just sat down and developed a business plan where kids can work in a business, give care to other kids and learn how to work."
Together, mother and daughter researched grants with small business loans and spoke to community leaders in Mansfield. "The feedback has been fairly positive," Charlene said. "But to be honest, no one really knows how to progress with this."
If anyone can make this happen, however, odds are that it will be Shawnay. With such strong mentors and role models as Charlene and Sherry, Shawnay is ready to forge ahead.
"This is why I became a special education teacher," said Sherry. "I love being able to help guide the students and be there when they realize what is out there, to see what is possible and know they can support themselves."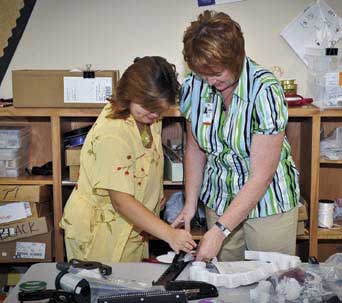 "That is my dream," Shawnay said. "That's what I want to do when I grow up. I want to help them get jobs. I want to make this happen and have all my friends be there with me."
Written by Alex Allred