For Jerilyn Cardwell, horsemanship is a journey of trust, faith and the unlocking of secrets. While the title of "horse whisperer" belongs to another, Jerilyn is definitely a "horse listener."
Recently, Jerilyn held a horse camp for disadvantaged children, with the hopes of instilling a greater sense of self-esteem and pride in her young charges. "But I think I walked away with so much more," Jerilyn said. "These kids thought of themselves as alone in the world," she continued.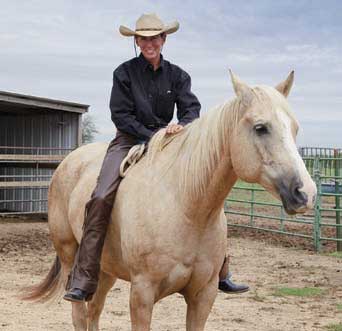 In just one week, however, the results were obvious. "It was amazing! You could see they were changed on the inside," Jerilyn said. Children who had never touched a real horse were suddenly riding bare back, "with their hands in the air!" But it was one child, in particular, who really touched Jerilyn. Withdrawn and uncommunicative, "You could tell that she was questioning how she could trust another human being," Jerilyn said of the little girl. "So, we kept going back to the horse, asking her how she could get the horse to trust her. She had been fighting so many battles. She was the adult in her family and had so much on her shoulders." By working with Jerilyn and her horse, the little girl was able to find release.
"Horses are so pure, and they know when you're not being honest. If you're not congruent, if
you are harboring anger inside but smiling on the outside, your horse knows something is wrong." The horse allowed the little girl to deal with her feelings openly.
It is this purity and honesty that keeps Jerilyn so involved in the horse world, but admittedly, it is not what first drew her in. Like so many girls, Jerilyn loved horses. While she grew up in Arlington, her grandparents owned horse property in Sulphur Springs, Texas, allowing her to ride horses in wide open spaces. But unlike so many, Jerilyn knew no fear.
When she was only 3 or 4 years old, she was already riding horses others would not. By the time she entered elementary school, she rode horses into town racing at breakneck speed. When a new horse showed a little too much exuberance, family members would say, "There's a crazy horse. Put Jerilyn on it!"
However, Jerilyn did not own a horse of her own until she was married with children. She majored in business at University of Texas at Arlington with the idea of owning a restaurant one day. Instead, she began a decorating business but stopped once she and her husband, Terry, had children. "I wanted to be a stay-at-home mom," she said. Still, her passion for horses never waned. Terry and Jerilyn moved to Midlothian more than five years ago with their two sons so that Jerilyn could finally get the horse she had always wanted. Starbucks, now a 12-year-old Palomino quarter horse, became her guinea pig. "I did everything on that horse," Jerilyn laughed. But when she learned about the training methods of the internationally renowned horse trainer, Pat Parelli, she said her life changed.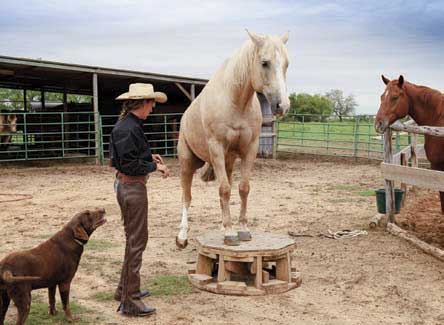 The Pat Parelli program is as much about self-improvement as it is the study and training of horses,
exposing students to every aspect of horsemanship, including the business side. Initially, Jerilyn sent away for instructional DVDs but quickly began attending seminars and successfully tested to become a low-level instructor. Then, the call came.
Only 10 instructors in the United States were selected to move on to the next level. "This was a huge honor!" Jerilyn said, still remembering that life-changing phone call. Jerilyn has traveled to Pat Parelli's training facility in Pagosa Springs, Colorado, for the past two summers and has become a Level III instructor, making her not only one of the most educated and experienced trainers in the Dallas/Fort Worth area, but in the United States. This avid horse lover and self-professed, "share-aholic," has never been happier. "As a trainer, I want my students to be as good as I am or better. I will give you as much information as I can; I just feel so blessed to have been trained under Pat and Linda [Parelli]. It is a blessing to be able to share."
So many years ago, the thrill of a horse had been a wild ride for Jerilyn. Today, she knows much more. "There is a saying by Ronnie Willis," she said, "that 'the inside of a horse is good for the outside of the man.' The emotion of the horse can bring out the best in you. It is so true."
For Jerilyn, that moment of clarity came while she was working with students and their horses and Starbucks came running into view to show off. "He backed himself through the barrels and looked at me like, 'Look Mom, look what I did!' He was looking for that conversation and that connection with me, and right then I knew that solidified it." Jerilyn has discovered one of the most glorious secrets of all: Horses cannot talk, but they can speak — if you listen.
Written by Alex Allred.