Dreams of music, stages and perfect family relationships have become reality for Terrie Lynn Harwell and her daughter, Tara, who share a voice, a talent and a joy.
The mother/daughter duo has sung together since Tara was old enough to cheer her mother on at the Texas Gold Show (an opry similar to the Johnny High Revue) produced by Terrie Lynn's cousin at the old Wichita Theatre in Wichita Falls.
"When Tara was little and I was performing the show, she was always right there on the front row, and she was one of my biggest fans. I could look at her, and she knew every word I was singing. I'd think, Oh, what line's coming next? And I could look at her and she'd be down there mouthing the words, and I could catch on," Terrie Lynn recalled.
Fifteen years later, when Tara performed in the Burleson High School productions of Honk!, 42nd Street and Thoroughly Modern Millie, Terrie Lynn found deep satisfaction watching Tara. "I played Marion the Librarian in The Music Man in high school, and it was great to see Tara performing [at] a much more competitive and more professional level than I was exposed to in the '70s," Terrie Lynn said. Now she is Tara's biggest fan.
Tara worked hard the past two summers in professional engagements. In 2008, she spent six months as a character performer in a paid internship of the college program at Walt Disney World in Orlando, Florida. Last summer, Tara danced in the musical drama Texas at Palo Duro
Canyon. "We did 60-plus performances, more than I've ever done before," she said. "Doing it as a job taught me discipline and professionalism, and also just how to have fun on the job." While in Texas, she also performed as the fairy, Mustardseed, in A Midsummer Night's Dream, presented by cast members from Texas. Terrie Lynn drove up to cheer on her daughter at least six different weekends.
Since then, mother and daughter have embarked on awesome singing adventures together. Tara was invited into the Chamber Choir at Texas Wesleyan, and together she and Terrie Lynn were accepted into the Wesleyan Chorale. They joined the choir at Tara's school, Texas Wesleyan University, and began rehearsals for a Robert Schumann mass called Missa Sacra, which they performed last month.
Tara believes that "through the passion you have for what you're singing about, you can express yourself." Her pleasure in expressing emotion through singing comes from her mother and from the trainingshe received from Philip and Cindy Glenn and Frank Conlon, Burleson Independent School District choir directors.
"I give credit for my voice to my mother. It all started with her. I get my talent from her genes, and she is my number one fan," Tara expressed. "I can count on her to be at every concert and every performance. It encourages me to keep going and reach my dreams."
Second to God, Tara's father, Rex, is the greatest encourager of his talented
family. A drummer himself, he met and married Terrie Lynn two years after the Elvis Presley cover band that she sang for broke up. She decided at that juncture to stick to gospel and country, and the new family she and Rex started made musical expression a priority.
"Rex and I have sung and played in musical groups together in church for 28 years now," she said. Terrie Lynn not only sings, but also leads a fine arts group and directs dramas and musicals at Fossil Creek Community Church. Her two sons play drums and percussion with their dad at the church, and Tara plays keyboards in the worship service and is a singer in the contemporary service.
"Wherever I go in life, whatever church I end up in later, I want to be involved with music there," Tara said. The Harwell house is not a quiet place, since both women practice when they can, wherever they can.
"Sometimes, not as often as you might think, we'll practice together at home," Terrie Lynn said. "A lot of times here lately, Tara's so busy with school and I do church stuff that we look forward to the times when we can do things together."
For Terrie Lynn's vocal ensemble at church, she has to memorize a new song every week.
"I never stand in front of a mirror anymore," she laughed. "I sing a lot in
the car. I don't care who's riding with me, if I'm going somewhere you're gonna have to sit back and listen because I'm practicing in the car!"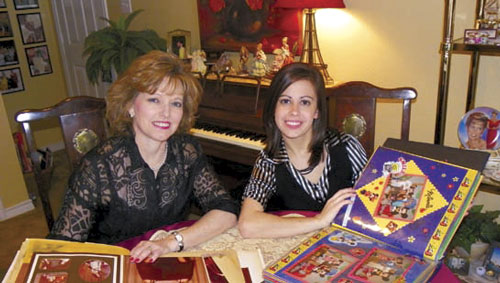 Tara greatly enjoys bringing people into the presence of God, and will be singing a solo or two in the Christmas Fantasia that Terrie Lynn is producing at their church. "It will be a combination of a variety show, with some fun and some serious Christmas music, some skits, some comedy relief and a children's musical," Terrie Lynn shared.
Terrie Lynn has never pushed Tara to join her in her dream. "I don't have to live my dream through her because I've had mine, she has hers," Terrie Lynn said. "We've had fun talking about it — and now we're still doing it together!"
Written by Melissa Rawlins