Whether changing your hair color or adding baubles to apparel to reflect your sense of style and taste, the art of self-expression can be accomplished in many ways.
Local resident Stephanie Welch's interest in artistic self-expression began at a very early age. Many of Stephanie's earliest memories of creating art involve her grandmother, Nana. "My grandmother was an artist and my inspiration even as a small child," Stephanie said. "She painted using oils and watercolors. I remember sitting at her kitchen table, and I would color a picture or paint any kind of object I could think of. Nana would always make me feel uniquely
special and creative," she added.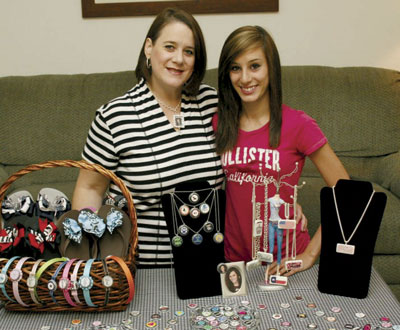 Throughout her life, Stephanie has always been involved in creating and experiencing different aspects of art. It was not until a few years ago, however, that Stephanie came face-to-face with
her artistic future. One day while visiting a craft show, she saw bottle cap jewelry. "I just thought they were the cutest little things," she exclaimed.
"When my daughter, Tori, saw them she wanted one of every piece she saw." Stephanie was inspired by the baubles. "I thought I would try to figure out how to make my own bottle cap jewelry," she said. "I really thought I could figure out how to make them."
Stephanie began creating her own original bottle cap charms and pendants by using many different materials, lacquers and adhesives. She even embellished many of the caps with ribbons, pictures, names and logos.
Since that pivotal moment, Stephanie has been making bottle cap jewelry for just about everyone. At first it was just for Tori's friends, but then, "I started selling them at pee wee football games, area craft shows and boutiques," she said. Her pieces just kept getting better, each one more creative and elaborate than the last.
Stephanie expanded her talents, creating cell phone charms, domino pendants, zipper pulls, key chains, hair bows, headbands, magnets and even flip-flops. Her flip-flops, popular with just about any female, come adorned with decorated bottle caps, ribbons, feathers and just about anything she can dream up. Stephanie's shoes are seen on the feet of many cheer squads,
pageant girls and even stylish grandmas. Stephanie's crafts are not only fashionable; they are also fun.
Having a teenage daughter helps keep her current on what is popular. "She gives me good feedback, too," Stephanie smiled. Tori sometimes accompanies her mom to craft shows, but she is not the only family member who assists in Stephanie's artistic pastime.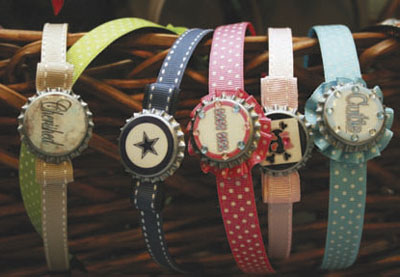 "Some days when I'm at work, my husband, Skip, will be home punching holes in the bottle cap pendants," Stephanie said. "It's almost like we have a little assembly line." Skip also attends shows with Stephanie. "He's always had an interest in what I do," she smiled.
Stephanie is excited that her inspiration has turned into a big artistic adventure. "Designing the pieces is my favorite part," she exclaimed. She is able to create the designs via her computer.
"Though, designing is the step that takes the longest, [it] is the most rewarding for me. It doesn't get old to me because the styles are always changing and there is always something new to make."
Many of Stephanie's art admirers like to use her bottle cap creations to hang on their Christmas trees.
"They make really cute tree ornaments," she said. "During the holidays, parents usually request bottle caps or dominos with their child's picture on it to give to family members as gifts," she added.
Stephanie's crafts are not just for girls or decoration. "I make items for guys also," she said. "Of course, the guys prefer their bottle cap necklaces on leather chains [as opposed to the Tiffany style preferred by girls]." She is also frequently asked to create custom key chains. "I have several guy friends who contribute to my bottle cap art," Stephanie said, referring to the men at the Red Oak Fire Department with whom she works. "They will bring me their used bottle caps, but my jewelry is actually made from unused bottle tops," she laughed.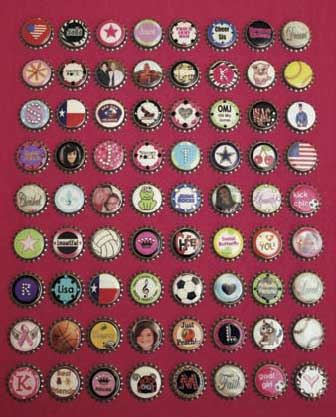 If not for the support of her friends and family, Stephanie believes her dream of creating bottle cap jewelry would have never come true. "At first I was afraid my husband would think he was going to be throwing in his 'man card' with the whole bottle cap, domino, flip-flop thing, but he has been my biggest supporter and has had a few ideas which have been pretty helpful," she smiled
— By Diana Merrill Claussen